Vincent van Gogh's Sunflowers are probably among the most famous paintings of all time. The artist loved these yellow flowers and painted them...
Anastasia Manioudaki 16 August 2022
Lust, Gluttony, and Sloth. Three of the Seven Deadly Sins are depicted in Sir Lawrence Alma-Tadema's The Roses of Heliogabalus. Many other sins are...
James W Singer 16 August 2022
Painting
The Floralia festival was celebrated every spring in Ancient Rome in honor of the goddess Flora. Because there is nothing more beautiful than flowers...
Andra Patricia Ritisan 16 August 2022
Art State of Mind
In 2022, we have social media, emails and telephone calls. But a century ago, it was not quite as easy to get a message or love note across to...
Rachel Witte 16 August 2022
Let's discuss one of the greatest still-life artists: Rachel Ruysch. Still-life paintings do not draw the crowds at museums. They are often...
James W Singer 16 August 2022
On the surface, Fra Filippo Lippi's Madonna and Child with Two Angels appears to be another typical Renaissance painting of the Virgin Mary and the...
James W Singer 15 August 2022
Painting
Christianity has a saint for everything, literally everything. So let's talk about Saint Luke. Not only is he one of the Four Evangelists and...
Jimena Escoto 15 August 2022
Salvador Dalí's The Madonna of Port Lligat is an image of Mary holding baby Jesus in her lap. Seems simple, but it has layers upon layers of...
Isla Phillips-Ewen 15 August 2022
Psst, are you in the mood for a sweet treat? Most know Paul Gauguin for his landscapes and the portraits he painted during his time in Tahiti. But...
Ruxi Rusu 14 August 2022
We love art history and writing about it.

Your support helps us to sustain DailyArt Magazine and keep it running.

DailyArt Magazine needs your support. Every contribution, however big or small, is very valuable for our future. Thanks to it, we will be able to sustain and grow the Magazine. Thank you for your help!
The greatest happiness can be found in the simple pleasures of daily life. Such simplicities could include the taste of fresh fruit, the smell of...
James W Singer 14 August 2022
Fede Galizia's beautiful A Glass Compote with Peaches, Jasmine Flowers, Quinces and a Grasshopper is one of Italy's first-ever still life...
Alexandra Kiely 14 August 2022
Mannerism
Giuseppe Arcimboldo was the king of Mannerism. If you see a portrait made of plants, vegetables, books, animals and generally speaking, stuff – you...
Zuzanna Stańska 14 August 2022
European Art
The apparent sweetness of this work by John Collier (1850–1934), a Pre-Raphaelite painter, is a wonderful testimony of the two sides of Lilith's...
Guest Profile 29 September 2021
Tonight the Moulin Rouge is bursting at the seams. Men in dark coats and distinguished women dance and converse on the buzzing floor. Each has a...
Ruxi Rusu 29 April 2022
Vincent van Gogh is famous nowadays for two things. Firstly, his unstoppable creativity – he produced 2,100 artworks in just over a decade.
Anastasia Manioudaki 27 May 2020
Women Artists
Mary Cassatt was the only American painter who exhibited with the Impressionists. Although she never married or had children of her own, she is best...
Ruxi Rusu 22 May 2022
Artist Stories
It took Horace Pippin 43 years to complete his first oil painting. Why so long? Because poverty, hard physical work, war, and disabilities got in his...
Magda Michalska 1 February 2022
Dine & Wine
There are very few who dislike strawberries. I love everything about them, from texture, to smell, and taste. Painters also love the way they look,...
Magda Michalska 7 June 2022
Theater & Cinema
In 1911 the Italian film theoretician Ricciotto Canudo defined cinema as "the seventh art". So it's quite natural that from its...
Arianna Richetti 12 August 2022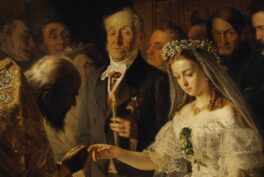 Love Story
Vasili Pukirev's painting Unequal Marriage has a legend about it: allegedly, after looking at it, all the elderly grooms refused to marry their...
Elizaveta Ermakova 7 October 2021
Photography
Vincent van Gogh famously recorded himself in numerous self-portraits, but he hated photography and supposedly he never sat for a photo as an adult.
Zuzanna Stańska 11 August 2022
Erotica
The subject of erotica is vast. Even reduced to only the Victorian world of erotica, it's a challenge to write about in the space of an...
Sarah Mills 2 October 2020
Cats
As a proud owner of Pimpa the Cat, the laziest cat in the world, I do what I must do to spread all that is about cats. I have collected 15 of the...
Zuzanna Stańska 23 May 2022
Sail into the world of antiquity through the eyes of the Baroque artist Gian Lorenzo Bernini. In the Borghese Gallery in Rome, you can find Rape of...
Ana Djoric 11 August 2022
Browse All