Joanna Kaszubowska
Author
Art historian by education, data geek by trade, art and book lover by passion, based in London in love with Europe and travelling around it. You can visit my book blog here: https://bookskeptic.com/
Women Artists
Lee Miller (1907-1977) was a fashion and war photographer, a model, a muse, and a gourmet cook. She lived life to the fullest with all its bright and...
Joanna Kaszubowska 17 January 2023
Asian Art
Edo period in Japan lasted from 1603 to 1867/1868. During this time the country was ruled by the Tokugawa shogunate. Those 250 years were a time of...
Joanna Kaszubowska 15 January 2023
Architecture
We all know the iconic realizations designed by Frank Lloyd Wright: everyone recognizes the Guggenheim Museum in New York or the famous Fallingwater...
Joanna Kaszubowska 12 January 2023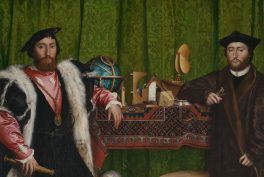 Masterpiece Stories
The Ambassadors by Hans Holbein the Younger is one of those paintings that we know so well we tend to forget to look closer. It's like the Mona...
Joanna Kaszubowska 6 January 2023
Fashion
We all have family treasures, those mementos that matter to us so much because of their sentimental value and memories associated with them. Now,...
Joanna Kaszubowska 30 December 2022
Architecture
When you think of architecture in Barcelona surely Antoni Gaudí comes to mind. Barcelona is peppered with his works like panettone with raisins. But...
Joanna Kaszubowska 29 December 2022
Design
Apparently sitting is the new smoking and it will slowly kill us all. But given our current reality, we don't have that much choice about it. One...
Joanna Kaszubowska 26 December 2022
Art State of Mind
Twelve Days of Christmas is probably one of the best-known Christmas carols in English-speaking countries. It lists the gifts received from "my...
Joanna Kaszubowska 24 December 2022
Theater & Cinema
Sometimes when you watch a really good movie, wouldn't you like to stay in that world for a bit longer? To walk around and really experience...
Joanna Kaszubowska 10 December 2022
Artist Stories
Can an artist single-handedly impact an entire city? Considering that the city in question is Rome, probably not. But add to the mix an influential...
Joanna Kaszubowska 7 December 2022