The greatest happiness can be found in the simple pleasures of daily life. Such simplicities could include the taste of fresh fruit, the smell of...
James W Singer 3 December 2023
The Unicorn Tapestries are a set of medieval tapestries depicting a hunt for a unicorn, a popular motif at the time. They're probably the most...
Alexandra Kiely 2 December 2023
Renaissance
Renaissance tapestries are the most underestimated subject in art history. As expensive and enormously large works of art, tapestries attributed to...
Anna Ingram 2 December 2023
In Charles Perrault's 17th-century literary world, knights, dragons, and spellbound princesses persisted centuries after the topic diminished. As...
Anna Ingram 2 December 2023
The Devonshire Hunting Tapestries consist of four large tapestries depicting scenes of hunting various animals. They were made between 1430 and 1450...
Anna Ingram 2 December 2023
Renaissance
Everyone knows King Henry VIII for having six wives and an infamous divorce that shook England's religious core. He is renowned due to art...
Anna Ingram 2 December 2023
Known for his striking portraits of high-society figures, John Singer Sargent was one of the most successful painters of his day. But after causing a...
Natalia Iacobelli 2 December 2023
Art History 101
Medusa, a creation of Greek mythology, stood as one of its most fearsome entities. In Ancient Greek, her name translates to "guardian" or...
Zuzanna Stańska 1 December 2023
Unicorns, the enchanting and mythical beings, have been a captivating subject in art since ancient times, maintaining their inspirational allure for...
Ela Bobek 1 December 2023
We love art history and writing about it.

Your support helps us to sustain DailyArt Magazine and keep it running.

DailyArt Magazine needs your support. Every contribution, however big or small, is very valuable for our future. Thanks to it, we will be able to sustain and grow the Magazine. Thank you for your help!
Everybody loves gargoyles! I used to think I was alone in this, but I've come to learn that's not at all true. In case any of you don't know, a...
Alexandra Kiely 1 December 2023
History
Benevolent or deadly? There are so many depictions of this mythical creature. Let's explore how mermaids have been portrayed in art.
Candy Bedworth 1 December 2023
WTF Art History
If you've ever watched Monty Python and the Holy Grail, you probably remember the scene when the vicious killer bunny (which, as we remember,...
Zuzanna Stańska 1 December 2023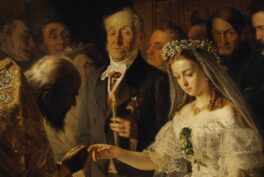 Love Story
Vasili Pukirev's painting Unequal Marriage has a legend about it: allegedly, after looking at it, all the elderly grooms refused to marry their...
Elizaveta Ermakova 7 October 2021
By 1902, Edvard Munch's life had seen a pattern of chaos within his professional life, his health, and his love life. While his life had become...
Wendy Gray 8 January 2022
The Norwegian painter Edvard Munch realized the colored lithograph Madonna in 1895. He is considered the precursor of Expressionism, therefore his...
Maia Heguiaphal 12 December 2022
Bizarre
I love to watch people looking at his art for the first time. René Magritte's art became well-known for a number of witty and thought-provoking...
Zuzanna Stańska 21 November 2023
European Art
Paul Gauguin is a revolutionary and savage in the art of the late 19th century, an artist rejected by society. A man who quit his job at the stock...
Valeria Kumekina 27 November 2023
"Illness, madness and death were the black angels that watched over my cradle and have since followed me through life," Munch wrote in his notes,...
Zuzanna Stańska 12 December 2022
Museum Stories
Perhaps one the most influential women in shaping the art world of the 20th century, Peggy Guggenheim held an exhibition in 1943 that was to be...
Nina Relf 22 November 2023
Artist Stories
The artworks of French painter Auguste Renoir are renowned for their light, conspicuous brushstrokes, as well as their pure beauty. Behind mastery...
Rute Ferreira 31 August 2023
The Scream by Edvard Munch is one of the most famous paintings in the world. It's pretty obvious why – its expression and the way the pain and...
Zuzanna Stańska 18 May 2023
Theater & Cinema
This month marks the 60th anniversary of Doctor Who, a British sci-fi show about a runaway alien Time Lord that's now beloved worldwide. Fans were...
Jenna Burns 28 November 2023
Of all the medieval manuscripts, bestiaries are definitely the most fun. A medieval bestiary is a book about animals. It's full of unusual...
Alexandra Kiely 4 October 2023
Art Nouveau
Have you ever looked upon Gustav Klimt's portrait of The Lady in Gold and wondered why she was so worshipped? What made the artist immortalize her...
Guest Profile 24 April 2023
Browse All