Art Historian, founder and CEO of DailyArtMagazine.com and DailyArt mobile app. But to be honest, her greatest accomplishment is being the owner of Pimpek the Cat.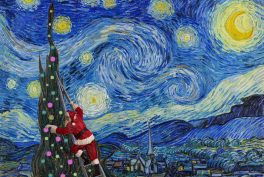 North American Art
Photographer Ed Wheeler has been dressing up as Santa Claus for years and posing in hilarious compositions. He started over  20 years ago with...
Zuzanna Stańska 6 December 2022
Photography
Vincent van Gogh famously recorded himself in numerous self-portraits, but he hated photography and supposedly he never sat for a photo as an adult.
Zuzanna Stańska 4 December 2022
Artist Stories
Vincent van Gogh's death occurred in the early morning of 29 July 1890, in his room at the Auberge Ravoux in the village of Auvers-sur-Oise in...
Zuzanna Stańska 4 December 2022
Love Story
Vincent van Gogh's love life was a really sad one. The list of the artist's lovers is full of unsuccessful advances and rejections. This is the...
Zuzanna Stańska 4 December 2022
Cats
So many great artists have shared one very special love: the love for cats. Here you will find 6 modern artists who loved their felines and have...
Zuzanna Stańska 27 November 2022
Painting
Here are eight heart-warming paintings that represent what the Thanksgiving is about. We wish you all the happiness and the wonder of the holiday...
Zuzanna Stańska, Nicole Ganbold 24 November 2022
European Art
You probably associate Belgian Surrealist artist René Magritte with weird, surreal pieces, like his famous Treachery of Images. He also liked...
Zuzanna Stańska 21 November 2022
Bizarre
I love to watch people looking at his art for the first time. René Magritte's art became well-known for a number of witty and thought-provoking...
Zuzanna Stańska 21 November 2022
Masterpiece Stories
As you can see, this painting depicts a pipe. Underneath it, there is a French sentence that says "This is not a pipe". You may ask, what...
Zuzanna Stańska 21 November 2022
Surrealism
It was very difficult to choose only 10 weird things about Salvador Dali. He is widely known as one of the most eccentric artists in art history. And...
Zuzanna Stańska 19 November 2022