Art Forms
Fashion
Since ancient times jewelry hasn't only been a fashion detail or simple ornament, but a status symbol with a variety of meanings. On it, among...
Ana Djoric 9 October 2023
Fashion
When looking at historical jewelry one can ask themselves a series of questions centered on the object's significance. Who was it made for and...
Rachel Witte 9 October 2023
Ancient Egypt
Personal ornaments were favored by ancient Egyptians from the Predynastic to the late Roman periods, and most of them wore some type of jewelry. The...
Maya M. Tola 9 October 2023
Women Artists
Augusta Savage was a sculptress whose name is often missing from the list of illustrious Harlem Renaissance artists. Throughout her life, she merged...
Anastasia Tsaleza 9 October 2023
Art Travels
The Qutub Minar complex is a collection of architectural marvels located at the Mehrauli Archaeological Park in New Delhi, India. The complex...
Maya M. Tola 8 October 2023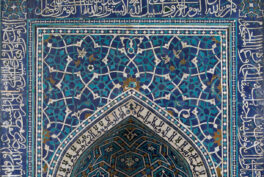 Architecture
What is a mihrab? It's a typically semi-circular niche in a mosque. It's usually inserted in the center of a Quibla wall, the wall which...
Magda Michalska 8 October 2023
Asian Art
One of the most characteristic aspects of early Islamic architecture all over the world is the abundant use of mosaics, both in secular and religious...
Magda Michalska 8 October 2023
Realism
The distinctive ritual of Islamic prayer, known as namaz (in Urdu) or salah (in Arabic) has captivated the imagination of many Orientalist painters.
Maya M. Tola 8 October 2023
Artist Stories
European-American painter John Singer Sargent (1856–1925) is remembered for his impressive, large-scale portraits of British, French, and American...
Alexandra Kiely 7 October 2023
Photography
In June 1999, Nicole Kidman was featured on the cover of Vogue. She was photographed and posed in a number of John Singer Sargent re-imaginings by...
Zuzanna Stańska 7 October 2023
Artist Stories
There's no question that John Singer Sargent (1856–1925) was an artistic superstar. Everyone knows his most famous painting Madame X, but do...
Alexandra Kiely 7 October 2023