Contemporary Art
Ann Sutton has become one of the foremost textile artists in the UK. Her career began in the 1960s when she trained as a weaver. By the age of 21,...
Zuzanna Stańska 9 August 2022
Women Artists
In an astonishing first for Roma and Traveller people, a Romani artist is representing a national pavilion at the Venice Biennale 2022. Małgorzata...
Candy Bedworth 9 August 2022
South American Art
Arthur Bispo do Rosário is a mythic figure in Brazilian art. He never considered himself an artist and he spent many years living in a psychiatric...
Natalia Tiberio 9 August 2022
North American Art
Many people would never expect to see an Amish quilt and a painting by an American abstract artist displayed together. However, since the 1970s,...
Heather Johnson 9 August 2022
Women Artists
For much of the 20th century, the work of Harriet Powers, an enslaved and later emancipated Black folk artist, was erased from the art historical...
Kristin Urban 9 August 2022
Charles Frederick Tunnicliffe, a British engraver, illustrator, and painter is perhaps best known for his paintings of birds. He painted many other...
Sarah Mills 8 August 2022
Within arts, cats can have a symbolic meaning, and depending on the period of time, that meaning may vary. Their nocturnal habits gave them a...
Lauren Kraut 8 August 2022
Museum Stories
Cats have been a common sight in different channels of art for a long time. That's why museums dedicated to feline art are popular stops, proving...
Merve Parla 8 August 2022
The British artist Louis Wain was a highly successful illustrator, mainly known for his humorous graphics of cats. His quirky feline pictures were...
Marta Wiktoria Bryll 8 August 2022
We love art history and writing about it.

Your support helps us to sustain DailyArt Magazine and keep it running.

DailyArt Magazine needs your support. Every contribution, however big or small, is very valuable for our future. Thanks to it, we will be able to sustain and grow the Magazine. Thank you for your help!
We've all seen those jovial, happy cat figurines in Asian restaurants and shops. Sitting upright with their raised paw, smiling face, and...
Nadine Waldmann 8 August 2022
Literature
Three monotheistic religions are the so-called "religions of the book". Judaism, Christianity, and Islam all refer back to a spoken, and...
Magda Michalska 7 August 2022
Contemporary Art
The 17th century world map from an Ottoman book on the discovery of the Americas Tarih-i Hind-i Garbi (History of the West Indies) points to Mecca...
Magda Michalska 7 August 2022
As a proud owner of Pimpa the Cat, the laziest cat in the world, I do what I must do to spread all that is about cats. I have collected 15 of the...
Zuzanna Stańska 23 May 2022
Impressionism
Edgar Degas was one of the founders of Impressionism, however, he didn't like the term and preferred to call it "Realist" or...
Zuzanna Stańska 29 April 2022
Painting
As a visual genius, Wassily Kandinsky revolutionized abstract art and led some of the most influential art movements of the 20th century. His work is...
Ruxi Rusu 28 March 2022
Let's discuss one of the greatest still-life artists: Rachel Ruysch. Still-life paintings do not draw the crowds at museums. They are often...
James W Singer 27 April 2022
Dine & Wine
Is there something more iconic for Paris than the bistro (after the Eiffel Tower, of course)? Let's have a closer look at the artistic...
Camilla de Laurentis 30 May 2022
Artist Stories
Not many of us have heard of Kiyohara Yukinobu, but we probably should have. She was a Japanese painter in the early Edo period (1603-1868) and one...
Candy Bedworth 29 March 2022
Erotica
The Venetian painter Francesco Hayez is considered a genius of historical Romanticism. In addition to the quality and refinement of his artworks, he...
Rute Ferreira 4 August 2022
The biblical figure of David, the young shepherd who defeated Goliath, was a popular subject for sculptors in the Renaissance. However, no...
Vithória Konzen Dill 3 August 2022
Erotica
The subject of erotica is vast. Even reduced to only the Victorian world of erotica, it's a challenge to write about in the space of an...
Sarah Mills 2 October 2020
Museum Stories
The Louvre Museum in the heart of Paris is home to an incredible collection of artworks. Everyone knows it includes Mona Lisa, Nike of Samothrace,...
Camilla de Laurentis 1 August 2022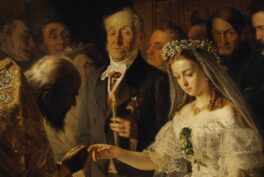 Love Story
Vasili Pukirev's painting Unequal Marriage has a legend about it: allegedly, after looking at it, all the elderly grooms refused to marry their...
Elizaveta Ermakova 7 October 2021
One of the greatest masterpieces of Western art, Lady with an Ermine by Leonardo da Vinci, presents Cecilia Gallerani (ca. 1473-1536). Young,...
Zuzanna Stańska 1 August 2022
Browse All