When nothing goes according to plan and you're feeling down, there are many pick-me-ups like meeting friends, eating chocolate, or going on a walk. But I guess there is one more pick-me-up when all the other things fail: some hot and shapely buttocks to admire. So, here they come, the best bums in art history, the selection is mine, so send in your favorites, too!
Although nudes in Classical art incorporated buttocks as a harmonic part of the body, artists often did everything to give the viewer a chance to admire them also separately (see our cover photo).
However, as Anne Hollander wrote in 1975 in her provocative book Seeing Through Clothes in which she focused on the representation of the body and the way it's clothed, "the erotic appeal of the male body (...) may seem to reside in one or another of its separate parts" and therefore "the masculine backside has even more readily lent itself to specialized erotic preoccupations [than the female one] because it thrusts itself on the attention separately." Do you agree?
As she argued, it was because of the aptness of the male body to compartmentalization: while the female body is not so easily separable in parts because of the layer of fat evenly covering all the skeleton, the male body more readily lends itself to division.
She argued that starting as far back as with Roman armor, which was easily divided into pieces, e.g. legpiece, codpiece, etc., we can see a trend in art that emphasized this articulation. Since females do not have external genital organs and males do, male genital parts (as well as their buttocks which usually present some charm), have naturally been more visually startling, and hence erotic, than any other female body part.
As she wrote, "the male behind (...) appears as a sign of submissive and receptive sexuality even more than the female version does. (...) it is soft even on the most muscular: its erotic power is ensured."
Therefore, for a long time, female buttocks did not get as much attention as male ones. In Renaissance art, it was common to see many nudes but they mostly followed the pattern: collarbones- long, long, long stomach- crotch- legs. Breasts and bums were often marginalized.
From the beginning of the 18th century, female buttocks started to appear in paintings more often. This time, however, they were well-emphasized and very sexualized. Obviously, it was a common move of male painters who this way attracted a way bigger audience craving voyeuristic attraction they could excuse as simple appreciation of fine arts.
Jean-Paul Sartre said that the obscenity of bums derives from their contingency. Bums are behind, their movements are uncontrolled as they depend on the legs. Their owner is hence completely unconscious of their likely wobbling and swaying which can be considered erotic or seductive.
Then, the buttocks' unconscious appeal is increased by clothing that draws attention to them. And if art chooses to depict the already indecent behind without covering it... then it's stepping it up to yet another level of indecency.
I find this bum study so wonderful! So simple, so wonderful! Felix Vallotton, as always, is a star!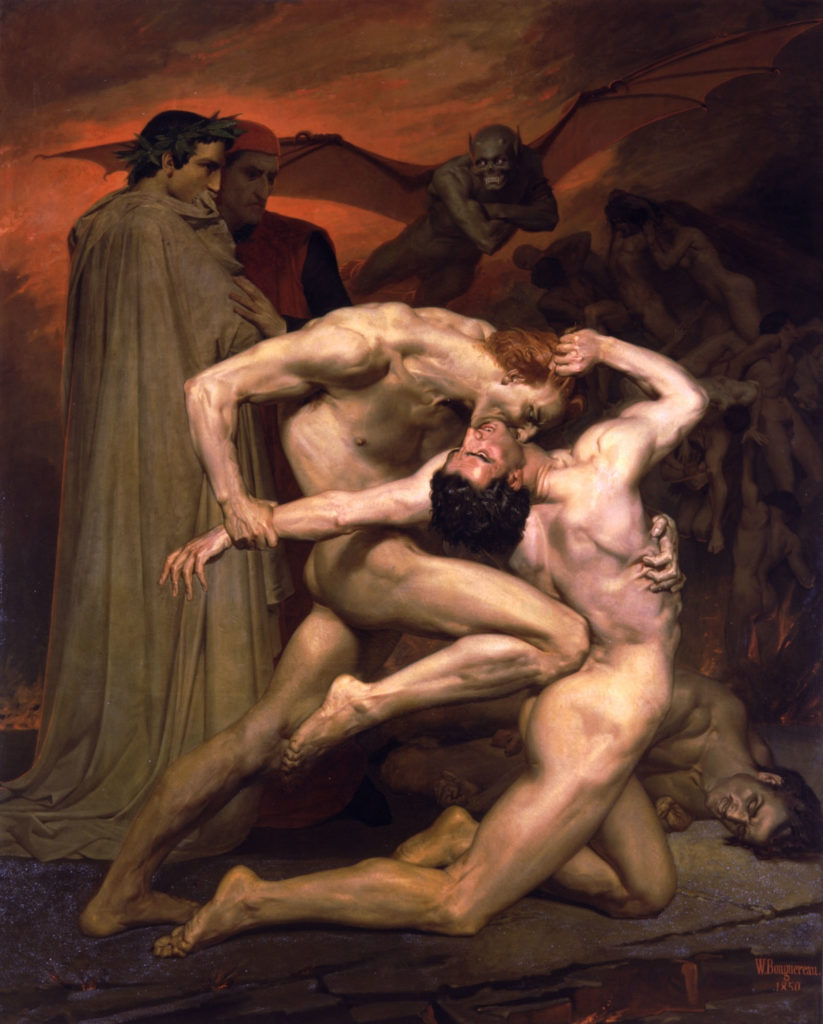 To close in a dramatic style, I'm leaving you with the bold painting of William-Adolphe Bouguereau who exaggerated the poses of two condemned men to emphasize their tense muscles. Just look at these shapely bums!
---
Check out more Nudes in Art!