Literature
5 Books About Famous Artists You Need to Read This Autumn
September has come. Which means that the long dark evenings are upon us. It is not certain if we will be able to visit museums and galleries but there is something we definitely can do, and that is reading. Here they are, five books about famous artists you should read in this uneasy time of the year!
1. Lust for Life by Irving Stone
Since its initial publication in 1934, Irving Stone's Lust For Life has been a critical success, a multimillion-copy bestseller, and the basis for an Academy Award-winning movie. The novel traces the life of Dutch artist, Vincent Van Gogh, from his auspicious beginnings as an art dealer in London to his death at age 37 in Auvers in 1890. The book is considered a "biographical novel" because, although it is rooted in fact, the author has fictionalized certain details, as well as dialogue that can only be imagined. Stone, however, had quite an advantage when writing Lust for Life. He had at his disposal the massive three volume set of The Complete Letters of Vincent Van Gogh. Van Gogh, after all, was not only one of the greatest painters in history, but also one of most prolific and eloquent writers of letters. When reading Lust for Life, one can easily find Van Gogh's own words liberally sprinkled throughout the book, giving a depth of insight into his art and philosophy that no author could ever dream up in a work of pure fiction.
2. Mad Enchantment: Claude Monet and the Painting of the Water Lilies by Ross King
Mad Enchantment tells the full story behind the creation of Monet's Water Lilies, as the horrors of World War I came ever closer to Paris and Giverny, and a new generation of younger artists, led by Henri Matisse and Pablo Picasso, were challenging the achievements of Impressionism. By early 1914, French newspapers were reporting that Monet, by then 73 and one of the world's wealthiest, most celebrated painters, had retired his brushes. He had lost his beloved wife, Alice, and his eldest son, Jean. His famously acute vision – what Paul Cezanne called "the most prodigious eye in the history of painting" – was threatened by cataracts. And yet, despite ill health, self-doubt, and advancing age, Monet began painting again on a more ambitious scale than ever before. Linking great artistic achievement to the personal and historical dramas unfolding around it, Ross King presents the most intimate and revealing portrait of an iconic figure in world culture – from his lavish lifestyle and tempestuous personality to his close friendship with the fiery war leader Georges Clemenceau, who regarded the Water Lilies as one of the highest expressions of the human spirit.
3.
Michelangelo and the Pope's Ceiling by Ross King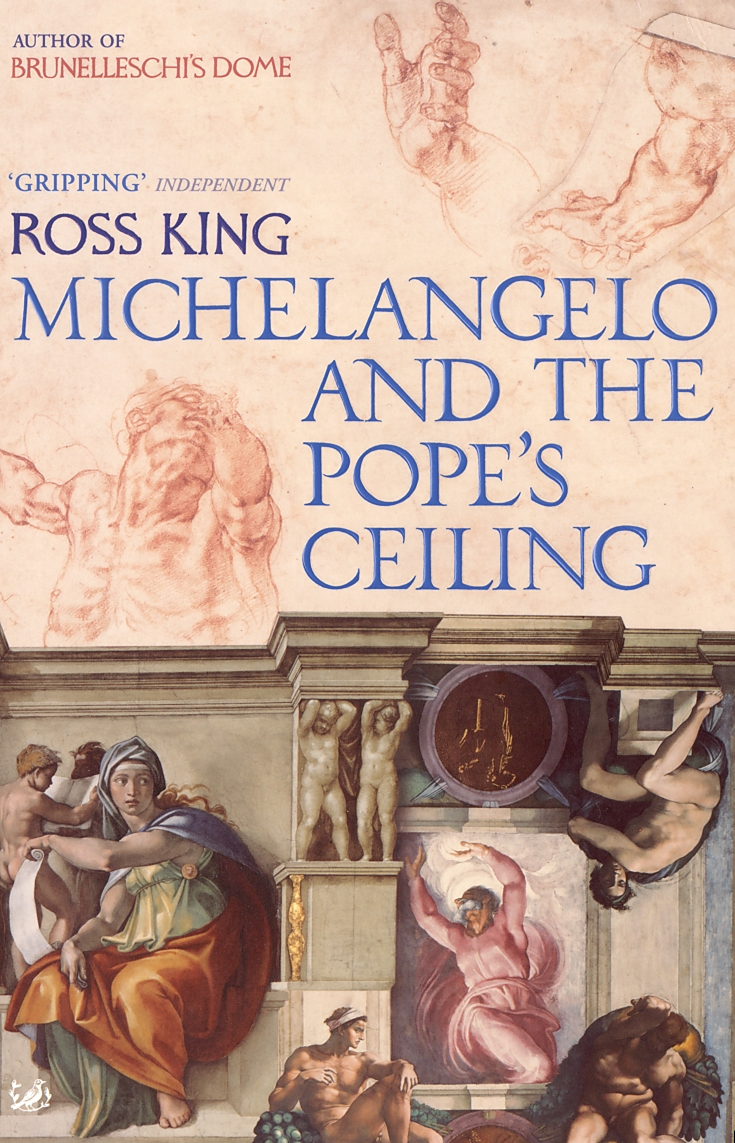 Michelangelo and the Pope's Ceiling recounts the fascinating story of the four extraordinary years Michelangelo spent laboring over the 12,000 square feet of the vast ceiling, while war, power politics, and personal rivalries that abounded in Rome swirled around him. A panorama of illustrious figures intersected during this time: the brilliant young painter Raphael, with whom Michelangelo formed a rivalry; the fiery preacher Girolamo Savonarola and the great Dutch scholar Desiderius Erasmus; a youthful Martin Luther, who made his only trip to Rome at this time and was disgusted by the corruption around him. Ross King blends these figures into a magnificent tapestry of day-to-day life on the ingenious Sistine scaffolding and outside in the upheaval of early 16th century Italy, while also offering uncommon insight into the connection between art and history.
4.
The Andy Warhol Diaries by Andy Warhol
Spanning the mid-1970s until just a few days before his death in 1987, The Andy Warhol Diaries is a compendium of the more than 20,000 pages of the artist's diary that he dictated daily to Pat Hackett. In it, Warhol gives us the ultimate backstage pass to practically everything that went on in the world- both high and low. He hangs out with "everybody." That is: Jackie O ("thinks she's so grand she doesn't even owe it to the public to have another great marriage to somebody big"); Yoko Ono ("We dialed F-U-C-K-Y-O-U and L-O-V-E-Y-O-U to see what happened, we had so much fun"); and "Princess Marina of, I guess, Greece," along with art-world rock stars Jean-Michel Basquiat, Francis Bacon, Salvador Dali, and Keith Haring.
5.
Gustav Klimt: Art Nouveau Visionary by Eva di Stefano
Gustav Klimt's decorative, seductive style, jewel-like colors, use of gold and pattern, and sensuous line, continue to captivate art lovers to this day. One of the masters of modern European painting, he helped found the popular Viennese Secession, or Art Nouveau, movement. This lushly illustrated volume explores his fascinating artistic career, covering Vienna at the time of Klimt's creative peak. With more than 300 beautifully reproduced pictures, paintings, and photographs, it presents Klimt's entire artistic production: posters for exhibitions, erotic drawings, and pictorial masterpieces such as The Kiss, Death and Life, and Tree of Life, along with countless portraits such as the famous Adele Bloch-Bauer I.
Have you read any interesting art history books yourself? Share your recommendations in the comment below!
---
More about art books: