Article Types
Review
Cities of Women is a novel spread across the centuries where we seek the female artist who produced one the finest medieval illuminated manuscripts in the world for Christine de Pizan. 
Candy Bedworth 19 October 2023
Painting
Christianity has a saint for everything, literally everything. So let's talk about Saint Luke. Not only is he one of the Four Evangelists and...
Jimena Escoto 18 October 2023
Interview
Camille Claudel's tempestuous life story—her passionate love affair with her teacher, Auguste Rodin, and her forced confinement in a psychiatric...
Natalia Iacobelli 16 October 2023
Dine & Wine
Looking at a painting and getting hungry? It might be a bodegón! Here we define the genre of Spanish bodegones in the context of 17th-century...
Soledad Castillo Jara 16 October 2023
History
When we think of opera, art is not the first thing that comes to mind. Opera simply means "work" and it can sometimes seem over-the-top and...
Ledys Chemin 16 October 2023
Dine & Wine
Long before Julia Child published Mastering the Art of French Cooking, artists had already made the connection between food and art. But how to...
Ledys Chemin 16 October 2023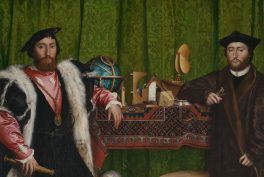 Masterpiece Stories
The Ambassadors by Hans Holbein the Younger is one of those paintings that we know so well we tend to forget to look closer. It's like the Mona...
Joanna Kaszubowska 14 October 2023