Mother's Day has been celebrated in many cultures since antiquity with varying names and rituals. The modern celebration of Mother's Day started in 1908 when social activist, Anna Jarvis, held a memorial for her mother at St Andrew's Methodist Church in Grafton, West Virginia. Eventually in 1914, President Woodrow Wilson signed a proclamation designating the second Sunday in May as an American national holiday to honor mothers. On this occasion see the most beautiful depictions of mothers in art.
Towards the later part of her life, Jarvis undertook substantial efforts to establish and defend her role as the "Mother of Mother's Day'. She was perturbed by the increasing commercialization of Mother's Day and the distraction of focus from the celebration of mothers by their children. She incurred increasingly unsustainable funds to support her many legal battles, and is believed to have died penniless.
Despite the rather grim end of the Mother of Mother's Day, this day has become a popular holiday not just in the United States but all over the world! It is believed to be the third-highest selling day for flowers and plants after Christmas and Hanukkah and the busiest day of the year for restaurants according to a 2018 survey by the National Restaurant Association.
We would like to commemorate this special day by honoring our mothers and sharing ten special artworks that celebrate some of the many presentations of motherhood.
PS - Happy Mother's Day, Mom!
1. Mother by Joaquín Sorolla
Many artists who rendered mothers and motherhood were, unsurprisingly, inspired by their own lives. Joaquín Sorolla was no exception! This composition was a commemoration of the birth of Sorolla's youngest daughter Elena. It is an example of his great talent and expertise in rendering the vast expanses of white in diffused light to accentuate the natural folds of linen. Peeking their heads through the covers are Sorolla's exhausted wife and daughter resting peacefully with their gaze turned towards each other.
2. The Virgin and Child Embracing by Sassoferrato
Paintings of the Virgin and the Christ Child are possibly the most frequently rendered depictions of mother and child in art.  This immaculate work of art belongs to Giovanni Battista Salvi, a 17th-century artist born at Sassoferrato. He created a great many devotional works in a style reminiscent of 15th-century High Renaissance paintings. This painting shows the child tenderly reaching out to his Mother. What is perhaps the most mesmerizing aspect of this painting is the masterfully rendered fabric of the Virgin Mary's clothes and the drapery! Read about Fra Filippo Lippi's rendering of Madonna and Child here.
3. The Child's Bath by Mary Cassatt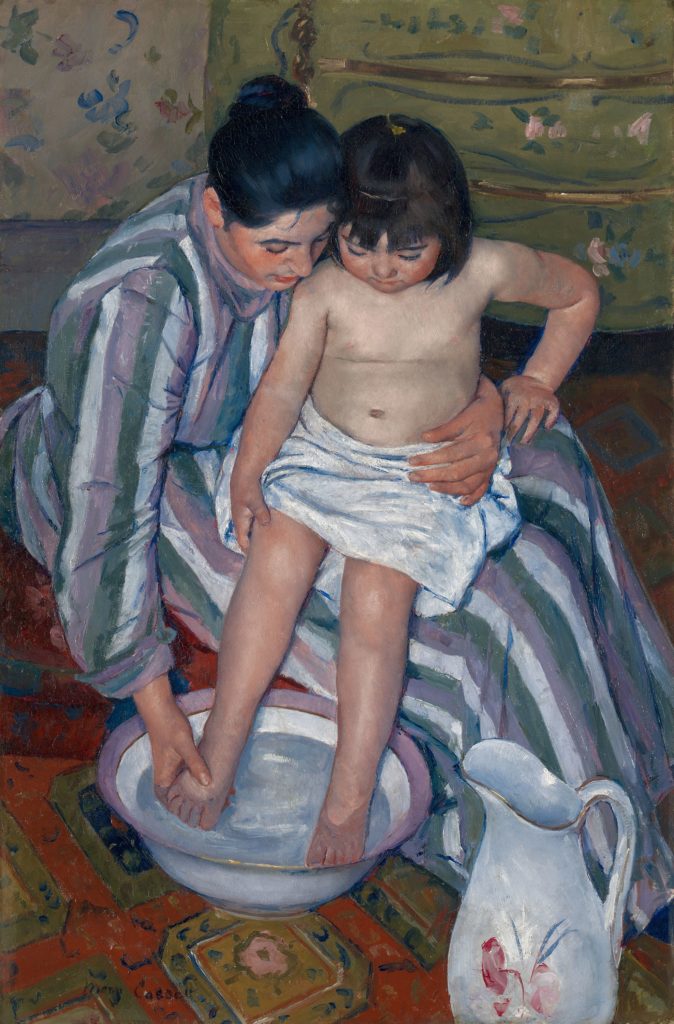 Mary Cassatt's oeuvre focused extensively on tender depictions of women in everyday life settings, particularly mothers with their children. Her works conveyed both the honesty and the sentimentality of daily life. No list about mother-and-child artworks would be complete without a mention (or two) of Mary Cassatt.
4. Hope II by Klimt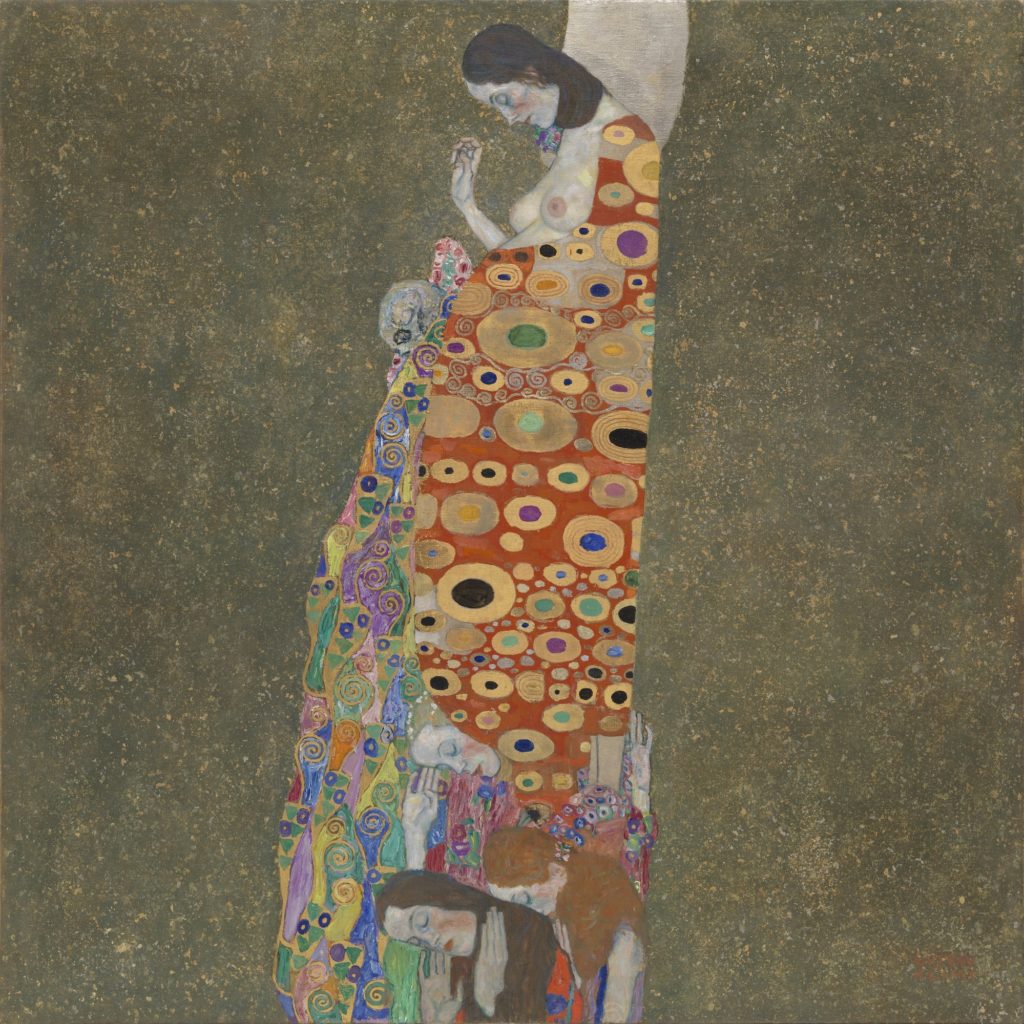 In this captivating painting by Gustav Klimt is a solemn, pregnant woman with a bowed head and her eyes closed, as if in prayer. There is a skull peeking out of her side, representing the dangers that lie ahead. At the feet of the pregnant mother are more women with their heads lowered and hands raised as if in prayer or solemn resignation. The overall mood of this painting is a combination of tenderness and thoughtful contemplation, with a hint of the ominous.
5. Motherhood by Stanisław Wyspiański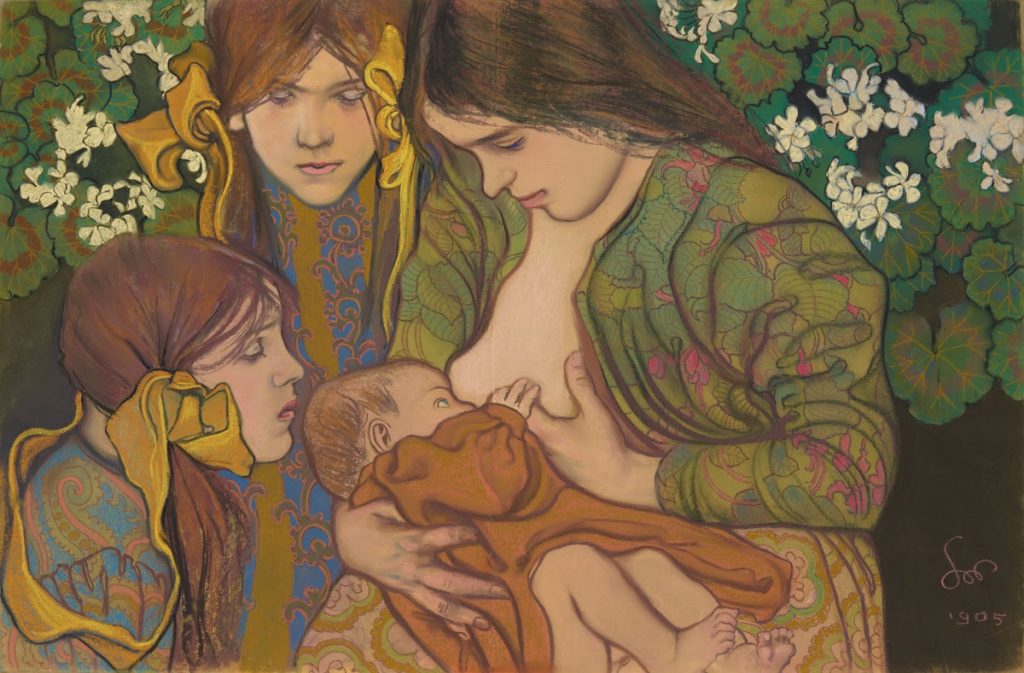 Stanislav Wyspianski was an esteemed Polish poet, playwright, and painter who also dabbled in interior and furniture design. He devoted his career to the propagation of Polish national theater. This painting is a part of a series of work devoted to his family that Wyspiański rendered at the birth of his youngest son.
6. Self-Portrait with Her Daughter, Julie by Élisabeth Vigée Le Brun
Élisabeth Louise Vigée Le Brun gained much acclaim due to the patronage of Marie Antoinette.  She had a successful career that was established by her skillful portraits of aristocratic women. This is one of only two portraits Vigée Le Brun painted of herself with her daughter Jeanne-Lucie-Louise (known as Julie). It bears clear inspiration from the classical renderings of Madonna and Child.  It was painted for the Count of Angiviller, Director of the Royal Buildings.
7. Camille Monet and a Child in the Artist's Garden in Argenteuil by Monet
Claude Monet created this beautiful painting of his first wife, Camille Monet, and their daughter enjoying each other's company in the garden of their house on a beautiful sunny afternoon in Argenteuil, near Paris. The couple and their daughter lived here between 1872 and 1877. During this time, Monet painted several such blissful renderings of domestic life, and his beautiful wife, Camille served as his model.
8. Reclining Mother and Child II by Paula Modersohn Becker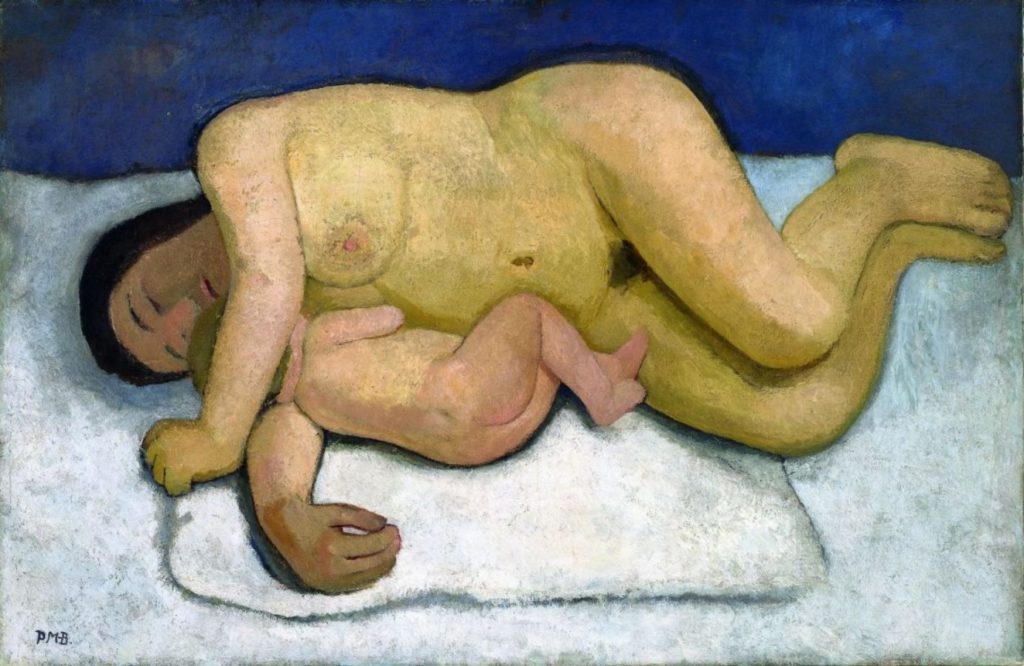 German painter, Paula Modersohn Becker is believed to be the first known female painter to paint nude self-portraits. Like many other great artists, she showed an early talent for painting. She later became a prominent figure in the school of early expressionism. Her life was tragically cut short at the age of 31 due to complications from childbirth. However, in her brief life she produced an enormous body of work such as this intimate painting of mother and child reclining. Read more about this painting here!
9. Yashoda Suckling the Infant Krishna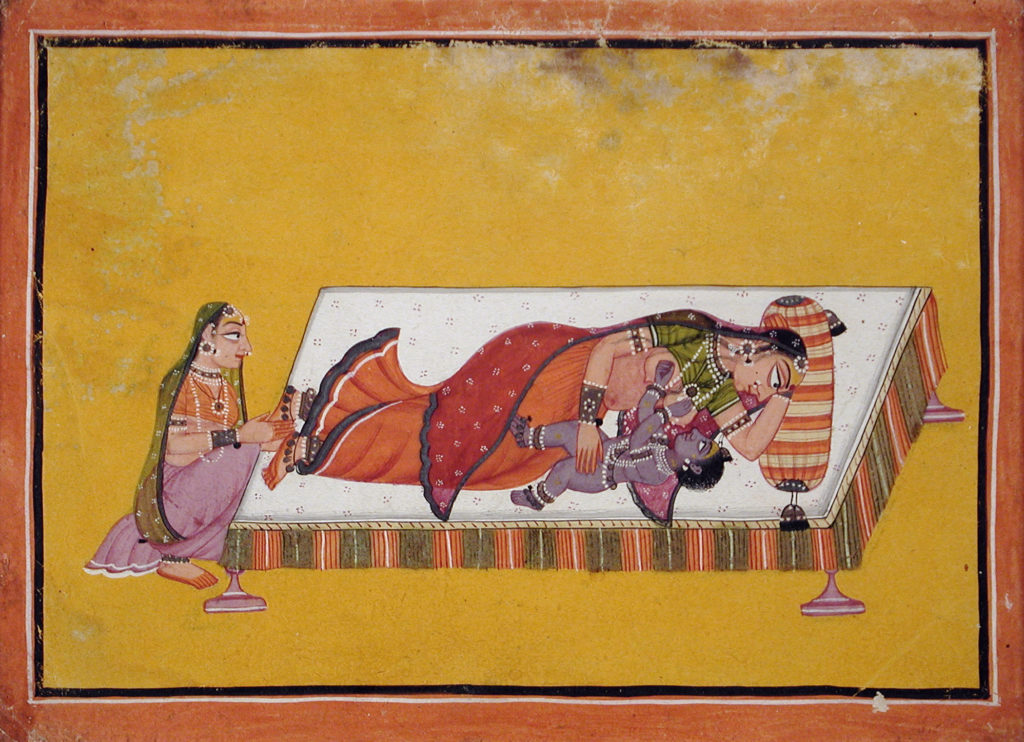 While still an infant, the supreme Hindu God, Krishna, was sent into hiding by his birth mother to save him from his murderous uncle, King Kamsa of Mathura. He was raised in safety in a small village by a loving community of cow-herders. The relationship between Krishna and his foster mother, Yashoda, is one of the most celebrated mother-son relationships in Hinduism. It has inspired many works of art, such as this painting. This tender image of maternal affection depicts the Krishna being nursed by Yashoda. It originates from either Jammu and Kashmir or the Himachal Pradesh region of Northern India.
10. Mother and Child by Picasso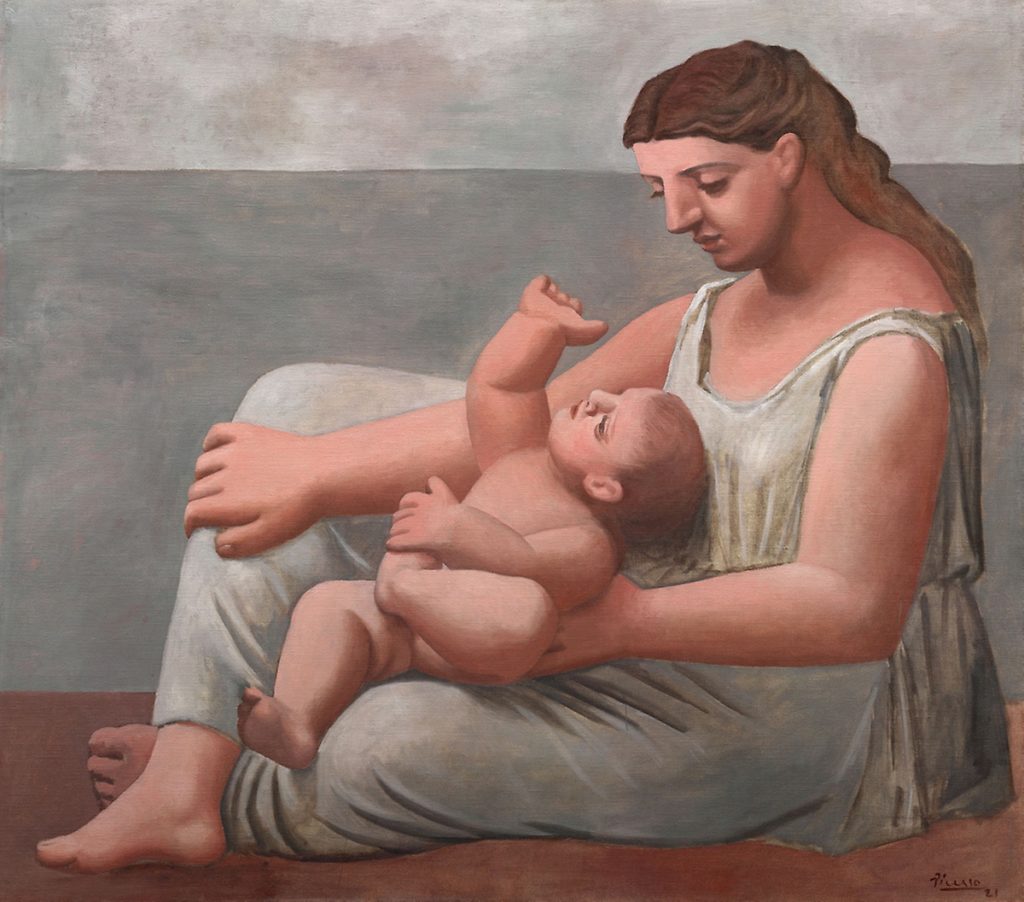 This serene painting of a mother in a Grecian gown gazing down at her child was rendered by one of the most famous artists in the world. Pablo Picasso had recently had become a father to his son Paolo from his wife, Olga Khokhlova and it inspired his work. Between the years 1921 and 1923, Picasso produced about twelve works on the subject of mothers and children.
To see more mothers in art, check: