#Paris
Music
The famous music video shows Jay-Z and Beyoncé at the Louvre Museum in Paris. There are shots of them standing in front of the Mona Lisa wearing...
Zuzanna Stańska 12 August 2023
Painting
Piet Mondrian, one of the founders of the Dutch modern movement De Stijl, is mostly known for his pure abstractions from the 1920s, reduced to lines,...
Zuzanna Stańska, Aniela Rybak 30 July 2023
European Art
Do you know the name of the first female modern art gallery owner? Berthe Weill was born in 1865 and died in 1951 in Paris but nowadays she seems to...
Maia Heguiaphal 29 July 2023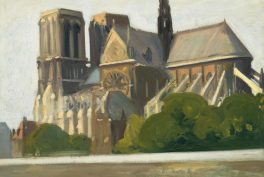 Artist Stories
Edward Hopper is known as one of the premier recorders of American mid-century life. Or mid-century malaise might be a better way to put it:...
Louisa Mahoney 22 July 2023
Masterpiece Stories
Édouard Manet's The Luncheon on the Grass (Le Déjeuner sur l'Herbe) (1863) was one of the first works that broke away from established...
Catriona Miller 20 July 2023
Art Nouveau
Alphonse Mucha is perhaps the artist most publicly associated with Art Nouveau. Today we explore the life and work of the Czech master. Alphonse...
Europeana 16 July 2023
Romanticism
Liberty Leading the People is probably the best-known artwork of one of the greatest artists of French Romanticism Eugène Delacroix. The painting,...
Rute Ferreira 14 July 2023
Architecture
Do you still remember the Notre-Dame de Paris? It suffered a horrible fire in April 2019. Notre-Dame is by far France's most famous church, but it...
Alexandra Kiely 14 July 2023
European Art
Nestled in the heart of Paris on the right bank of the Seine, Musée du Louvre stands as a testament to human creativity and a shared cultural...
Maya M. Tola 14 July 2023
Women Artists
Let's imagine a glamorous party in the 1920s – and our host is the grand Tamara de Lempicka! We can hear jazz playing in the background and see...
Marija Canjuga 13 July 2023
Painting
Amedeo Modigliani painted so many portraits of women – especially nude ones – that people began to see him as a reckless playboy, an image that...
Pola Otterstein 11 July 2023