Louisa is a master's student in Art History at Sorbonne Université.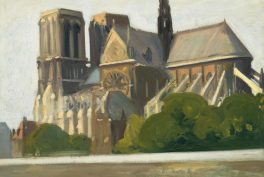 Artist Stories
Edward Hopper is known as one of the premier recorders of American mid-century life. Or mid-century malaise might be a better way to put it:...
Louisa Mahoney 22 May 2023
Ukraine Special
Ada Rybachuk showcased the Arctic Circle to the rest of the world through her art. Rybachuk was a Ukrainian artist who spent years in the Arctic,...
Louisa Mahoney, 20 May 2023
Animals
Always moving, impenetrable, and ephemeral, animals are among the most difficult subjects for an artist to depict. Using a new style of printmaking...
Louisa Mahoney 13 February 2023
Sport
Artists have long captured the magic of snow. During the 19th century, when winter sports like skiing, skating, and sledding became more popular in...
Louisa Mahoney 21 January 2023
As someone who spends a lot of time thinking about paintings, I still often lose sight of how they're actually made. Theoretical and historical...
Louisa Mahoney 21 November 2022
This week marks the birthday of Niki de Saint Phalle, the Franco-American artist who died in 2002. To celebrate the occasion, I visited a new...
Louisa Mahoney 29 October 2022
Abstract Expressionism
A master of the New York School who expatriated to France, Joan Mitchell tirelessly explored new ways of expression and reinvented the landscape in...
Louisa Mahoney 15 October 2022
Artist Stories
Joanna Hiffernan and James Abbott McNeill Whistler met in London in 1861. He instantly fell in love with her striking red hair and outspoken...
Louisa Mahoney 3 October 2022
A History of the World (In Dingbats), David Byrne's new book of illustrations, is a charming and hopeful look at the past, present, and possible...
Louisa Mahoney 20 June 2022
Fondation Louis Vuitton's latest show offers a once-in-a-lifetime opportunity to see the renowned Morozov collection in its entirety for the...
Louisa Mahoney 7 February 2022