Is it possible to combine art and motherhood? This question never seems to go away. There is no denying that female artists do have a gendered experience of art. They are underpaid and under-represented across the art world.
[caption id="attachment_17889" align="aligncenter" width="671"]
Mary Cassatt, The Child's Bath, 1893, Art Institute of Chicago. Wikimedia Commons[/caption] It is said that Mary Cassatt, whose work primarily featured themes of motherhood and femininity, never had children because she believed it would compromise the quality of her art. Fast forward to 2004 when Tracey Emin controversially said
"There are good artists that have children. Of course there are. They are called men."
German painter Paula Modersohn-Becker wrote in detail about her need to delay motherhood in her pursuit of artistic freedom. She died tragically, aged 31, of a post-partum embolism just days after her daughter, Mathilde, was born. [caption id="attachment_17879" align="aligncenter" width="550"]
Paula Modersohn-Becker, Reclining Mother And Child, 1906, Paula Modersohn-Becker Museum, Bremen, Germany[/caption] However, there are other, more expansive, more inclusive narratives. Acclaimed novelist Chimamanda Ngozi Adichie, said the thing that surprised her most about motherhood was that
"it hasn't been a taking away, it's been an adding."
So let's take a look at women who did decide to combine both art and motherhood, and who furthermore depicted their own children in their work. Berthe Morisot (1841-1895) was part of the French Impressionists' group that included
Paul Cézanne
,
Edgar Degas
,
Claude Monet
and Camille Pissarro. Morisot collaborated with
Edouard Manet
for many years and married his brother, Eugene Manet in 1874. Together they had a daughter,
Julie
. Morisot produced around 150 paintings of her daughter, each artwork offering a glimpse into her daughter's transformation through the years. Apparently, Julie's favourite was
Young Girl With Doll
from 1884. [caption id="attachment_17881" align="aligncenter" width="741"]
Berthe Morisot 'Young Girl With Doll' 1884 oil on canvas. Image wikiart.com[/caption]
Julie Daydreaming
, painted in 1894 is the last in the series however. Just a year later, when Julie became ill with pneumonia, Morisot tended to her. Tragically, Morisot contracted the same illness and died in 1896. [caption id="attachment_17880" align="aligncenter" width="759"]
Berthe Morisot, Julie Daydreaming, 1894, private collection[/caption] Critics have said of Morisot's work that she is
"alive to a world of understated, often domestic emotion that scarcely registers in the work of the male Impressionists."
Poet Paul Valery, related to her by marriage, said that Morisot was
"living her painting and painting her life, as if this were for her a natural and necessary function, tied to her vital being."
Another Julie was painted by Elizabeth Louise Vigee Le Brun (1755-1842), also known as Madame Le Brun. French feminist Simone de Beauvoir caustically said of LeBrun:
"she never wearied of putting her smiling maternity on her canvases."
But Le Brun, a prominent eighteenth century portrait painter was unapologetic about her desire to paint her daughter. In her diary she wrote:  
"The beauty of her heavenly face, that expressed benevolence and goodness, and whose features were so regular and delicate, the loveliness of her figure, neck, and arms, the exquisite freshness of her complexion – all was enchanting beyond anything imaginable."
[caption id="attachment_17883" align="aligncenter" width="1000"]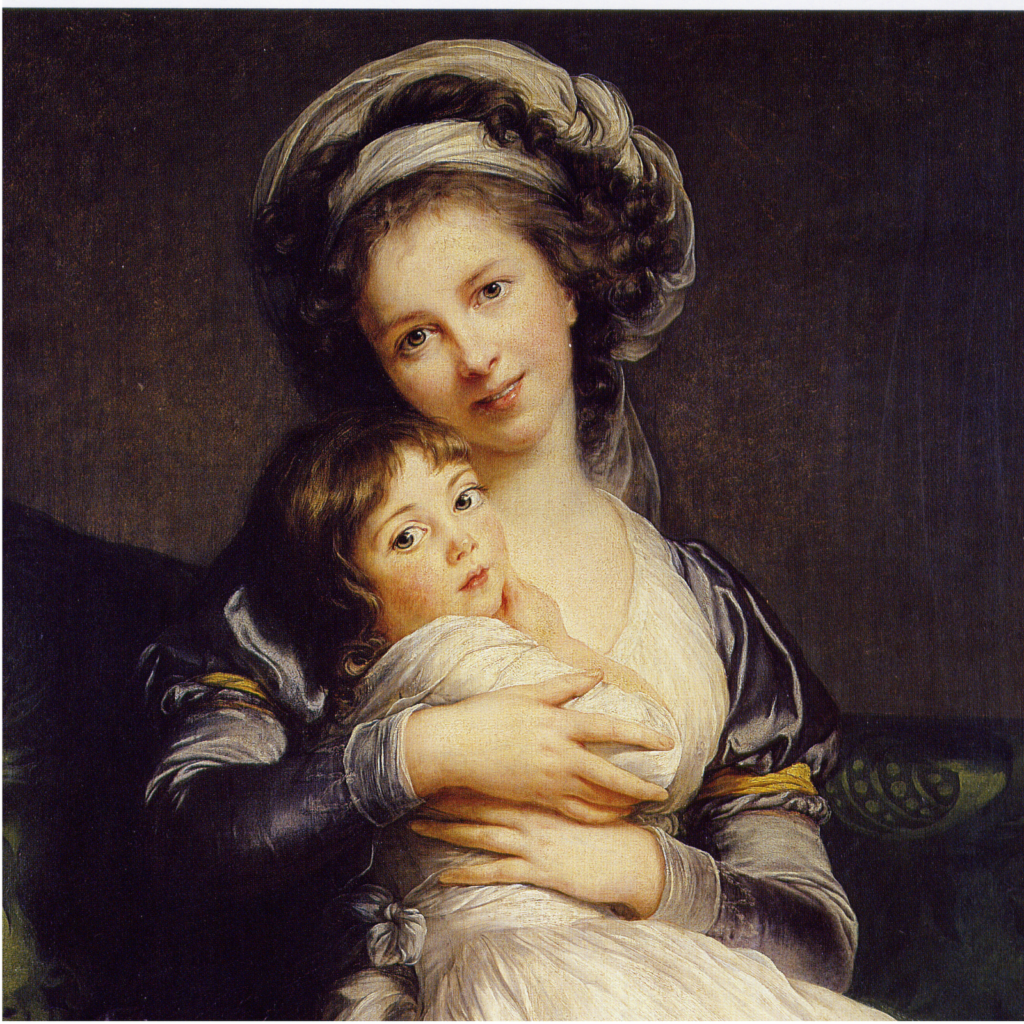 Elisabeth Louise Vigee Le Brun, Self Portrait With Her Daughter Julie, 1786. Louvre Museum, Paris. Wikimedia Commons[/caption] Le Brun's first self portrait of her and Julie caused a scandal when it was exhibited because she was depicted cradling her daughter in a relaxed manner, smiling open-mouthed, visibly enjoying her child. Ignoring rules about facial representation and refusing to play the demure domestic Madonna, Lebrun is possibly the most radical painter of her period. Just like Morisot, Le Brun painted many pictures of her daughter as she matured. In this composition, she breaks painterly rules again, ingeniously presenting the child in both profile and full face. She captures Julie's serious, intimate gaze, looking both at herself, but also out at us, the viewer. [caption id="attachment_17884" align="aligncenter" width="504"]
Elisabeth Louise Vigee Le Brun 'Julie Le Brun Looking In A Mirror'1786 oil on wood Image Metropolitan Museum of Art New York[/caption] Mary Kelly's
Post Partum Document
is a deep philosophical exploration of the twinned joy and boredom of motherhood.  As befits a conceptual artist, this is no ordinary 'portrait' of her son. But it records, in minute detail, six years of his life and his development, consisting of perspex units containing using soiled nappy liners, and typed text describing conversations and feelings over which the child has scribbled crayon drawings. [caption id="attachment_17885" align="aligncenter" width="425"]
Mary Kelly, Post Partum Document, 1973-79, Art Gallery of Ontario. marykellyartist.com[/caption] This controversial work has had a profound effect on the development of conceptual art. Kelly (born in 1941) said of the work that she wanted to explore the contradictions between working as an artist and her role as a mother – between
"my lived experience and my analysis of that experience".
[caption id="attachment_17886" align="aligncenter" width="702"]
Louise Bourgeois, Maman, 1999, Tate, London. Photograph: Marcus Leith and Andrew Dunkley, Tate Photography © The estate of Louise Bourgeois[/caption] Louise Bourgeois (1911-2010) is perhaps most famous for her
Maman
spider – a giant sculptural portrait of her own mother. However while raising three children in a small apartment, she moved from sculpture to painting and printmaking. In 1994 she painted her children in the bath tub. In the accompanying exhibition catalogue she said:
"This is the bathroom at 18th Street. Everything is exactly the same, the cabinet, the tub with the feet - it is very accurate. I'm asked all the time, but I never say it was a lot of work to get through the day. It was really something to have three children and also try to work. It was a lot of physical work. I could never carry a child, even when they were very little. I had to have ways to hoist them. So here they help each other. They are happy, it is very tender."
[caption id="attachment_17887" align="aligncenter" width="256"]
Louise Bourgeois, Children in Tub, 1994, Tate, London. © The Easton Foundation[/caption] I visited the mid Wales studio of poet and visual artist
Nicky Arscott
(born 1983). Her paintings explore the ambivalence of motherhood expertly but also with humour. [caption id="attachment_17904" align="aligncenter" width="700"]
Nicky Arscott, Girl and Skull, 2016. Image by kind permission of the artist[/caption] Arscott says:
"The image of a child is such a loaded thing. We have to remember that it's not literally them, my children, it's an image."
She told me:
"I use my motherhood a lot in my work, it fits nicely. I think it's added something that wasn't there before. My kids get involved with my art - I love it."
[caption id="attachment_17902" align="aligncenter" width="691"]
Nicky Arscott, The Symmetry in Evaporating, 2014. Image by kind permission of the artist[/caption] All of these artists would say that being a mother and being an artist can not only coexist but for them is a necessary and essential relationship. The actor and writer Deborah Eisenberg said:
"the point of art is to disturb what is comfortable and safe, and that shouldn't be anyone's goal as a parent."
But motherhood, like art, is a complicated experience. Art can sustain but can also challenge - it can be generative AND destructive. Artworks which allow for complexity and ambiguity offer us a wider, richer experience. Out of motherhood a woman can produce brave, political and beautiful art. As poet Paul Valery said
"living her painting, painting her life."
Learn more:
[easyazon_image align="none" height="110" identifier="8857228606" locale="US" src="https://www.dailyartmagazine.com/wp-content/uploads/2018/12/51jnBZOZeBL.SL110.jpg" tag="dailyartdaily-20" width="82"] [easyazon_image align="none" height="110" identifier="0300229151" locale="US" src="https://www.dailyartmagazine.com/wp-content/uploads/2018/12/411o2LFxlyL.SL110.jpg" tag="dailyartdaily-20" width="90"] [easyazon_image align="none" height="110" identifier="1784539244" locale="US" src="https://www.dailyartmagazine.com/wp-content/uploads/2018/12/512zOYGhm1L.SL110.jpg" tag="dailyartdaily-20" width="70"]