WTF Art History
Photography
Is seeing believing? In 19th-century London, this question captivated everyone who entered Frederick Hudson's spirit photography studio—from...
Emily Snow 20 December 2022
Painting
Moving houses is an enterprise, isn't it? Packing, getting rid of useless but loved items, sending boxes with winter clothes…  Maybe peering...
Magda Michalska 10 December 2022
Love Story
Vincent van Gogh's love life was a really sad one. The list of the artist's lovers is full of unsuccessful advances and rejections. This is the...
Zuzanna Stańska 4 December 2022
Contemporary Art
Theo Jansen, a Dutch contemporary artist, a sculptor, an engineer, and most significantly, a visionary. The universe in his mind along with his...
Caroline Galambosova 1 December 2022
Bizarre
You likely would not connect pineapples and architecture, right? Wrong! There exists a real artistic folly, and not in Las Vegas where such a...
Magda Michalska 30 November 2022
Painting
Nocturne paintings may be employed to convey an array of meanings. The simple depiction of the time of day can often convey an air of drama and...
Maya M. Tola 29 November 2022
Art State of Mind
Few things in life are more moving than the night sky on a cloudless evening. Artists have been fascinated by it for so long! The night has inspired...
Ruxi Rusu 29 November 2022
History
Gambol into the lobby of most Mexican hotels, or visit any antique store in Mexico, and you're bound to find a portrait of an 18th or 19th-century...
Guest Profile 23 November 2022
Medieval Art
If you've ever wanted to step inside a medieval manuscript, here's your chance. Inkulinati, an incoming strategy-based video game, was inspired...
Alexandra Kiely 15 November 2022
Art State of Mind
Recently, all over the world people have felt like they were "in the middle of the apocalypse". Why does everyone naturally associate that word...
Camilla de Laurentis 7 November 2022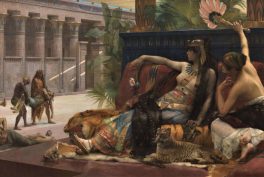 Masterpiece Stories
Queen Cleopatra is a popular subject today – as she was in the late 19th century. Alexandre Cabanel's Cleopatra explores a single moment of her...
James W Singer 3 November 2022
Bizarre
Dia De Los Muertos is celebrated every year across Mexico. A far cry from the Western commercial horror-fest of Halloween, it is a glorious...
Candy Bedworth 2 November 2022