Food
Prost! Oktoberfest in Paintings
Oktoberfest, as the name suggests, is a traditional German beer festival held annually in October. Unfortunately this year, as well as last year, the festival was cancelled due to the coronavirus pandemic. Therefore, we will try to make this up to our beer fans by offering exquisite examples of beer in art!
This article was co-written by Magda Michalska and Nicole Ganbold.
Unfortunately, this year the Oktoberfest will not happen. But let us explain what the celebration is about: it is the world's largest Volksfest which usually runs from 16 up to 18 days from mid-to-late September. It is located on Theresienwiese (d'Wiesn) located not so far from central Munich. The name of the space originates from the first Oktoberfest, which was held in honour of Crown Prince Ludwig of Bavaria and Therese of Sachsen-Hildburghausen, who were getting married.
Perhaps the most famous example here. Rembrandt van Rijn, the ultimate Dutch master who infamously portrayed himself as the Prodigal Son with his wife Saskia van Uylenburgh. This scene was set in a biblical context depicting a man toasting with a beer glass. Don't you agree that it perfectly renders the merry atmosphere of Oktoberfest?
A similar elegant beer glass is depicted on a Dutch still life by painter Jan van de Velde III, who juxtaposed locally produced Dutch beer with wonders from far lands, such as the Chinese porcelain plate and tobacco.
Although we are probably more likely to picture Vincent van Gogh drinking absinthe in a Parisian cafe, he was also keen on beer. It helped him start conversations with the surrounding members of the artistic bohème.
This poster was commissioned to Alphonse Mucha by a brewery in Meuse, a city located halfway between Paris and Strasbourg in Lorraine. It shows a woman wearing a crown of poppies, wheat, and hops in her hair and holding a pint of beer (although her grip looks pretty risky). Her features recall Mucha's figure of Summer which he painted for the Seasons series a year before.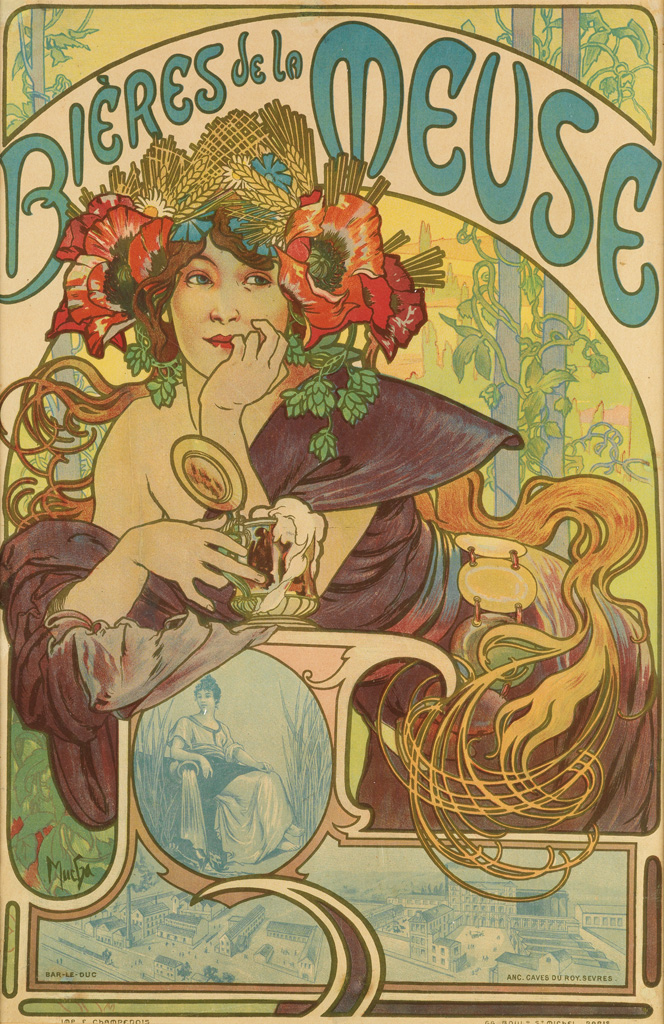 Meuse was known as a rich brewing centre, housing 40 breweries in the mid 19th century. However, from the 1870s onwards, competition and industrial mergers led to the closure of many of them. The poster incorporates an image of the goddess of the river Meuse on the left and a bird's eye view of the brewery, both painted by an anonymous artist.
Who could portray beer better than Germans? Eduard von Grützner was most known for genre scenes depicting monks consuming beer. Since the Middle Ages, monks were known to build their own breweries and produce this refreshing beverage.
Did you enjoy our Oktoberfest painting selection? Let's hope to celebrate the festival of beer next year in real life – either in Bavaria or in a pub with your friends and a good pint!
---
More tasty treats in art: