Photography
Is seeing believing? In 19th-century London, this question captivated everyone who entered Frederick Hudson's spirit photography studio—from...
Emily Snow 20 December 2022
Virginia Elisabetta Luisa Antonietta Teresa Maria Oldoini – in short, Countess of Castiglione – was a real celebrity of her times. I imagine that...
Zuzanna Stańska 20 December 2022
Mainstream history often overlooks women's contributions. That's why the fact that in Scandinavian countries, women took up photography as a...
Europeana 20 December 2022
It all officially began in 1839 in two countries at the same time: in the UK, the Royal Academy announced the discovery of a method of capturing...
Magda Michalska 20 December 2022
The English Victorian artist Julia Margaret Cameron (who was actually born in India and raised in France) was an irreplaceable representative of...
Rute Ferreira 20 December 2022
Naturally, Edvard Munch is best known for his paintings. However, he was also one of the first of the generation of painters who dabbled in amateur...
Zuzanna Stańska 12 December 2022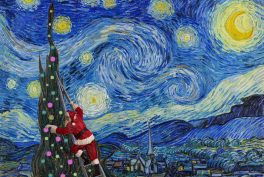 North American Art
Photographer Ed Wheeler has been dressing up as Santa Claus for years and posing in hilarious compositions. He started over  20 years ago with...
Zuzanna Stańska 6 December 2022
For many, photography is merely a sophisticated way of immortalizing the current and carrying that frozen moment – which is impossible to recreate...
Erol Degirmenci 2 October 2022
Art Travels
A masterpiece is not solely an artist's work, it can also be committed by our wonderful Mother Nature. Mountains, beaches, forests and meadows...
Anuradha Sroha 18 September 2022
Henri de Toulouse-Lautrec, was a French painter, printmaker, draughtsman, caricaturist, and illustrator. He produced a collection of provocative...
Zuzanna Stańska 9 September 2022
This is going to be a story of beauty and an underappreciated genius that came to an untimely end. Brace yourselves for an unhappy ending and the...
Magda Michalska 25 August 2022
Sometime before 1982, David Hockney commented, "Photography is all right if you don't mind looking at the world from the point of view of...
Magda Michalska 26 June 2022