Lobsters, large marine crustaceans, have been eaten by humans since prehistoric times. They became a delicacy by the Roman period. They were also popular among the Moche people of Peru. Historically, lobsters weren't a very common subject of artists' interests, but they appeared from time to time. Here we have gathered all the famous lobsters we could find in art:
Lobsters in Ancient Times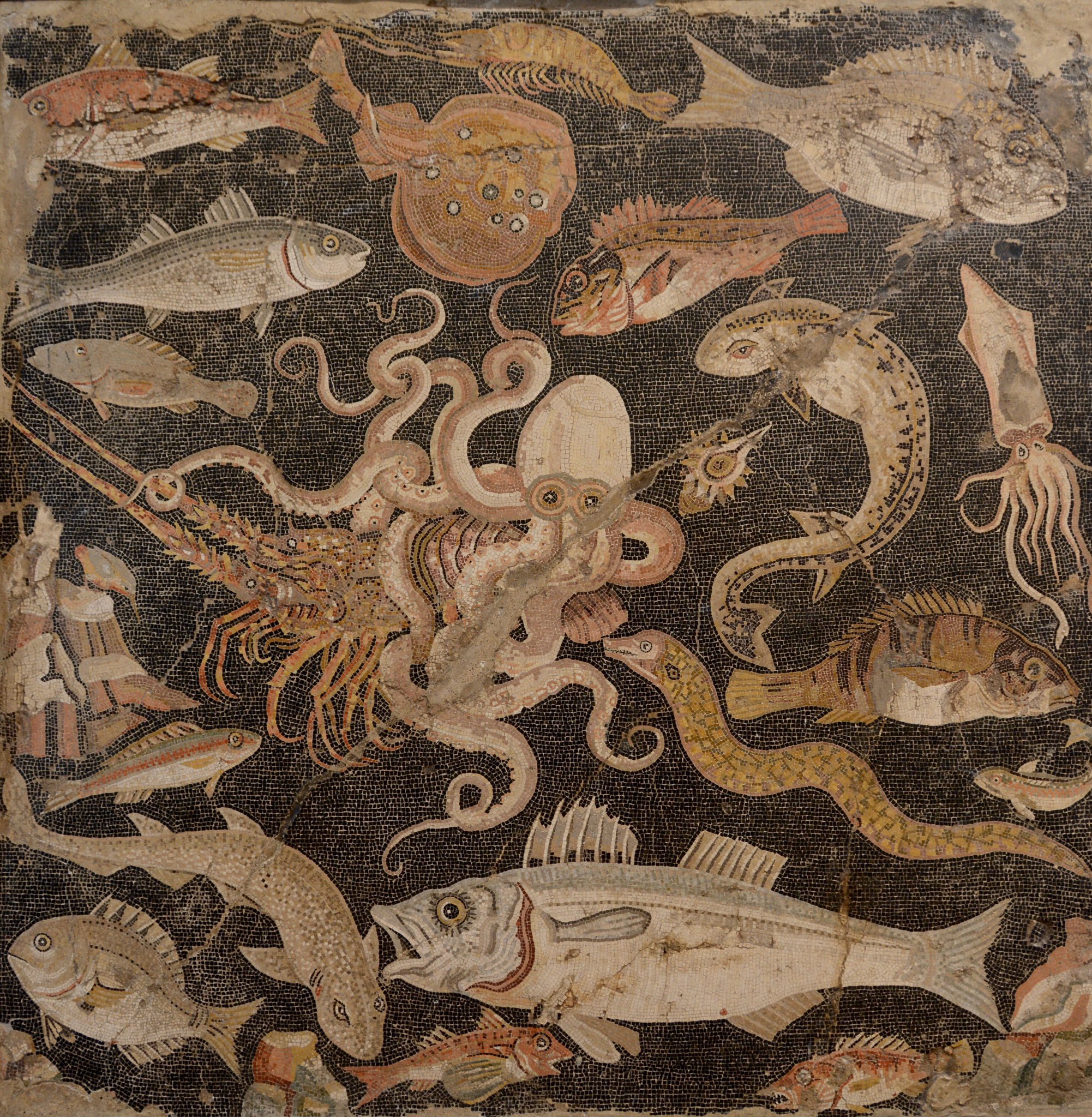 Lobsters became a popular dish during Roman times, as well as other marine crustaceans which remain popular to this day. In this fine mosaic from Pompeii, two spiny lobsters are tangled in octopus tentacles, thus creating a dynamic composition. It also suggests that this type of lobster was known and present in the Roman cuisine of the early imperial period.
The Turn of the Middle Ages and Renaissance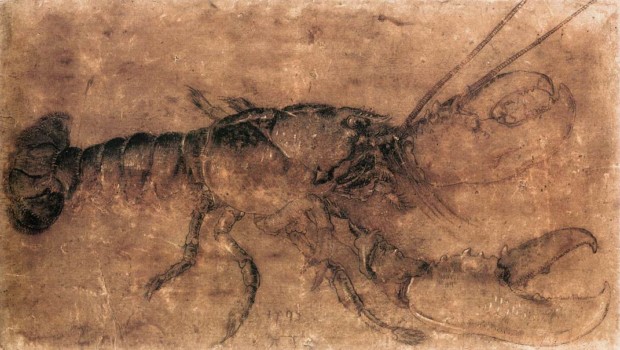 The lobster was mentioned in cookbooks during the medieval period. Meanwhile its interesting shape caught attention of the famous German draftsman and painter, Albrecht Dürer. During his first trip to Italy, the young artist showed an interest in all the unusual and exceptional features of nature, documenting plenty of weird animals. For example, in this pen drawing, the lobster is positioned to fill the entire page. This sheet is one of the studies which Dürer used as independent, rather than concrete study material.
Lobster in the Salon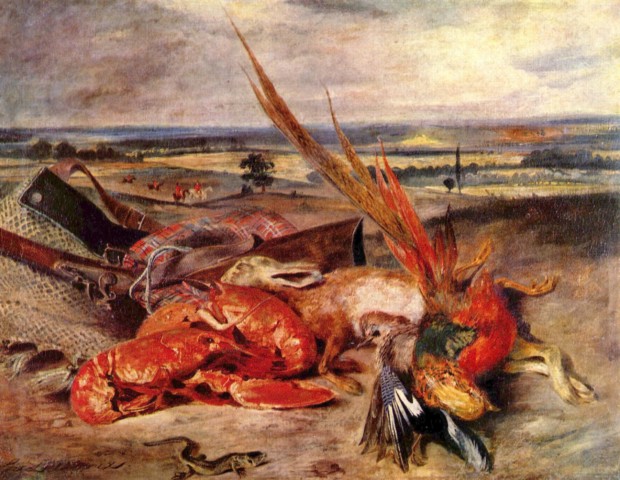 This painting comes from a group of artworks that Delacroix sent to the Salon of 1827. It also included The Death of Sardanapalus as well as others from among his finest pictures. On 28 September 1827, Delacroix wrote to his friend Charles-Raymond Soulier:
"I have finished the General's animal picture, and I have dug up a rococo frame for it, which I have had regilded and which will do for it splendidly. It has already dazzled people at a gathering of amateurs, and I think it would be amusing to see it in the Salon."

A. Joubin, Correspondance générale de Eugène Delacroix, Paris 1932–38, I, pp.196–97. After M. Hannoosh.
Delacroix painted this picture when he returned from England – and the influence of English painters can be seen here.
In the East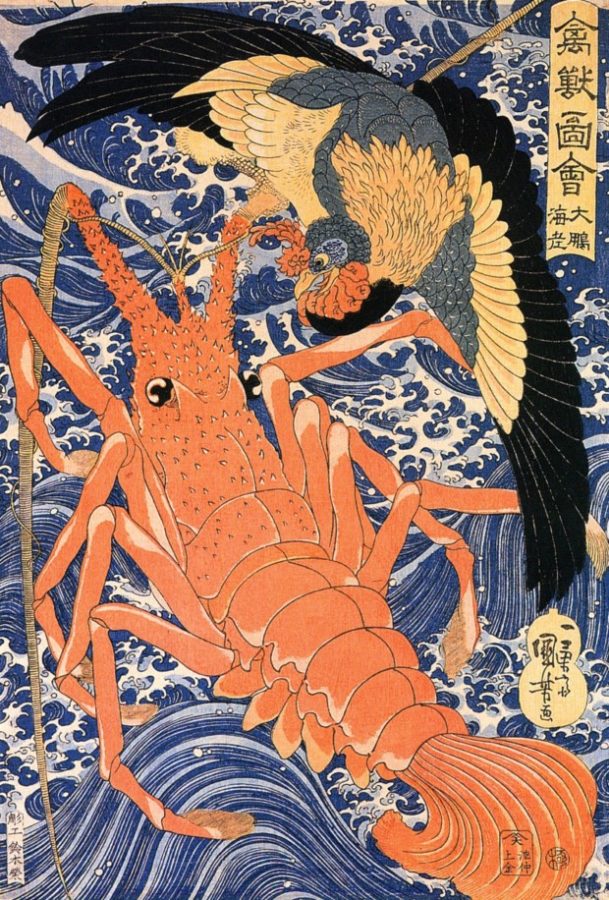 Utagawa Kuniyoshi was one of the last great masters of the Japanese ukiyo-e style of woodblock prints and painting. He was also a member of the Utagawa school. The range of Kuniyoshi's subjects included many genres: landscapes, beautiful women, Kabuki actors, cats, and mythical animals. Here a bird (perhaps a hawk) is attacking the lobster.
With Oysters and Buddha
Lovis Corinth was a German artist and writer whose work as a painter and print-maker was kind of a synthesis of Impressionism and Expressionism. He studied in Paris and Munich, joined the Berlin Secession group, later succeeding Max Liebermann as the group's president. His works was naturalistic in approach while his use of color was quite vibrant (as we can see looking at the lobster).
In Picasso's Cubist Eyes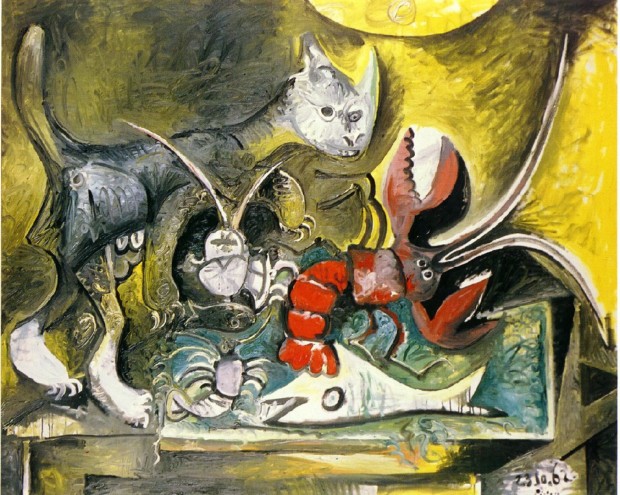 In the 1960s, Pablo Picasso was already 80 years old. In his last years, he created more than at any other comparable period of his life. At this time he turned to creations of fantasy and comic invention – you must admit there is something funny in this painting (personally, I love how the fish is painted). With unabated vigor, Picasso painted brilliant variations on the works of other masters, including Delacroix and Velázquez. The Still Life with Cat and Lobster copies the colors of Delacroix's palette.
Dalí's Lobster Telephone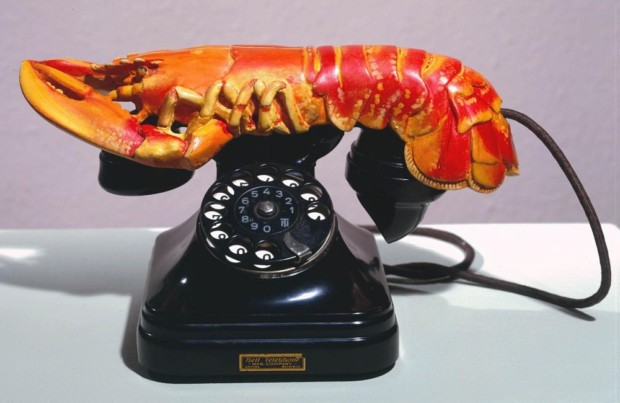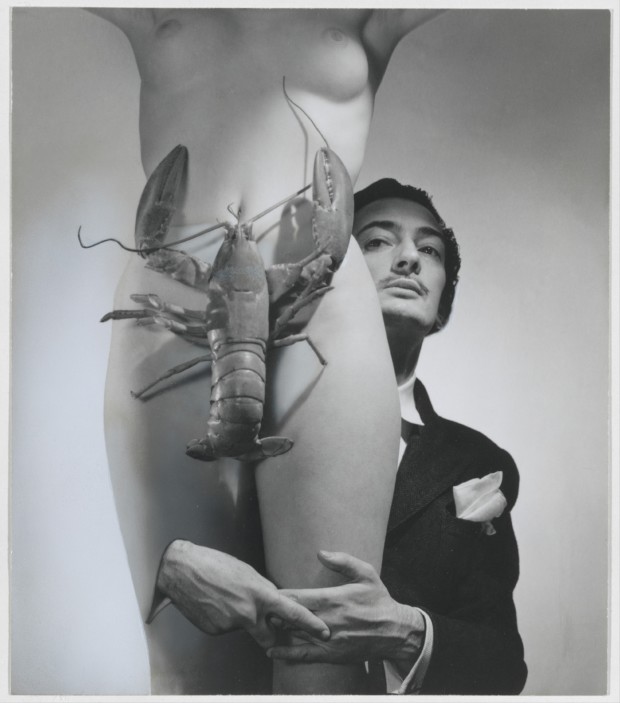 For the 1939 New York World's Fair, Dalí created a multi-media experience entitled The Dream of Venus. It consisted, in part, of dressing live nude models in 'costumes' made of fresh seafood, in an event photographed by Horst P. Horst and George Platt Lynes. A lobster was used by the artist to cover the female sexual organs of his models.
Jeff Koons' Lobster Baloon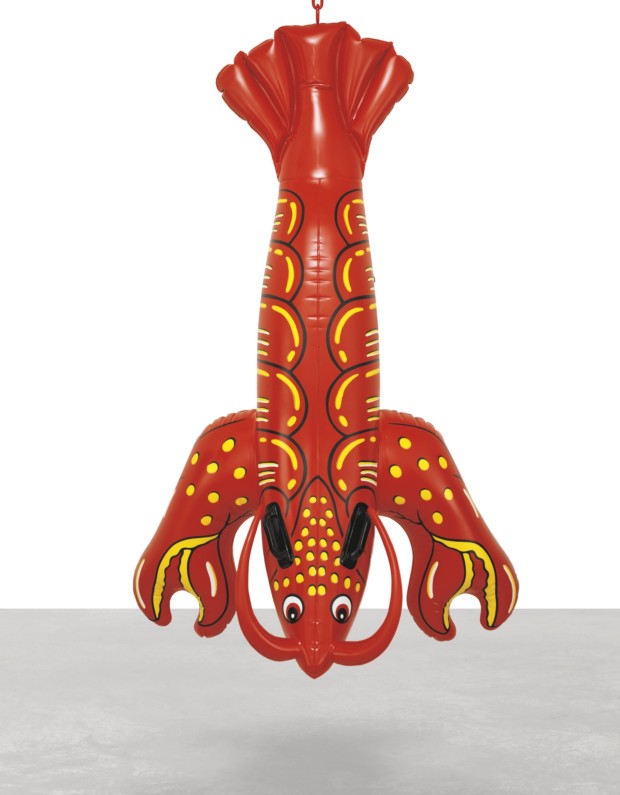 Furthermore, Jeff Koons' lobster is an obvious reference to Dali. By creating a plastic pool toy he elevates a simple rubber thing to the art level. Lobster presents its viewer a familiarity and nostalgia, thus summoning childhood memories of summers spent by the pool. It also refers to the legacy of Duchamp. As Koons himself stated:
"I've returned to the ready-made. I've returned to really enjoying thinking about Duchamp. The whole world seems to have opened itself up again to me, the dialogue of art".

Jeff Koons in Versailles, 2008.
---
If you would like to know more about animals in art, read this: