Today December starts and that means it is the countdown until Christmas Day. To celebrate, here is an art advent calendar of nativity scenes, arranged in chronological order.
1. Domenico di Ghirlandaio
Domenico Ghirlandaio was an Italian Renaissance painter from Florence, who mainly painted frescoes in situ. His Adoration of the Shepherd scenes are usually balanced with Adoration of the Magi scenes. Find Ghirlandaio's magi version here.
2. Piero della Francesca
The second in our art advent calendar is a Nativity scene by the Italian Early Renaissance painter Piero della Francesca, whose Nativity painting you can read more about here.
3. Sandro Botticelli
Botticelli, another Early Renaissance painter, is known for famous paintings such as his Birth of Venus. His mystic Nativity shows the baby Jesus reaching up to Mary and oblivious of all his visitors. At the top, the golden dome of heaven is open and twelve angels crowd around it. In the foreground, three pairs of angels and men embrace, while among their feet demons scuttle for shelter in the underworld through cracks in the rocks!
4. Benvenuto Tisi
In this Nativity scene by the Late-Rennaisance-Mannerist, Benvenuto Tisi, my favorite details have to be the tiny dog and despondent monkey. What a treat!
5. Bernardino Luini
This North Italian painter is said to have worked with Leonardo Da Vinci! What's your favourite detail of the nativity scene? The soft fur on the donkey's nose? The pink angel wings and delicate tutu? The starry night in the background?
6. Bruegel the Elder
An important milestone in the work of the Netherlandish Renaissance artist Bruegel. His first painting of entirely large figures - just look at those fabulous facial expressions and outlandish clothes.
7. Federico Barocci
Frederico Barocci is one of the most important mannerist painters of the 16th century. His paintings have a unique color, characterized by warm color shades.
8. A possible Titian
To explore a series on some definite Titians, click here.
9. Correggio
This painting by Corregio is known as Nativity, The Holy Night and Adoration of the Shepherds! Alberto Pratoneri commissioned it for his family chapel in the church of San Prospero of Reggio, Emilia.
10. El Greco
Doménikos Theotokópoulos is better known as El Greco ("The Greek"), the Greek painter, sculptor, and architect of the Spanish Renaissance. This Nativity scene characterizes his later work, which tends towards abstraction and dance-like motion.
11. Peter Paul Rubens
A Baroque masterpiece, whose colours almost look like something out of a 21st century video game.
12. A Stolen Caravaggio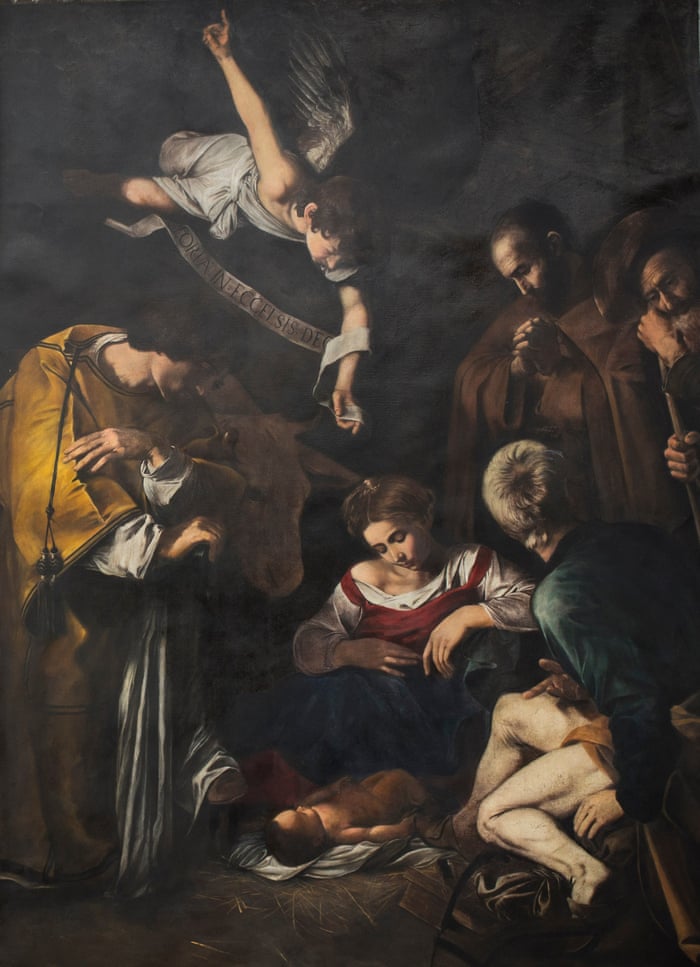 Stolen in 1969 by the Mafia, this old master painting is missing to this day. Read all about it here.
13. Matthias Stom
A nativity to be admired if not just for the incredible depiction of hands and wrinkles.
14. Georges de la Tour
Here we see a beautiful image of Mary holding baby Jesus, in this fabulous French Baroque masterpiece.
15. Rembrandt
Today we have a pre-painting study by the Dutch draughtsman, painter, and printmaker, Rembrandt.
16. Bartolomé Estebán Murillo
Murillo is one of the greatest 17th-century Spanish painters. His Nativity is painted on obsidian, a lustrous volcanic black glass!
17. Jean-Honoré Fragonard
Okay, so, for variety, the nativity of the day is not actually a nativity. But there are definite affinities with a nativity scene! Fragonard is usually associated in the popular imagination with amusing and mildly erotic works, such as The Swing, yet he was also an observant painter of family life. The Visit to the Nursery is an image of parental affection. In a rustic interior (stable?), a fashionable young couple gaze lovingly at their sleeping child, who is looked after by an (angelic?) elderly woman seated beside the cradle (crib?). Three other children (shepherds?) have wandered into the room and look on attentively.
18. William Blake
"It was the winter wild,
While the Heav'n-born child,
All meanly wrapt in the rude manger lies..."

John Milton, On the Morning of Christ's Nativity, On the Morning of Christ's Nativity, Stanzas 1-3.
For today's art advent day we're jumping from the 1700s to the 1800s with William Blake and his illustrations for John Milton's nativity ode On the Morning of Christ's Nativity.
19. Paul Gauguin
With the traditional stable scene in the background, Gaugin's image of a Polynesian woman post-labour is inscribed at the bottom with "Te tamari no atua" which roughly means — Gauguin's grasp of Tahitian wasn't great— 'The Child of God'. The standard interpretation of this painting links the fact that Gaugin's mistress gave birth around Christmas time in 1896.
20. Eric Gill
This wonderfully modern Nativity scene is a miniature (51 x 51 mm) wood engraving on paper, by Eric Gill. Gill was an English sculptor, typeface designer, and printmaker, who was associated with the Arts and Crafts movement - an international trend in the decorative and fine arts between 1880 and 1920.
21. Brian Yale
A screen-print showing a plethora of religious symbols. Quite a different style of Nativity to our other Advent offerings.
22. Keith Haring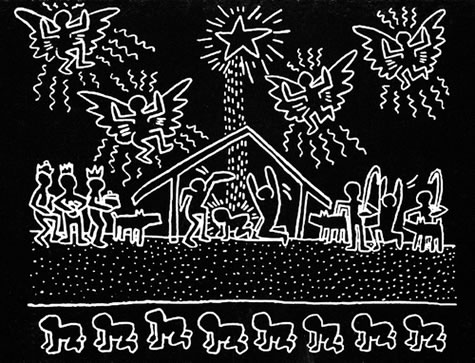 A magical Nativity by gay icon and art legend, Keith Haring.
23. Tracy Emin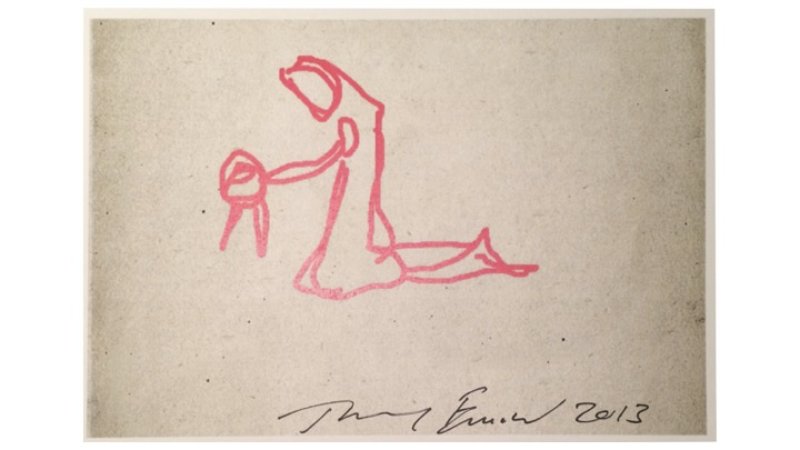 A simple and emotional nativity scene focused purely on mother and child. For an extra advent treat, read about Emin's (in)famous My Bed here.
24. Carol Aust
A final jolly nativity scene by the Californian artist Carol Aust.
Merry Christmas!
---
Discover more Nativity scenes: