Museums And Exhibitions
Her Life and Her Museum: Isabella Stewart Gardner
The story of the Isabella Stewart Gardner Museum and its founder before the robbery in 1990.
Netflix is currently streaming the four-part docuseries This Is A Robbery: The World's Biggest Art Heist about the notorious event that took place 30 years ago in the middle of the night on St. Patrick's Day. Thirteen priceless works of art were stolen from the Isabella Stewart Gardner Museum, located in the Fenway neighborhood of Boston. The case remains unsolved and the whereabouts of over 500 million dollars worth of stolen art is still unknown. The Netflix series gives a detailed explanation of the various trails and theories that authorities and committed experts exhausted in their effort to recover the stolen works of art but no such luck.
Even though the Isabella Stewart Gardner Museum is the setting for this grim story, it remains in the background. Any art lover would agree that the Netflix retelling of this crime feels incomplete because insufficient airtime is given either to the history of this unique museum or the life of its enigmatic founder, Isabella Stewart Gardner. In the context of This Is A Robbery, the museum is a beautiful distraction. There is an even more interesting story that precedes the robbery – it is that of Isabella Stewart Gardner and Fenway Court.
Isabella Stewart Gardner
Isabella Stewart Gardner was born in 1840 to financially comfortable parents in New York City where she was educated and exposed to Europe at an early age. Isabella secured her place in society through her marriage to John Lowell "Jack" Gardner Jr. of an established New England family in 1860. The Gardners lived among the wealthy on Beacon Street in the Back Bay neighborhood of Boston, where Gardner cultivated a lifestyle that was not limited by the conventions of time or place. Even though the marriage between "Mrs. Jack" and Jack was not the most traditional, they remained committed partners until Jack's sudden death in 1898.
Early on, the couple experienced considerable heartbreak with the death of their only son, John Lowell Gardner III, in 1865, less than two years after his birth. In 1878, Isabella and Jack were suddenly the adoptive parents to three teenage boys who were orphaned by Jack's brother who had committed suicide and whose wife had died years earlier in childbirth. As a way to deal with these losses, the couple tapped into their vast resources to travel extensively throughout Europe and Asia.
Gardner's marriage did not define her, however. Her place of privilege and considerable wealth permitted an ongoing development of the self. Devoted to her husband, although fiercely independent, Gardner's passion for art, music, literature, sport, and horticulture was fed through persistent travel and deep friendships that reflected her intellectual and spiritual individuality. Quite an accomplishment for a 19th century woman. At the turn of the century and following the death of her husband, Gardner charged forward with the construction of Fenway Court, known today as the Isabella Stewart Gardner Museum.
Gardner spent the last two decades of her life living in her museum and curating the rooms of this Venetian villa in Boston. It was constructed under her close direction. She filled it with masterpieces and architectural fragments she collected throughout Europe and Asia and reassembled them into a space that was activated by performances, religious ceremonies and celebratory meals, overseen by the lady in charge until her death in 1924. Gardner's will stipulated that nothing in the galleries of the Isabella Stewart Gardner Museum should be changed and that no items could be acquired or sold from the collection. The museum administration has upheld the wishes of its founder to the best of their abilities with the exception of the breach that took place 66 years later. Empty frames mark the original placement of the works that were stolen on the night of March 18, 1990. Although these blank spaces are a gloomy reminder, their absence does not diminish the overall spirit of this space and Gardner's passion.
Mentor, Madonna, Muse, Seductress…
Gardner lived a vibrant, and to some extent scandalous, life cultivating relationships that deeply impacted both her and her husband. It remains unclear whether certain friendships with younger men, such as the novelist Francis Marion Crawford or the much younger artist Ralph Curtis, were romantic affairs that flourished and floundered while her husband looked the other way. It is known that Gardner led a very active social life among a diverse network of intellectual, artistic, and religious individuals. Through these relationships and given her considerable wealth, Gardner was not just a devoted friend but a well-regarded mentor and patron, also remembered as a muse, Madonna, and seductress.
While passing through London in 1886 on her way back to Boston after several months of travel abroad with her husband, Gardner commissioned a small portrait by the expatriate American artist James McNeill Whistler. Around this time, the American novelist Henry James, who was part of Gardner's social circle, arranged for her to receive a letter of introduction from another expatriate artist, John Singer Sargent. Following the recent scandal surrounding the exhibition of his painting Madame X (1883-84) at the Paris Salon of 1884, Gardner was not only eager to meet Sargent in person but hoped to commission a portrait from him.
Two years later, Sargent was in Boston and painted the portrait of Gardner that was known briefly as Woman: An Enigma. Sargent described this depiction of Gardner as a "Byzantine Madonna" and today it hangs in the Gothic Room of Gardner's museum. Much like Madame X, this portrait caused a bit of scandal for Sargent's depiction of Gardner in a low-cut dress that exposed a little too much bosom. In light of the vulgar comments circulating among their circle friends and acquaintances, this portrait was only exhibited once during Jack Gardner's lifetime as per his request.
Gardner's education in the history of art and evolution into a serious art collector was guided by Charles Eliot Norton, the first professor of art history at Harvard University where he taught from 1874 to 1898. Norton was a close associate of the English art critic John Ruskin and was influential in fueling Gardner's passion for medieval Italian art, literature, and architecture. While Norton may have been a mentor for Gardner, she sponsored the studies of art connoisseur and consultant Bernard Berenson, whom she bonded with over their shared loved of everything Italian. Berenson became the leading expert on the Italian Renaissance and worked as a trusted consultant and agent for Gardner when she started collecting old masters.
Gardner held deep religious beliefs and was closely aligned with the Episcopal Church, more specifically with the Anglican order of monks, the Cowley Fathers of the Society of St. John the Evangelist and the Church of the Advent in the Beacon Hill neighborhood of Boston. She gave generously in support of the building of high alters, funding American missions abroad, and towards the completion of St. Augustine's Church on Beacon Hill that was built by the Cowley Fathers for the Black community of Boston. Gardner's connection to religion was a constant throughout her life with the inclusion of a chapel space in her museum where religious services were conducted during her lifetime that have continued through today to commemorate Gardner's birthday.
The Collection
Gardner's art collection grew rapidly during the 1880s and 1890s, while traveling the world with her husband. They spent long periods of time abroad, especially in Venice, Italy, a place most cherished by Gardner. Even though she was encouraged and financially supported by her husband to collect art, Gardner was able to increase her buying power in 1891 when she inherited $1.75 million following the death of her father. This financial freedom combined with complete control over her husband's fortune upon his death in 1898 intensified Gardner's acquisition of art. In the decade prior to the grand opening of Fenway Court, Gardner spent over $1 million on art, a massive expenditure and significant step in the direction of fulfilling her long-held intention to share treasures of the Old World with an American audience.
Gardner's European shopping spree coincided with other American and European institutions but also put her in competition with American tycoons, "robber baron" such as the Carnegies, Rockefellers, and Morgans who were just as eager to amass art collections that would edify their own legacies. New World dollars were hard at work scouring the storage rooms and auction houses of the Old World for masterpieces resulting in some of the most spectacular collections of art to be located in the United States.
Francisco de Zurbarán's The Virgin of Mercy was one of the first old master paintings to enter the Gardner collection as it was purchased while the couple was passing through Seville in 1888. Four years later, she purchased Johannes Vermeer's The Concert at auction in Paris for $6000. As one of the paintings stolen on the night of the robbery in 1990, and given that Vermeer left behind such a small body of work (only about 36 known paintings confirmed by his hand), the disappearance of this painting is all the more unfortunate. In 1896, Gardner secured the crown jewel of her growing collection with the purchase of Titian's The Rape of Europa. Following the death of her husband, she purchased Christ in the Storm on the Sea of Galilee by Rembrandt, also stolen from the museum. These are just a few of examples of Gardner's shrewd maneuverings, many of which were carefully guided by the expertise of Bernard Berenson. His role in the growth of Gardner's art collection further augmented his position as a leading connoisseur of Italian art.
Gardner succeeded in harnessing her wealth to assemble a world class art collection for an American audience. With the realization of her grand vision others were inspired to give her works that complimented this masterpiece of a museum. In the final years of her life, she was given John Singer Sargent's, El Jaleo (1882), a captivating painting of a Spanish dancer that now hangs in the Spanish Cloister on the museum's ground floor.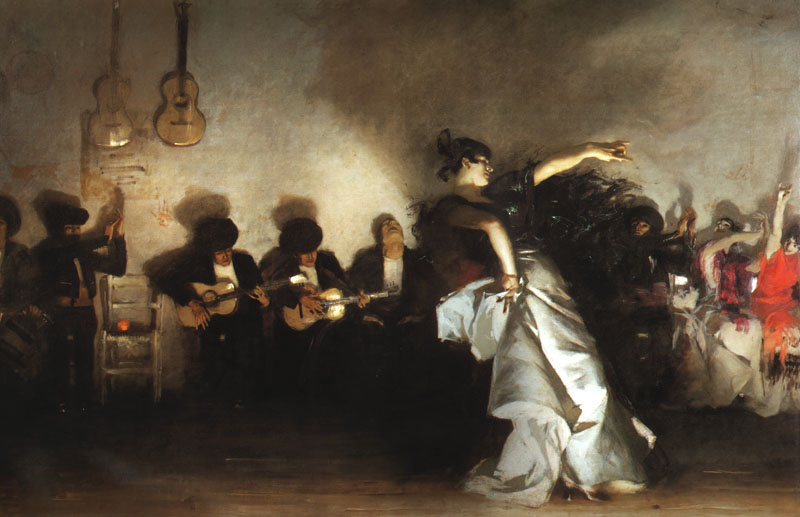 Fenway Court
Gardner took a giant step forward shortly after the death of her husband and purchased a plot of land in the Fenway area of Boston. She hired local architect William T. Sears, who the Gardners had previously employed to renovate one of their private properties, to draw up plans that adhered to her vision. After spending several months of time annually throughout her her adulthood at the Palazzo Barbaro along the Grand Canal in Venice, it comes as no surprise, that Gardner's museum was conceived in the style of a Venetian villa. On one of their last trips together, the Gardners spent the summer of 1897 purchasing columns, windows, doorways, reliefs, balustrades, capitals, and statuary from the Roman, Byzantine, Gothic, and Renaissance periods while in Venice, Florence, and Rome. Even without a concrete plan in place, Gardner was already mentally constructing a museum from the fragments of Italy.
Construction of the Isabella Stewart Gardner Museum commenced in 1899 and the doors to her Venetian-inspired masterpiece were opened to the elite in 1903. Sears may have been the architect assigned to this project but Gardner was hands-on from the moment they broke ground to her final days. She oversaw the placement of the architectural fragments that had been sitting in a massive storage facility down to the last detail. After construction of the four-story building centered around an open courtyard was complete, Gardner designed each room and curated the installation of her art collection to compliment rooms eclectically organized into galleries called the Dutch Room, the Raphael Room, the Veronese Room, the Tapestry Room, and so on. She worked endlessly on the interior design, curating the art and tending to the luscious garden that fills the courtyard.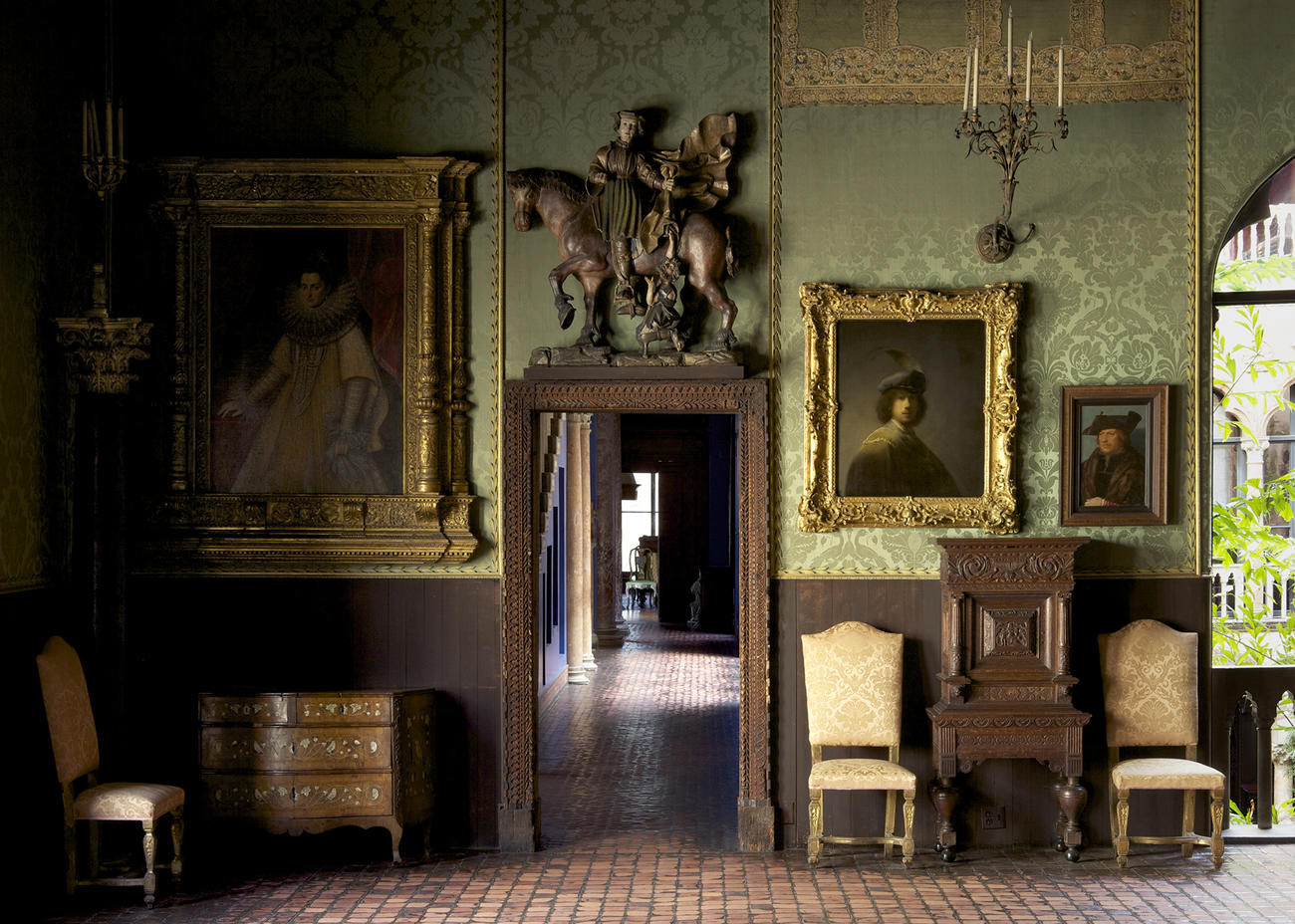 The cost to bring this dream to fruition drew heavily on Gardner's resources. In order to complete the construction and to ensure that the museum's future was secured through its endowment, she sold her other residencies and lived permanently in the fourth-floor apartment of the museum until her death in 1924. While she was living, this space functioned as her home, a place where she regularly entertained guests, held performance events and religious ceremonies. Some were so fortunate to be houseguests for short and long stays, including Sargent who also used a gallery space as a studio to paint portraits. The building was open to the public by reservation and on a limited basis while the founder was in residence. Thankfully Fenway Court can be experienced by anyone today during standard museum hours.
Unassuming from the outside, one is transported to another time and place upon stepping inside this world meticulously organized by Gardner. This museum is a jewel and one of the most beautiful to exist in the United States. The robbery may cast a dark shadow on the history of the Isabella Stewart Gardner Museum but the story that came before is one for the ages and the experience of Fenway Court is transcendent.
---
More about museums: