Sculpture
The Most Iconic Sculptures by Richard Serra
Richard Serra is an American artist and sculptor involved in the Process Art Movement. He often constructs site-specific installations, made out of fiberglass, rubber, and most frequently steel on a scale that dwarfs the observer. His site-specific works challenge viewers' perception of their bodies in relation to interior spaces and landscapes, and his work often encourages movement in and around his sculptures.
Who is Richard Serra?
Richard Serra is one of the most significant artists of his generation, he has produced large-scale, site-specific sculptures for architectural, urban, and landscape settings spanning the globe, from Iceland to New Zealand.
Born in 1938 in San Francisco, Richard Serra lives and works in New York and on the North Fork of Long Island. Serra was exposed early to the processes of metalwork as his father worked as a pipe fitter in the shipbuilding industry. Serra attended the University of California in Berkeley, graduating with a Bachelor in English Literature while working in steel mills to support himself financially during his studies. His experience with this industrial material would have a profound influence on him after he transferred to the University of California in Santa Barbara and began to take art classes. He then studied painting at Yale University, from 1961 to 1964, completing his BFA and MFA there.
During the early 1960s, he came into contact with Philip Guston, Robert Rauschenberg, Ad Reinhardt, Joseph Beuys, and Frank Stella. In 1964 and 1965 Serra received a Yale Traveling Fellowship and traveled to Paris, where he frequently visited the reconstruction of Constantin Brancusi's studio at the Musée National d'Art Moderne. After various travels through southern Europe and northern Africa and after his first solo exhibition in Rome in 1966, he moved to New York. Here his circle of friends included Carl Andre, Walter De Maria, Eva Hesse, Sol LeWitt, and Robert Smithson.
As he began to experiment with different materials, Serra gravitated toward sculpture. He identified Jasper Johns and Jackson Pollock, two very different artists, as his main inspirations. His sculptures recast Minimalism on a monumental scale. Recognizable for their patina, Serra's favorite material is rolled Cor-Ten steel with an evenly rusted surface. As much as for their size, sculptures like Torqued Ellipses (1996-1997) count among the previous century's most iconic artworks. It's not surprising that Serra's massive forms have compelled museums to carve out spaces large enough to accommodate them.
To Lift
In the mid-1960s Richard Serra began experimenting with nontraditional materials such as fiberglass, neon, and rubber, and also with the language involved in the physical process of making sculpture. The artist developed a Verblist or a list of infinitives, such as "to spread", "to roll", "to lean", "to cut" and "to fold", which described many of the working processes that he would later use throughout his career, either with his own hands or through methods of industrial fabrication. They are actions materialized in sculptures. In fact, Serra gives a lot of importance to the formation and transformation process of materials and to the way in which these react to external conditions such as gravity or temperature.
This work known as To Lift, made in 1967 from discarded rubber recovered from a warehouse in lower Manhattan, is a result of the rubber's unique response to the artist's enacting of the action verb "to lift." As Serra later explained:
"It struck me that instead of thinking what a sculpture is going to be and how you're going to do it compositionally, what if you just enacted those verbs in relation to a material, and didn't worry about the results?"

Richard Serra on his installation To Lift, 1967. Museum of Modern Art, New York, NY, USA.
One Ton Prop (House of Cards)
One Ton Prop (House of Cards), created in 1969, is made of four lead plates that stand vertically by their own weight, leaned against one another, like a house of cards. This work—part of a series titled Props—shows his interest in the tension between the elements that form a sculpture. In his series of props, the artist manifests the principles of balance and gravity and their importance in the production of sculpture.
Considered in retrospect, One Ton Prop suggests the outcome of Serra's mature works, where various properties of gravity, weight, counter-force, sinuous movement, and other physical and visual properties are embodied by steel, a material commonly assumed the stuff of architectural skeletons rather than objects, in their own right, of visual attention.
Tilted Arc
From 1970 to the current day, Richard Serra has worked mainly with steel, a material usually associated with architecture and engineering, both disciplines to which the artist often turns to understand the origin of sculpture. When using steel, the scale of his works increases drastically. The pieces can no longer be considered discreet objects. Their meaning and construction cannot be separated from their environment and cannot be experienced without walking around them.
This creates a radical change in perception for the viewer, who must move through the work in order to understand the totality of the piece. Many of Serra's works are exhibited in open spaces, such as parks or plazas, where the public can move around them and thus experience the pieces.
In 1981, Serra installed Tilted Arc, a 3.5-meter high arc of curved steel in the Federal Building Plaza in New York City. The installation was controversial from day one, largely because workers in the buildings surrounding the plaza complained that the steel wall obstructed passage through the space. A public hearing in 1985 voted that the work should be moved, but Serra argued the sculpture was site-specific and could not be placed anywhere else.
Serra famously issued an often-quoted statement regarding the nature of site-specific art when he said: "To remove the work is to destroy it." Eventually, on March 15, 1989, the sculpture was dismantled by federal workers and consigned to a New York warehouse. Even though it represents the most infamous work of his career, it opened one of the most important debates on public sculpture in 20th-century art.
Fulcrum
Commissioned to create a large sculpture for a small space, Richard Serra designed upwards (16.8 m high) Fulcrum. The sculpture is comprised of five trapezoidal plates of weatherproof steel which lean against each other to form a self-supporting sculpture of architectural proportions.
Serra encourages viewers to experience the spatial and physical interplay between Fulcrum and its surrounding architecture and prompts a re-evaluation of physicality, one's movement, and movement of others within a given built environment. Located at the heart of Broadgate's busy pedestrian realm in the City of London, the public is free to approach Fulcrum from all angles and even enter it.
Snake
Another famous work of Serra's is the monumental sculpture Snake, a trio of sinuous steel sheets creating a curving path. It was made for the inauguration of, and is permanently located in, the largest gallery of the Guggenheim Museum Bilbao, the Fish Gallery. In 2005, the museum mounted an exhibition of more of Serra's works, incorporating Snake into a collection entitled The Matter of Time. Although it weighs around 180 tons, this colossal work is experienced through its negative spaces.
The two tilted, snaking passages, capture a rare sense of motion and instability. Snake preceded Serra's Torqued Ellipses, the artist's most recent concentration on the physicality of space and the nature of sculpture. Both Snake and the Torqued Ellipses seem to defy gravity and logic, making solid metal appear as malleable as felt.
Torqued Ellipses
Upon realizing that most cities around the world are characterized by angled buildings, Serra burned with the desire to create a vocabulary that featured curvilinear forms.
The most famous of his works is definitely the Torqued Ellipse series. Richard Serra began creating these pieces in 1996 as single elliptical forms, inspired by the soaring space of the early 17th-century baroque church San Carlo Alle Quattro Fontane in Rome. They are made of huge steel plates bent into circular sculptures with open tops, they rotate upward as they lean in or out.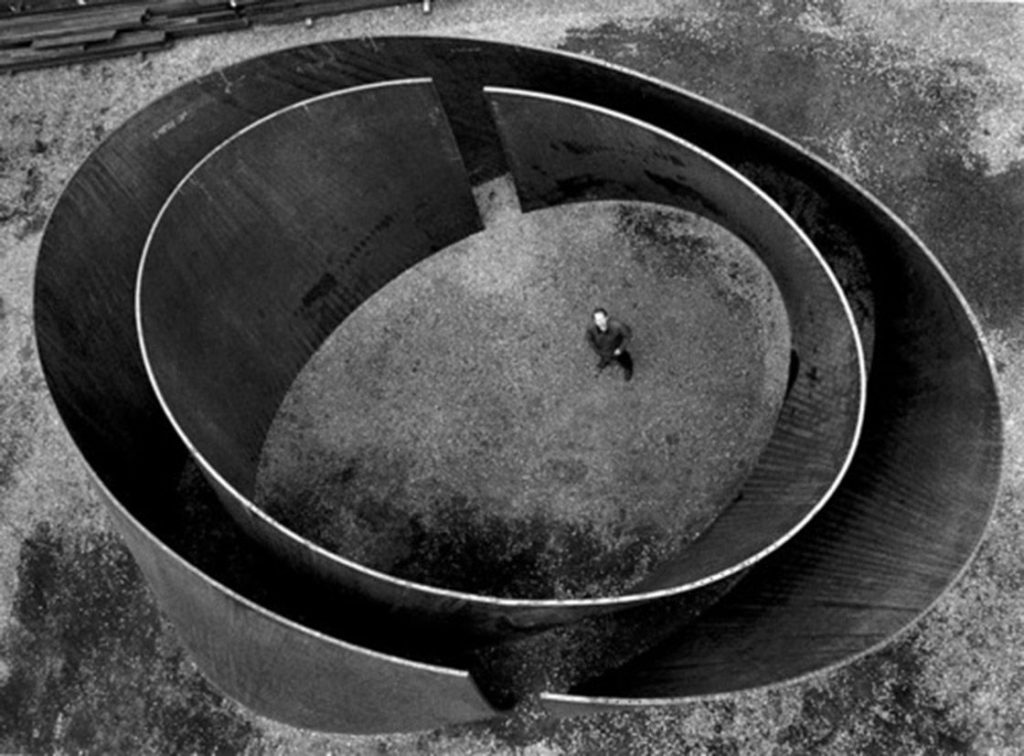 Serra continues to produce large-scale steel structures for sites throughout the world. He has become particularly renowned for his monumental arcs, spirals, and ellipses, which engage the viewer in an altered experience of space. In particular, he has explored the effects of torqued forms in a series of single and double-torqued ellipses.
The Matter of Time
In June 2005, the Guggenheim Museum Bilbao opened a permanent installation of breathtaking elliptical voids, The Matter of Time, to the public. It includes seven monumental site-specific sculptures commissioned by the museum for its permanent collection. Installed in the largest gallery of the museum designed by Frank O. Gehry, the Fish Gallery, they would join Serra's Snake, created for the opening of the museum, in a site-specific indoor installation of a scale and dimension without precedent in modern history. Altogether the eight sculptures generate an experience that also includes the large exhibition space in which they are shown.
All the pieces that compose the installation of The Matter of Time are made from weathered steel, a type of steel usually used in the construction industry for bridges and buildings. As aforementioned, these materials are traditionally related to the fields of architecture and engineering. When outdoors the color of this material slowly changes, turning from gray to orange to finally adopt a dark brownish tone, a process that takes about seven or eight years. After ten years (the process takes longer indoors than outdoors), when the rusting process is complete, all the pieces have a homogeneous, soft, and continuous surface.
Serra has stated that the essential material in his works is space and so he says:
"I consider that space is material. The articulation of space has prevailed over other aspects. I try to use sculptural shapes to differentiate space."

Richard Serra, Guggenheim Bilbao.
While the physicality of space has always been one of his recurrent themes, in these works space turns into a material.
"In most of the works that I did before Torques Ellipses, I formed the space with the material that I was using and I focused on the measure and positioning of the work in relation to a given context. In these works, however, I started with the void, that is, I started with space, starting from the inside towards the outside, not from outside towards the inside, to be able to find the skin."

Richard Serra, Guggenheim Bilbao.
For Serra, as he himself claims, this is the only place in the world where he could have installed them. He has therefore created his eight sculptures so that they are perceived as a group, including the space in which they are situated. The works generate a dialog and redefine the architectural environment in which they are set. When entering the enormous room, the viewer is actually entering the sculpture.
Shifting in unexpected ways as viewers walk in and around them, these sculptures create surprising experiences of space and balance, and provoke a dizzying sensation of steel and space in motion.
Promenade
Richard Serra opened one of his latest shows, Promenade, on May 7th, 2008, after months of planning and preparation. The new work is part of the Monumenta contemporary art exhibition series held each year in Paris' Grand Palais. Serra's sculpture is the second installment in the series which asks leading artists to engage with the massive space in downtown Paris.
The Promenade is a multiple piece installation that creates a landscape of steel. The work disrupts our relationship to the architectural setting and offers a unique experience designed to challenge our perception of balance and gravity. Each of the five steel pieces measures 14m x 4m, with a thickness of 13 cm.
Carrying the Weight of the World
This fiery, 82 year old modern master has permanent installations in 14 countries, and his work feature in collections of contemporary art in most major museums. In 1983 and 1986, his work was the subject of comprehensive retrospectives at both the Centre Pompidou in Paris and the Museum of Modern Art in New York, respectively. He has been decorated by the French government and been awarded many honors.
The definition of modern sculpture, which began with Rodin and continued through Picasso and Brancusi, has been extended through Serra's installations and interventions. The aggressive forms in landscapes and interiors, the rusting steel, the beauty of thrust and weight.
Rather than prompting us to simply observe, Richard Serra makes us constantly renegotiate our relationship to an artwork that requires not only the artist, but also engineers, forgers, construction workers, preparators, curators, and viewers to participate. "How the work alters a given site is the issue," he affirms, "not the persona of the author."
Like the Greek Titan Atlas, Richard Serra is carrying the weight of the world. Here you can see him talking about his art:
---
Read more about contemporary sculpture: