Seasons
Around the World in Spring Through Paintings
Spring has inspired artists from all over the world for generations. The melting away of the cold winter and burgeoning of new life in every corner hints at new beginnings and a fresh start. This spring is perhaps even more significant as a reminder of better times as our world continues to battle with the COVID-19 pandemic.
Since most of us are still under stay-at-home orders at this time, let's take a journey all over the world through the eyes of these artists.
United States
This beautiful spring painting is by Julian Onderdonk, an Impressionist painter from Texas who has been called the father of Texas painting. He is known for his breathtaking renderings of the Texan landscape scattered with bluebonnets, such as this one.
Bluebonnets are the official state flower of Texas known for their rich color and the resemblance of its petal to a woman's bonnet. It blooms abundantly in spring in central and southern Texas.
Poland
Józef Mehoffer was one of the most revered Polish artists of his time, and his house in Jankowka near Kraków is an important part of his legacy. The house has a charming old fashioned look and was elegantly furnished by the artist himself.
After his death, the family dedicated the Mehoffer house to the State Treasury, and it was eventually transferred to the National Museum in Krakow. The Mehoffer House has been open to the public since 1996 as a museum branch dedicated to the artist. This painting shows a view of the large courtyard of the Mehoffer home in the full bloom of spring.
Spain
Claude Monet has rightly described Joaquín Sorolla as the 'Master of Light'. Sorolla was known for his luminous compositions and radiant color palette. Though his works show the unmistakable influence of Impressionists, Sorolla considered himself stylistically similar to John Singer Sargent and Anders Zorn.
This painting is one of the many views of the gardens of his home in Madrid, which is now the Sorolla Museum. It was painted in the spring of 1920.
Japan
Hiroshi Yoshida was an accomplished Japanese painter and woodblock-style print-maker from the 20th century. He was one of the greatest artists of the shin-hanga style and renowned for his landscape prints. Yoshida traveled all over the world and created several woodblock style renderings of non-Japanese subjects.
This painting by Yoshida, however, depicts traditional Japanese subjects and focuses on possibly the most beautiful aspects of spring in Japan — the Sakura trees.
Denmark
Born after the end of the Danish Golden Age, Peder Mork Mønsted was a celebrated Danish painter who gained much acclaim for his serene and poetic plein-air (open air) paintings of the Danish and Scandinavian landscape and coastlines. This painting depicts the rural Scandinavian countryside in the month of May with the vivid lilacs in full bloom.
India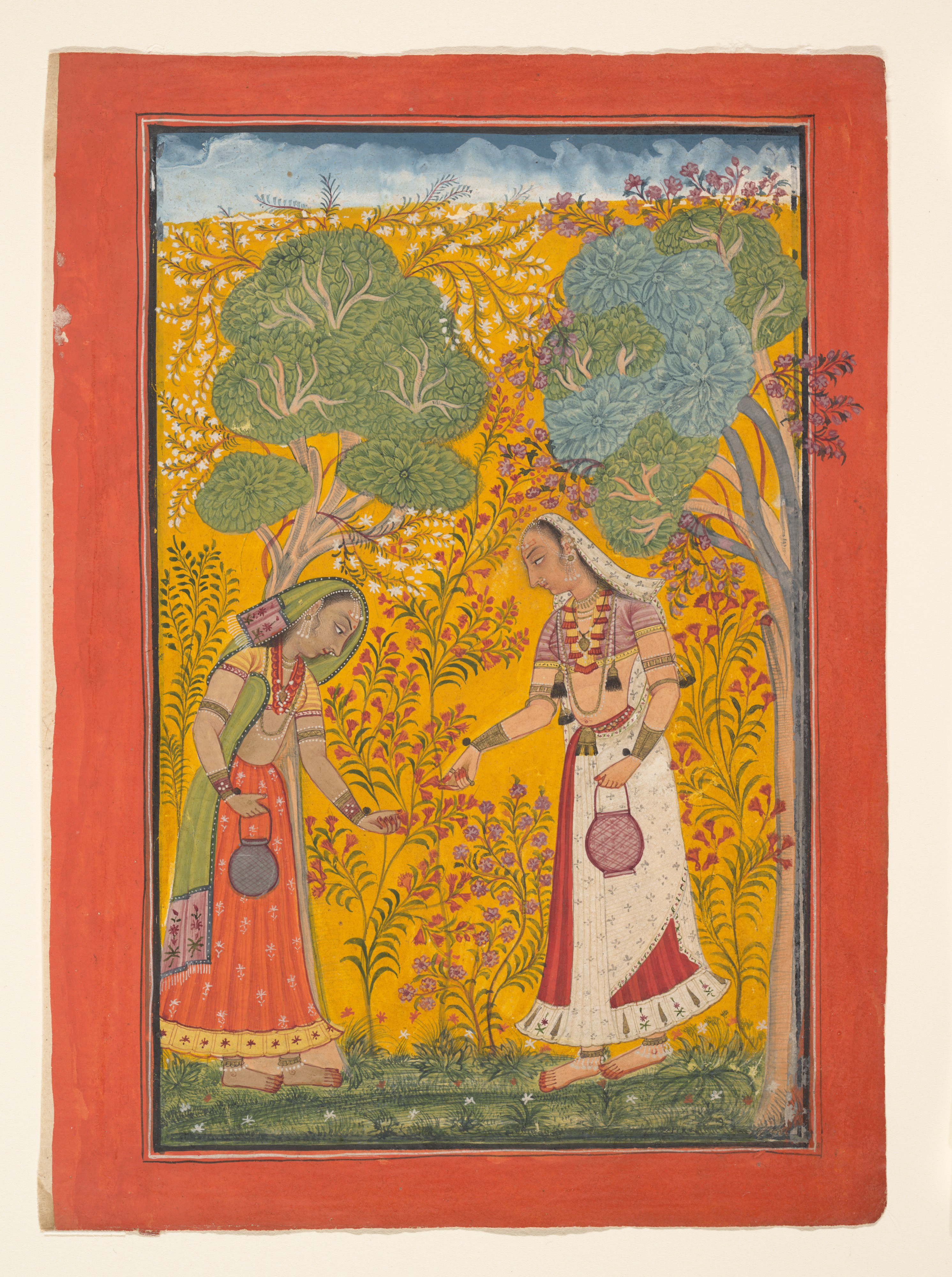 Spring or vasant has long been revered as a time of love, music, and celebration in Hindu mythology, and is particularly associated with the Hindu God Krishna. This painting is in a traditional miniature format that belongs to a larger manuscript and is possibly from early eighteenth-century royal Bilaspur court in Northern India.
As we can see, the painting depicts a burgeoning springtime landscape with abundant flowers all around. There are two women dressed in lehengas filling their baskets with flowers.
Australia
Though spring comes around September in Australia, here is a look at the Brisbane City Botanic Gardens in 1903. It was painted by R. Godfrey Rivers who was an English artist active in Australia at the time. The painting depicts him with his wife, Selena taking tea under a large and magnificent jacaranda tree in full bloom.
This jacaranda tree is special because it is among the first of these trees planted from seeds imported from South America in 1864. It is believed that many of the jacarandas now growing in the suburbs of Brisbane are the progeny of this first tree.
United Kingdom
This painting by Benjamin Leader Williams is an homage to Britain's woodlands in full spring bloom, which are an iconic and fragrant part of the spring vibrancy in Britain. The United Kingdom alone is home to half of the world's population of this vivid flower.
While his early works were more focused on fine details, Benjamin Leader Williams adopted a more Impressionistic style in his later works that proved to be more popular.
Italy
This airy landscape conveys a sense of calm optimism. It was painted by the master Russian painter Isaac Ilyich Levitan, who was known for his remarkable and diverse landscapes. Levitan came from humble beginnings and suffered from a heart condition for the majority of his life. Though he died at the relatively young age of 40, he created an impressive legacy of hundreds of artworks that continue to inspire.
In 1979, Soviet astronomer, Lyudmila Zhuravlyova named an asteroid, 3566 Levitan, after this artist.
France
This idyllic view of spring is from rural France in 1890. Although no figures appear, the home and the yard posts in the backdrop add a touch of domesticity. This picture of quiet bliss was composed by Robert Vonnoh, who was among the first American painters to explore Impressionism.
After beginning his art education in Boston, Vonnoh moved to Paris around the 1800s. By around the late 1880s, Vonnoh had settled in the artists' colony of Grèz-sur-Loing, south of Fontainebleau. He traveled frequently between the United States and France and became well known for his plein-air paintings.
---
Further reading: