Artemisia Gentileschi (1593 – 1656) was the most accomplished female painter of the Italian Baroque. She specialized in Biblical scenes of strong women fulfilling their higher destinies. Her most famous painting, Judith Slaying Holofernes, not only captures the drama and intensity of the subject, but it also captures the determination and strength of the feminist heroine. Let us explore a Gentileschi masterpiece. Let us explore a Baroque bloodbath.
Italian Baroque Art
When Artemisia Gentileschi painted Judith Slaying Holofernes in 1613, Italy was in the grips of the Counter Reformation. The Catholic Church had lost huge masses of followers to the Protestant faiths in the last century, and it needed to initiate damage control and regain lost followers. How was the Catholic Church going to achieve its goals? It used art as a tool to teach, to inspire, and to convert. Baroque art was not only decorative, but it was also propaganda. The propaganda included images of good conquering evil, of virtue dominating vice, of Christian and Jewish heroes vanquishing heathens. Paintings needed theatricality, motion, and drama to wow the senses and inspire viewers with religious feelings.
Baroque art was both energetic and extravagant, and Artemisia Gentileschi fulfilled these needs with her Judith Slaying Holofernes. What Gentileschi did not know, is that she would soon experience the heights of fame and the depths of despair. Personal life would bleed into public life with a spectacular scandal painted on canvas!
Biblical Inspiration
Artemisia Gentileschi was inspired to paint Judith Slaying Holofernes by a story told in the Book of Judith from the Old Testament. The story says Judith was a widow and a great beauty who lived in the Israelite town of Bethulia. The town was under enemy siege by King Holofernes and his Assyrian army.
Judith is a devout Jewish woman, and her faith strengthens her to find a way to overcome the Assyrian invaders. She believes in delivering Israel from its enemies and decides to personally seek out King Holofernes. Judith and her maid Abra approach Holofernes and Judith charms him with her beauty. While they drink wine and eat dinner, Judith offers herself as a lover to Holofernes and as a traitor to the Israelites. Holofernes finds Judith sexually attractive and readily accepts her offers. However, before Holofernes can consummate his lust, he falls asleep drunk with wine. Judith seizes her opportunity and has Abra hold Holofernes while she severs his head from his body! The decapitated body is left in the tent, while the prized head is stolen and taken back to Bethulia. Judith then proudly displays the murdered king's head on the fortified city walls. The Assyrian army sees its dead king, and flees away in horror and defeat.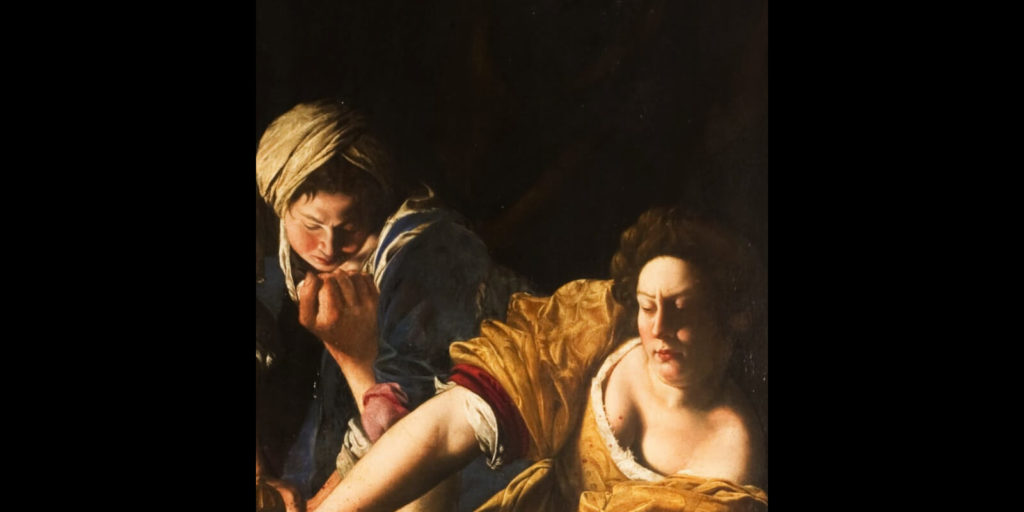 Stylistic Elements
There is a sexual tension and harmonic violation throughout Judith Slaying Holofernes. Artemisia Gentileschi painted three people in the scene: Holofernes is on the bed, Abra is directly above him, and Judith is on his right. Abra holds Holofernes down on the bed. She is ensuring Holofernes cannot escape while he is being attacked. Judith wields the sword, and cuts deep into his neck. She visibly struggles through her task with her tense forearms, leaning shoulders and pursed lips. The three figures are silhouetted against a black background. They are like actors performing a very bloody drama on a darkened stage. It brings the viewer into the space and action, and challenges the viewer to participate in the murder. Does the viewer want to help Judith, or does the viewer stand back in shock and revulsion?
The audacity of the work is further strengthened by the exclusive use of primary colours. The colour scheme of red, yellow, and blue heightens the contrasts amongst the three figures. Holofernes is shrouded in lustful red fabric, the same colour of his ebbing blood as it flows over the fabrics and surfaces around him. Abra is dressed in trustful blue as she loyally assists Judith in the murder. Judith wears hopeful yellow as she energetically commits the assassination with the sword. These primary colours rub and brush against each other allowing a tension to exist. Then like colourful flowers in a monochrome vase, the black background and white sheets intensify the colours' vibrancy.
Adding to the painting's message are the three people's faces. Their faces express a triad of emotions from Abra's determination, Judith's triumph, to Holofernes's suffering. Holofernes is the most visually striking with his ajar lips, wincing eyes, and wrinkled brow. You can almost hear his death moans roaring out of him. His last breaths gurgle with choking blood. There is tension and strain as blood spews everywhere.
Personal Inspiration
The Biblical story of Judith is enough inspiration for a great artist, like Artemisia Gentileschi, to create a Baroque masterpiece. However, there is a personal story infused into this painting too. When Artemisia Gentileschi was 19 she was raped by a family friend, Agostino Tassi. She confronted her rapist in court to seek justice for his crime against her virtue, body, and spirit. The court passed judgement and found him guilty but never fulfilled his punishment. It is very easy to imagine that after all her trauma and efforts, Artemisia would have felt violated and cheated of justice.
Many scholars believe that Holofernes in Judith Slaying Holofernes is actually a portrait of Artemisia's rapist, Agostino Tassi. It seems very logical since the rape occurred in 1611, the trial commenced in 1612, and she painted Judith Slaying Holofernes in 1613. How else could an angry artist release her violated screams in a more talented manner? If Artemisia couldn't gain justice in her personal life, she could gain justice in her artistic life. She would kill the man who had assaulted her. Agostino would symbolically die like the heathen Holofernes, and both would die at the hands of women.
Conclusion
Artemisia Gentileschi (1593 – 1656) was the most accomplished female painter of the Italian Baroque. She was progressive in forging her artistic career as a female painter in a male-dominated world. She also cemented her artistic reputation by becoming the first officially recognized female member of the Accademia delle Arti del Disegno in Florence. She was confident enough to tackle indelicate subjects such as murder, rape, and adultery. Unlike other women of her time, she did not allow her sex, her position, or her age to determine her fate. Gentileschi has only recently gained recognition as a bold woman overcoming life's adversity and challenging the status quo. She is a feminist Baroque painter who shrouded real human dramas in socially-accepted painted themes. Artemisia Gentileschi captures the determination and strength of women through her Judith Slaying Holofernes. This is a Gentileschi masterpiece. This is a Baroque bloodbath.