History
Helene Kröller-Müller: Life Between Love and Art
The Kröller-Müller Museum in Otterlo, Netherlands holds the second-largest Van Gogh collection in the world. Furthermore, there are masterpieces by modern masters such as Claude Monet, Georges Seurat, Pablo Picasso, and Piet Mondrian. However, there would be no museum if it wasn't for Helene Kröller-Müller. She is the woman behind the idea and the collection of the museum.
Early Life
Helene Kröller-Müller was born Helene Emma Laura Juliane Müller on February 11, 1869, in Essen, Germany. She was born and raised in a wealthy industrialist family. Helene's father, Wilhelm Müller, owned Wm. H. Müller & Co., a prosperous company which supplied raw materials to the mining and steel industries.
Helene didn't have much of a connection with art in her early life. She was a bright girl though. At the age of fourteen, she began to question God and her belief in the Bible. At that time, she discovered the ideas of the enlightenment writers and philosophers, especially Spinoza. Consequently, she formulated her own life motto: 'Spiritus et Materia Unum' – spirit and matter are one.
In 1888, upon her father's request, Helene married the Dutchman, Anton Kröller, who worked for her father. The couple settled in Rotterdam where Anton was in charge of a branch of Müller & Co. Anton later became the director of the company. They had four children, Helene (junior), Toon, Wim, and Bob.
The Start of the Collection
Helene was one of the wealthiest women in the Netherlands. She lived the life of a merchant's wife. In 1905, Helene and her daughter Helene Jr. began taking art classes from the art educator H.P. Bremmer. He introduced her to modern art and also taught her how to observe art.
The reason she started collecting art was probably because she found spirituality in art that she couldn't find in religion. The first work she purchased was It Comes from Afar by Paul Gabriël. In 1907 she hired Bremmer to be her personal advisor for assembling an art collection.
Eventually, Helene Kröller-Müller became an enthusiastic art collector. She was also one of the first people to appreciate the genius of Vincent van Gogh. The first van Gogh's work she purchased were Edge of a Wood and Four Sunflowers Gone to Seed in 1908. One year later she acquired The Sower (after Millet) and Basket of Lemons and Bottle.
Friendship with Sam van Deventer
In 1906, Helene's daughter and her classmates set up the hockey club ODIS together. Sam van Deventer was also a member of the team. After graduation, Anton Kröller invited Sam to work at Müller & Co. Consequently, Sam writes to Anton but as Anton was absent, Helene sends an answer about the opportunities at the company. Sam got the job and a lifelong friendship began.
Or was it something more? Helene's and Sam's relationship lasted from 1908 till her death in 1939. They wrote long letters to one another, even multiple times a day when they were far from each other. Also they spent a lot of time walking together when there were in the same city. The letters, preserved to this day, give a hint about the true nature of their relationship.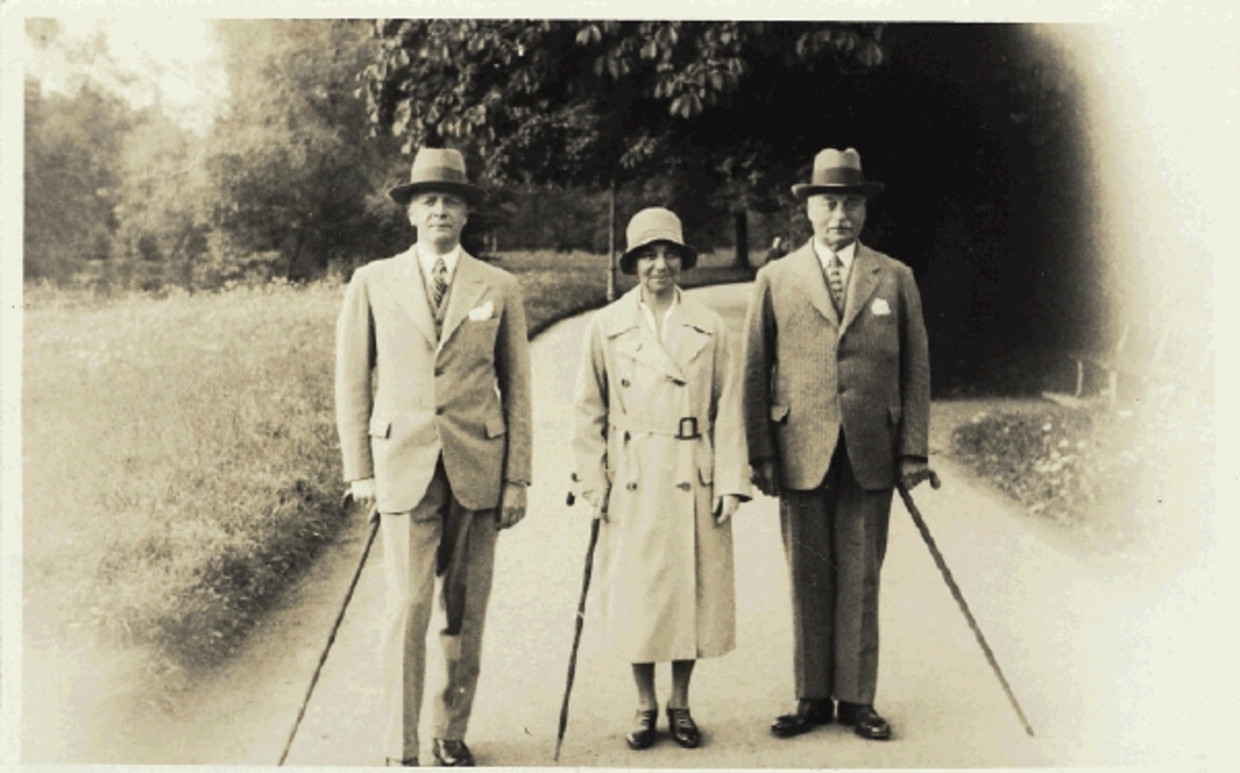 Her relationship with Sam ruined Helene's relationship with her daughter, but not the one with her husband. Anton trusted his wife. Eventually, they formed a strange trio. Helene and Sam developed a unique, deep, platonic love through their letters. From the letters it is obvious that attraction and longing were present.
"Oh Sam, that flames were like arms reaching out to the unattainable light and, like van Gogh's Sunflowers, they were burning their own heart just like the fierly ball below, that will keep roaming the earth until it finally surrenders to very, very strong arms that will embrace it firmly."

– from Helene's letter to Sam van Deventer about a dream. Leo de Boer, "Helene, a woman between love and art".
The First World War
The events around WWI aroused a strong need to help in Helene. In 1914 she decided to go to Liège. There she took care of wounded soldiers together with nuns and nurses at the l'Hôpital des Anglais.
"You see, Sam, I can't sit still and live in a country where war is waged only with pen and tongue, in a sneaky way while I hear and feel the world stirring abroad. Nor can I sit around doing nothing, while my people fight and suffer."

– from Helene's letter to Sam van Deventer about the war. Leo de Boer, "Helene, a woman between love and art"
Meanwhile WWI brought Müller & Co. company high profits. Therefore, Helene was able to buy more artworks. One of her favorites was Renoir's Clown and Fantin-Latour's Portrait of Eva Callimachi-Catargi.
The Idea of a Museum
On a trip to Florence in June 1910, Helene got the idea of creating a museum. From 1913 onward, parts of her collection were open to the public at the "Museum Kröller" in the Hague. In 1917 she commissioned Berlage to design a great museum on the Veluwe for her collection.
Berlage began work in 1915 on the design and construction of the St. Hubertus hunting lodge, Kröller-Müller's country residence. Helene chose him because she liked his style. Also, she liked the idea that something majestic doesn't have to be built by the aristocracy, but by a merchant. However, in 1919 Berlage resigned after finishing the building of the lodge.
Afterward Helene asked the Flemish architect Henry van de Velde to build the museum. The foundations were laid in 1921. Then the bankruptcy of Müller & Co. and the resulting financial crisis stopped her plans. Therefore, in 1928, Anton and Helene created the Kröller-Müller Foundation to protect the collection and the estates.
"He no longer envisions the greatness of the concept. He believes the museum won't be in any proportion to the collection. But the museum will be our greatest legacy."

– from Helene's letter to Sam van Deventer about her husband. Leo de Boer, "Helene, a woman between love and art"

The Museum Construction
The whole situation shocked Helene. Also she was in poor health so she was recovering in Baden-Baden for some time after. She didn't give up though, she called the Minister of Education, Art, and Science and begged him for an audience. She succeeded in convincing him to get help from the State.
In 1935, Anton and Helene donated their entire collection to the Dutch State. The only condition was that the museum be built in the gardens of their park. The project also provided jobs for many people.
Helene was in her late sixties. Despite this, every day she visited the construction site to supervise the work. Under the care of the Dutch government, the Kröller-Müller Museum was opened in 1938. In December 1939 Helene got sick. On 14 December she died surrounded by her loved ones.
The Legacy
Helene's goal was to create a collection "for the benefit and enjoyment of the community". She focused mainly on French and Dutch art, with an extremely important position reserved for Vincent van Gogh. She collected more than 90 of van Gogh paintings and 185 drawings. This is the second largest collection of van Gogh's works (the first is that of the Van Gogh Museum in Amsterdam).
The Kröller-Müller Museum is located on 300,000 m2 forested country estate in the Hoge Veluwe National Park. The museum is encircled by the later added sculpture garden, one of the largest in Europe. There are over 160 sculptures distributed throughout the garden by iconic artists from Aristide Maillol to Jean Dubuffet, from Marta Pan to Pierre Huyghe.
"I believe in the perfection of everything that happens."

– Helene Kröller-Müller's epitaph.
---
If you enjoyed this article, why not read more about important art collections in the world? Check out: