François Boucher (1703-1770) was a French artist well known for his Rococo style artworks. His artworks are synonymous with the blossom of color and sensuality because Boucher was able to depict nude bodies, giving them a delicate and dreamy look. Also, his masterful use of colors expressed not only the beauty of feminine features but also nature's as well. In this article, you can read more about an outstanding Rococo artist!
1. He was the favorite artist of Madame de Pompadour
Madame de Pompadour was a favorite of French king Louis XV and a patron of Art. She was fairly proclaimed to be the godmother of Rococo. The biographies of Boucher and Pampadour were different, but nonetheless had a few similar details. For example, both pulled through misery to glorious life at the French court and finished their lives in obscurity and rejection. The versatility of François Boucher's talent attracted the capricious and intelligent Marquise de Pompadour, which is why she chose him to paint portraits of her.
By all means, the most remarkable one is Portrait of Madame de Pompadour, 1756.
In this portrait, you can see a beautiful young woman sitting on a sofa in her boudoir. By the way, the artist flattered Madame Pompadour very much – she noticed her face to be more beautiful and young than in real life. Her dress is green and lavishly decorated with roses. Unlike other women at the court, Madame Pompadour smelled like a rose. Thus, she brought the cleanliness into fashion!
2. His wife was his muse
In 1733 François Boucher married the young and beautiful Marie Jeanne Buzeau, the daughter of a Parisian judge. Her father was not satisfied with the origins of his son-in-law, but by the 1730s Boucher had became a famous artist. Note the delicate, childish face of 17 year-old Marie Jeanne, which the artist gave to all nymphs and a few Venuses in his paintings.
For instance, Marie Jeanne posed as princess Armida (Rinaldo and Armida), as Venus (The Toilette of Venus).
3. He painted very sensual peasants in his artworks
François Boucher frequently used pastoral scenes for interior decorations. In fine art, pastoral scenes include images of easygoing shepherds and shepherdesses in a picturesque countryside. Interestingly, aristocrats thought peasants to be lucky because they did not need to get married for money and study at the universities. Fancily dressed up peasants, who were warming under the sunlight in an embrace of their lovers, became the ideal image of a dream life.
Their faces remind one of porcelain dolls and the elegance of their images echoes with eroticism. Additionally, just pay your attention to the captions of François Boucher's artworks: Are they Thinking About Grapes, The Fountain of Love… They sound truly romantic, don't they?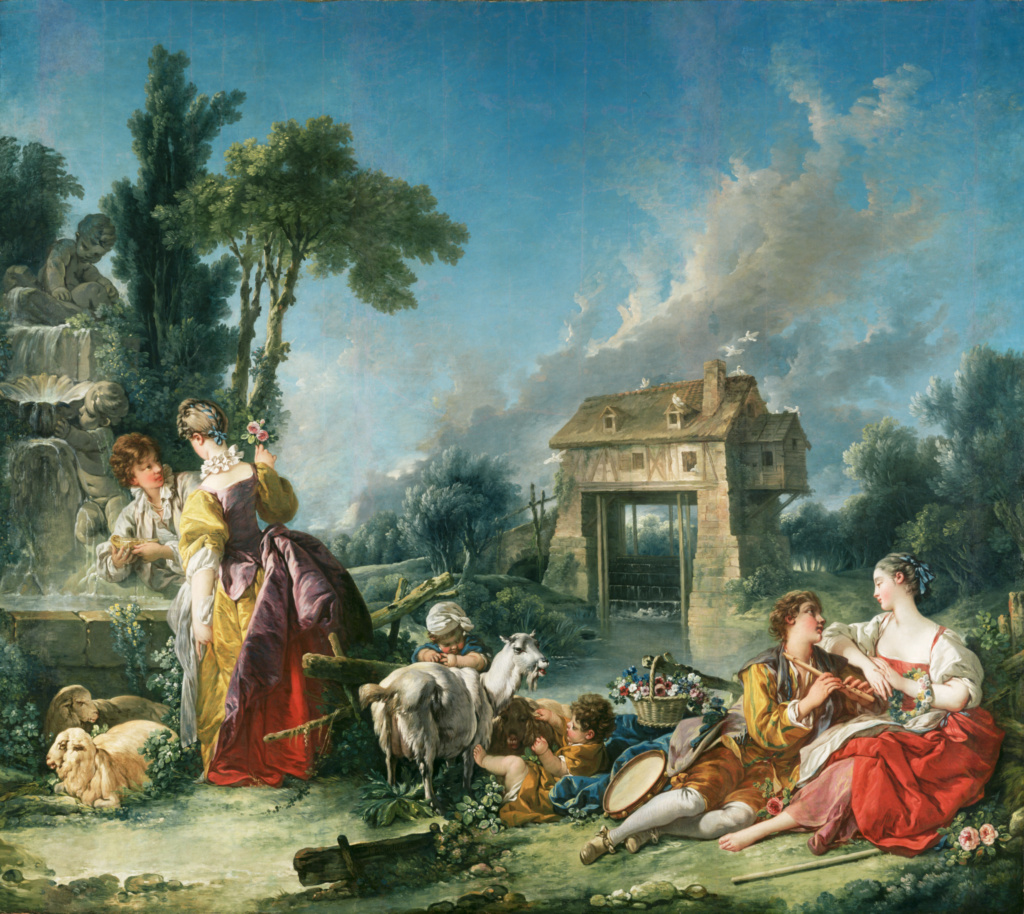 4. François Boucher made a portrait of a girl from Casanova's memoirs
At the end of his career, François Boucher was offended to spent all days painting nudes of prostitutes and unknown actresses. Nevertheless, The Portrait of Louise O'Murphy (The Blonde Odalisque) is an illustration of an amusing Parisian affair. 
As we know, Giacomo Casanova, a famous Venetian adventurer, visited Paris in 1750 and stayed there for two years. In his Histoire de ma vie, Casanova relates that he found "a pretty, ragged, dirty, little creature" of thirteen years of age in the house of a Flemish actress O'Murphy. Consequently, the seductive genius was captivated by the perfection of the adolescent sister of the actress. Soon he ordered an unknown German artist to make a painting of little Louise O'Murphy. A copy of this painting found its way to King Louis XV.
But there is another version of a painting. Police inspector Jean Meunier wrote in his diary another version of the facts, which circulated in the months following the meeting of Louis XV and Marie-Louise O'Murphy:
"They say that the youngest Morfi, fourth sister and therefore the youngest served as a model of the Boucher painting, he painted her naked and gave or sold the painting to Monsieur de Vandières [brother of Madame de Pompadour] and when the King saw it, became intrigued if the painter hadn't flattered the model, so he asked to see the youngest Morfi, and after their meeting, he found her even better than the painting."

May 8, 1753. Manuscript preserved in the library of the Arsenal in Paris: Bastille 10234, Journal de Meunier.
5. François Boucher stood at origins of French "Porcelain art"
"Porcelain art" of France, undoubtedly, owes much to Boucher and, of course, to Madame Pompadour. Beginning in the 1740s, the King's mistress was keen on the porcelain factory in Vincennes. Her interest was so insistent that in 1751 Louis XV gave her this small factory. And madam, rolling up her sleeves, set to work.
On her initiative, the production of porcelain gradually "moved" to Sèvres. In the meantime, the Marquise de Pompadour attracted to the development of new projects for her manufacturer François Boucher. For a decade, the artist created countless sketches, from which the factory manufactured statuettes and services.
Obviously, the replications of gallant shepherds and shepherdesses as soft-paste biscuit porcelain figurines became iconic prints for the porcelain manufactories at Vincennes and Sèvres. Besides, Boucher produced numerous sets of prints that adapted Chinese figures to Rococo taste, fueling the fashion for chinoiserie (Chinese style).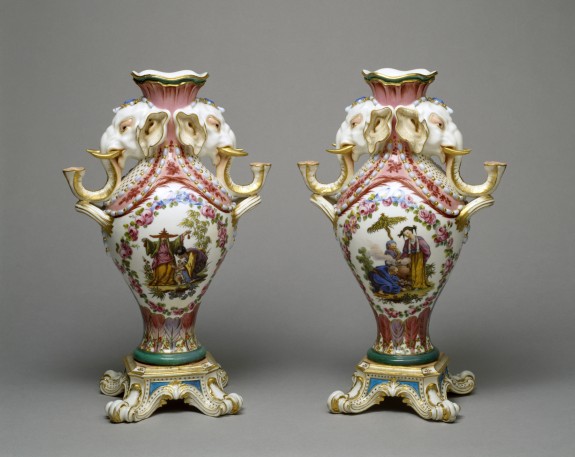 ---
If you would like to read more interesting facts about other painters check the following articles out: