Circe is one of the fascinating characters in Homer's epic poem the Odyssey. Due to her complex and unconventional nature, many painters have attempted to portray her in their own unique ways throughout history. Yet, there was one particular painter who painted her not just once, but three times. The works of English painter, John William Waterhouse, were greatly influenced by ancient literary sources and myths. Nevertheless, Circe evidently held a special place in his life because there are not many instances where he depicted the same character three times. In this article, we will be observing the three masterpieces by Waterhouse that immediately pop-up in our minds whenever we read the 10th book of the Odyssey.
Κίρκη εὐπλόκαμος, δεινὴ θεὸς αὐδήεσσα.

Circe, with lovely tresses, dread goddess of human speech.

Homer, Odyssey 11.5
A Brief Glance at Waterhouse
John William Waterhouse was born (baptized) in 1849 in the Eternal City, Rome. His family moved to England right after his birth. He was also referred to as Nino by many of his contemporaries, friends, and family. Initially, his main interest lied in sculpture, but after he became aware of his gift and talent in painting, he shifted his focal point. While he was a painter of the Victorian Era, Waterhouse managed to remain eclectic in his art, rather than thoroughly embracing the status quo aesthetics of his time. He was inspired by Pre-Raphaelites who criticized the artistic and intellectual stance of the Royal Academy. Contrary to idealism, Pre-Raphaelites embraced naturalism and realism in their works. The anti-Victorian reaction is observable in most of Waterhouse's works, which were greatly influenced by both ancient and later literary sources. These include plays, epic poems, myths, and historical accounts. His canonical masterpieces, such as Echo and Narcissus (1903) and Odysseus and the Sirens (1891), became deeply integrated with the narratives of these characters.
Who is Circe?
Before directly delving into the paintings, let's first remember who Circe really was. Her father was Helios, the God of the Sun and the guardian of oaths. Her mother Perseis was an Oceanid nymph. Circe had two brothers and one sister. Her sister, Pasiphae, was the queen of Crete and her brothers, Aeestes and Perses, were the rulers of Colchis. In other words, Circe had a divine and noble ancestry but, unlike her siblings, she lived in an uninhabited island of Aiaia, away from the big settlements. In the case of the arrival of unexpected visitors, she often transformed them into animals such as wolves, lions, and pigs. If Odysseus had not received the help of Hermes, he would have been one of these animals and would not have reached his home, Ithaca. Now, let's see how Waterhouse portrayed Circe, the trickster sorceress.
Circe Offering the Cup to Odysseus
This masterpiece is currently being displayed at Gallery Oldham located in the UK. Circe Offering the Cup to Odysseus is arguably the greatest Circe portrayal to date in terms of richness in composition and accuracy in the representation of both the subjects and the setting. Waterhouse was able to depict her as a beautiful and cunning woman, which coherently fits with her representation in the Odyssey. Her facial expression and posture demonstrate her confidence in her plot and magical capabilities. She is ready to serve the enchanted wine to Odysseus without knowing that he just got help from Hermes along the way. Aside from our main subject, we see two pigs, one behind the throne and one near her feet, who are her  recent victims. In the mirror, the reflection of the legendary Odysseus, who is there to save his crew, is visible. Additionally, we are able to see his ship as well as the entrance of Circe's house, which seems to have doric columns.
Circe Invidiosa
Circe Invidiosa is Waterhouse's second depiction, which is currently being displayed at the Art Gallery of South Australia. This time, Waterhouse's literary source that he derived his inspiration from has shifted from Odyssey to Metamorphoses by the Roman poet, Ovid. In Book 14, Glaucus arrived at Circe's island to seek help. He was once an ordinary fisherman but later became an immortal merman with oracular powers after eating a mysterious herb. He asked Circe to help him to win Scylla's hearth, who was a beautiful nymph. Circe refused to help because she had feelings for Glaucus and was jealous. To make them pay for hurting her feelings, Circe transformed Scylla into a hideous monster. Waterhouse depicted Scylla under Circe's feet, where she is going through a painful transformation. Again, the painter was able to convey the immense amount of jealousy and hatred of Circe by her expression and the look in her eyes. While doing that, Waterhouse brilliantly points out her craftiness in sorcery by depicting the moment when she pours her magical potion on Scylla.
The Sorceress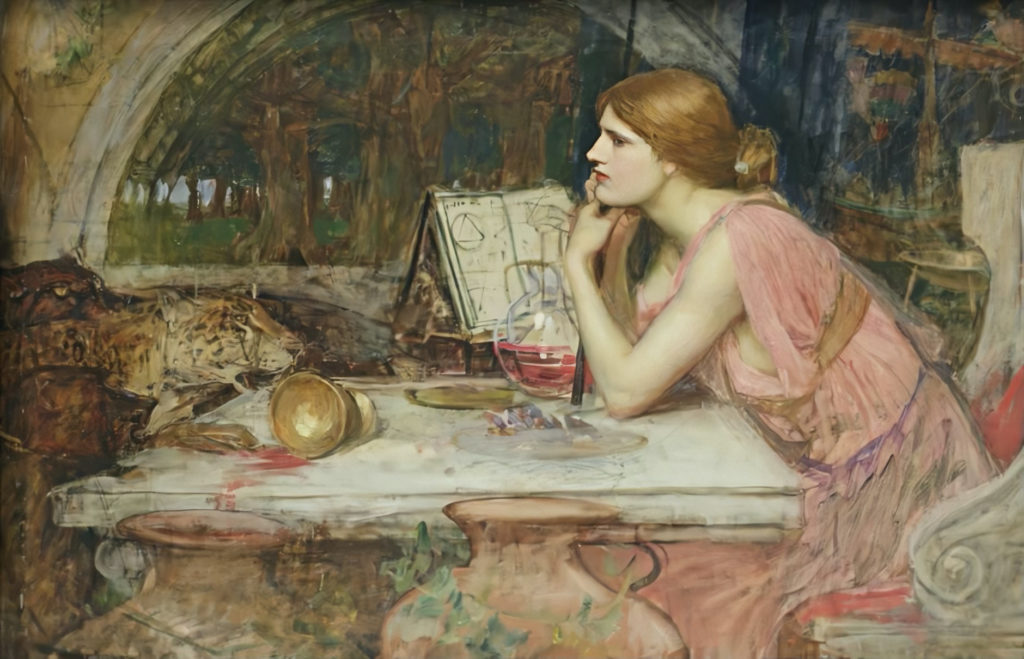 There are two versions of The Sorceress and, unfortunately, they are part of private collections and not accessible to the public. In his third and final depiction of Circe, Waterhouse portrayed her in her house on the island of Aiaia. This time, we do not see Circe committing an evil deed, but instead in one of her ordinary moments. It is a piece that glorifies the humane side of Circe, instead of her divine part. She certainly seems more thoughtful and calm rather than scarily powerful. By implementing her spell-book and potion bottle, Waterhouse points out her intellectuality and deific craftiness again. Contrary to this, we see a wine cup that has fallen over. This can be interpreted as her humanly feelings and ambitions. Circe is simply not a character who would accidentally knock over any object. She has clearly knocked it over intentionally and Waterhouse is leaving the reason within the minds of art lovers.
More on Circe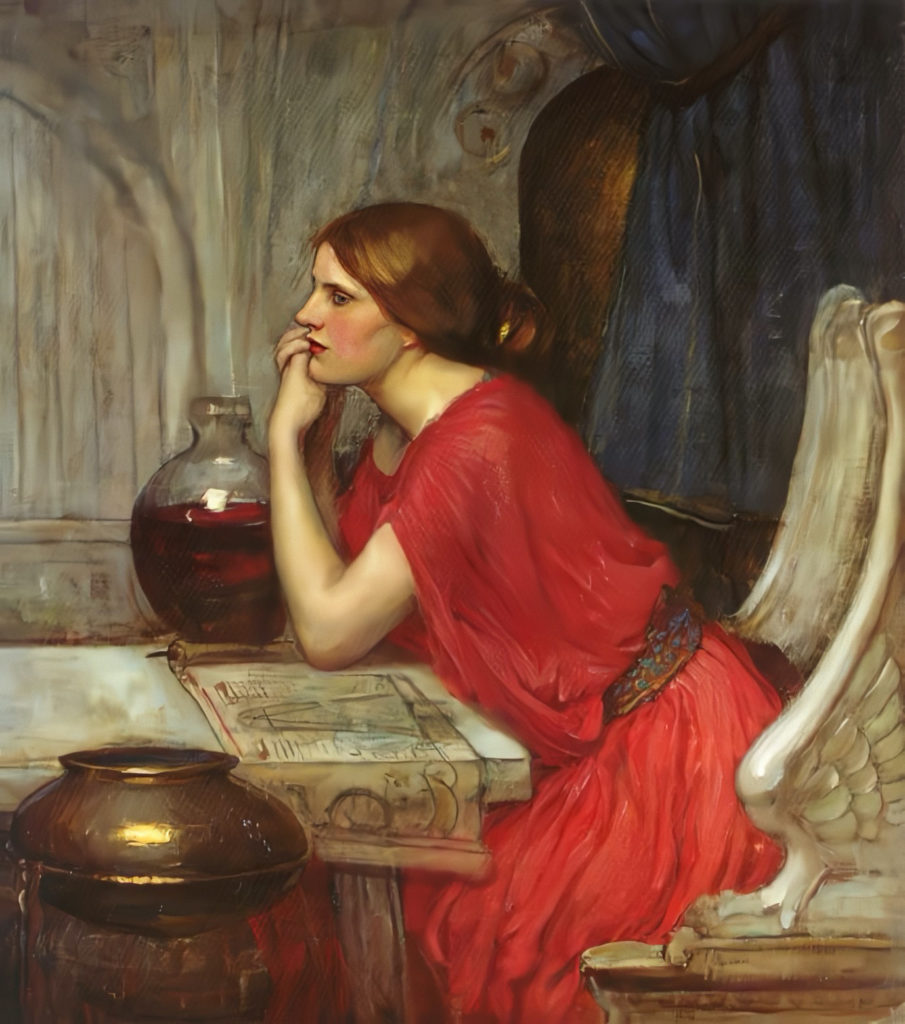 If you want to delve into Circe's journey even more and read the ancient sources, I highly recommend Circe by Madeline Miller, which is currently being adapted as a TV series by HBO.
---
Read more about John William Waterhouse: