A Russian historian herself, Elizaveta has a soft spot for Art (and not only the native one). Based in Moscow and trying to get as many people as possible to become Art lovers in every city she goes to.
Romanticism
Many artists painted the sea, but only Ivan Aivazovsky was completely devoted to it. Over his long life (1817–1900), he dedicated thousands of...
Elizaveta Ermakova 28 May 2023
Art State of Mind
Do you ever look at a work of art and wonder, how did the person behind it think? We always want to feel closer to the artists we admire. That is why...
Elizaveta Ermakova 24 April 2023
Contemporary Art
What is your first thought when you think about going to the bank? Or a big company office? I am sure that it is not connected to art at all. You...
Elizaveta Ermakova 25 November 2022
Ancient Art
We admire the beauty and plasticity of ancient sculptures, how harmoniously they fit into the surrounding landscape. But we rarely ask ourselves the...
Elizaveta Ermakova 12 September 2022
Neoclassicism
Catherine the Great (1729-1796) ruled almost the entire second half of the 18th century. Her reign was very successful on the world arena and gave...
Elizaveta Ermakova 25 March 2022
Art State of Mind
We all know Florence Welch, the leader of indie-rock band Florence + The Machine. And if you don't, I suggest you find her cosmic music right now...
Elizaveta Ermakova 16 March 2022
Artist Stories
The place of Mikhail Vrubel (1856-1910) in Russian art is exclusive and isolated. Legends already began to form around Vrubel during his lifetime. He...
Elizaveta Ermakova 20 January 2022
Architecture
In the conditions of the rigid USSR system of control, impersonality of buildings was practically inevitable. However, there was one way of escape:...
Elizaveta Ermakova 11 January 2022
Women Artists
Zinaida Serebriakova (1884–1967) is mostly known for her painting At the Dressing-Table (Self-Portrait). The artist, looking from the...
Elizaveta Ermakova 10 December 2021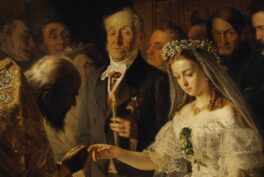 Love Story
Vasili Pukirev's painting Unequal Marriage has a legend about it: allegedly, after looking at it, all the elderly grooms refused to marry their...
Elizaveta Ermakova 7 October 2021