Venetian Rococo was an integral part of the 18th-century art-life. The period in Italian history and culture lasting from 1700 to 1799 is called as Settecento. Many great artworks were made during this time. One of the most buoyant centers was Venice. The pungency of the wit, the dynamism, and freshness are advantages of the Venetian painters. The features are extravagant ornamentation and a fascinating mix of dream and reality. Let's plunge into the aesthetic world of sensual ladies and mythological scenes!
Giovanni Pellegrini - Venetian Rococo goes to Vienna
None of the Venetian artists were extremely close to the French Rococo, except Giovanni Antonio Pellegrini! Like other painters, he referred to a broad range of themes depicting religious and mythological scenes, allegories, and portraits.
The painting Christ Healing the Paralytic is typical for the mature period of Pellegrini's life when his artworks differed with lyric mood.
The finest Baroque church of Vienna, the Karlskirche, was built from 1716 to 1756. Its altarpieces were commissioned from two Austrian painters as well as from two celebrated Venetian masters. One of them was Giovanni Antonio Pellegrini.
Sketches of each of these paintings made in the early 1730s were brought to the Budapest Museum of Fine Arts. Several versions of Pellegrini's composition have come down to posterity. The respective versions which we can find in the collections at the Vienna Gallery, at Opocno in Bohemia, and the one currently kept in Canada (formerly in a private collection in Vienna) all repeat, with more or fewer alterations, the loose grouping, soft forms, and eloquent gestures of the Budapest sketch and of the altarpiece.
Antonio Bellucci - Venetian Rococo goes International
Remarkably, the majority of Venetian Rococo artworks were neither made in Venice nor for Venice. The artists who decorated churches and palaces with their frescoes and paintings lived far from their motherland: in London, St. Petersburg, Madrid, etc.
Antonio Bellucci worked abroad for several decades. As well as Marco Liberi, a Venetian Rococo painter, Bellucci started his art-life as a decorator of Venetian shrines and palaces. He later joined the international artistic stream and traveled throughout Europe. For instance, he worked in Austria, Holland, Germany, and England.
According to Venetian traditions of the 18th century, his artworks were framed canvases, not frescoes.
The Danae, possibly made in the Austrian period, demonstrates precise lines, soft shapes, and courtesy, unnatural poses, and countenance. Danae was one of the most popular characters in Rococo art. In the foreground, we can see princess Danae, locked in a tower. Jupiter, as the golden rain, appears in the upper right corner.
Rosalba Carriera - Female Venetian Rococo at its Best
Rosalba Carriera, called the Queen of Pastel, is a perfect example of a self-made woman.
"Although several women painters of the 16th and 17th centuries had international reputations, none enjoyed as great a success nor had as much influence on the art of her contemporaries as Rosalba Carriera."

Linda Nochlin, in: Women Artists: 1550-1950, Linda Nochlin, Sutherland Harris, 1976.
There are some of Carrieras's features that distinguish her from other female Rococo artists: originality, entrepreneurship, mobility, signature style, and wealth.
Rosalba started her career as a miniature painter. Basically, she worked in ivory, creating lovely souvenirs for snuffboxes or medallions. Moreover, living in Venice, which was a huge trading city, she could sell her miniatures to merchants. That was a brilliant way to popularize herself as an Venetian Rococo artist and choose profitable commercial offers. No doubt, the financial success of Rosalba Carriera's workshop was overwhelming for 18th-century society.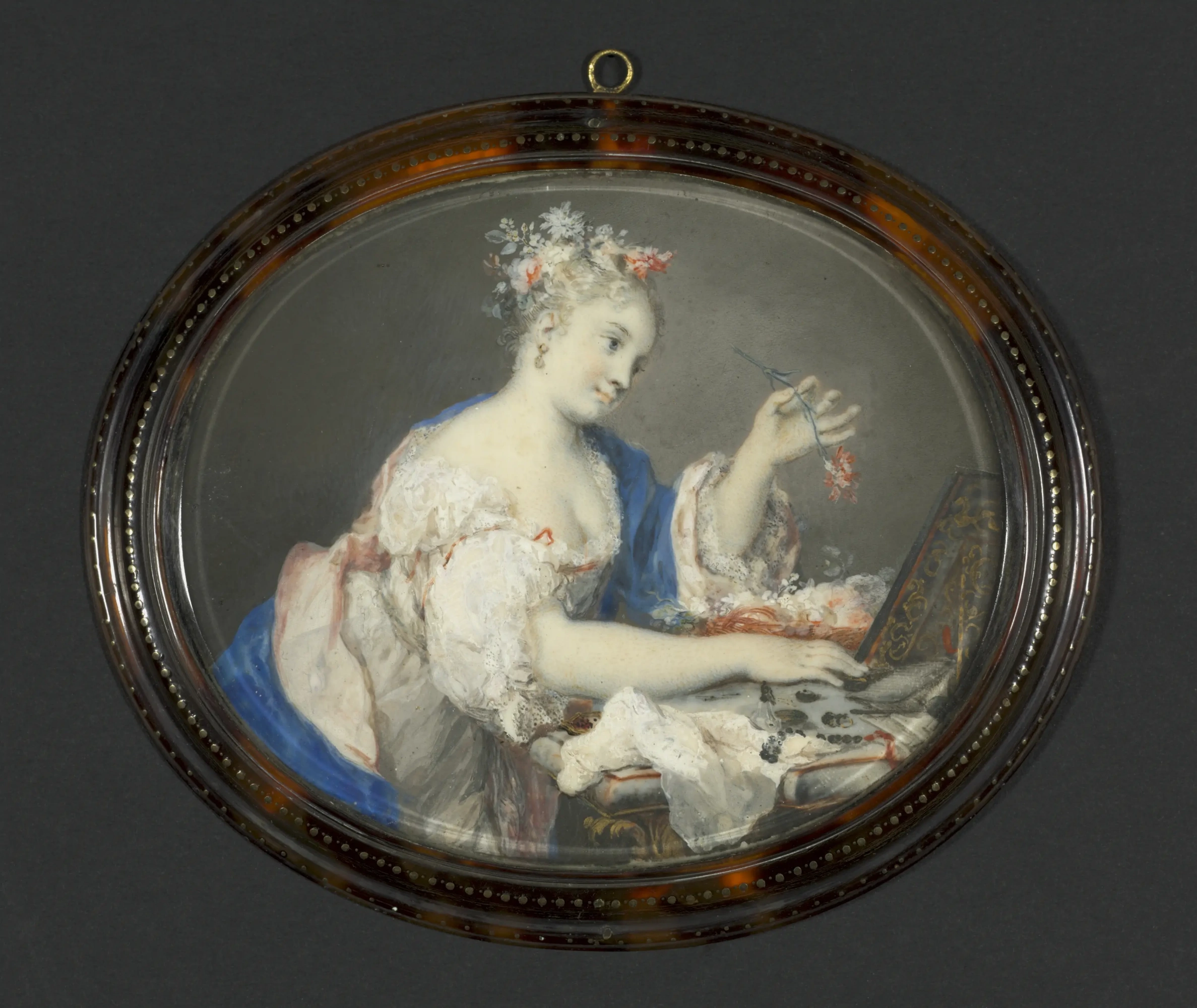 Similarly to other Venetian painters, Rosalba Carriera worked abroad. Namely, she worked at French and Austrian courts and made numerous portraits of monarchs, philosophers, and aristocrats. Furthermore, at the age of 25, she became a member of Accademia di San Luca. Later, she wrote a manual for artists. The manuscript is kept at the Venice state archive, where it is unique as an 18th-century Venetian text written by a woman.
However, Rosalba Carriera's main achievement is the popularization of pastel. Previously pastel was a medium for sketches, not for complete portraits.
Thanks to Carriera, pastel painting became one of the most beloved techniques of the Rococo era. Using pastel reduces the time a sitter needs to pose as pigments do not need to dry. Meanwhile portable pastel sticks allow artists to draw anywhere and the colors are bright and easy to mix.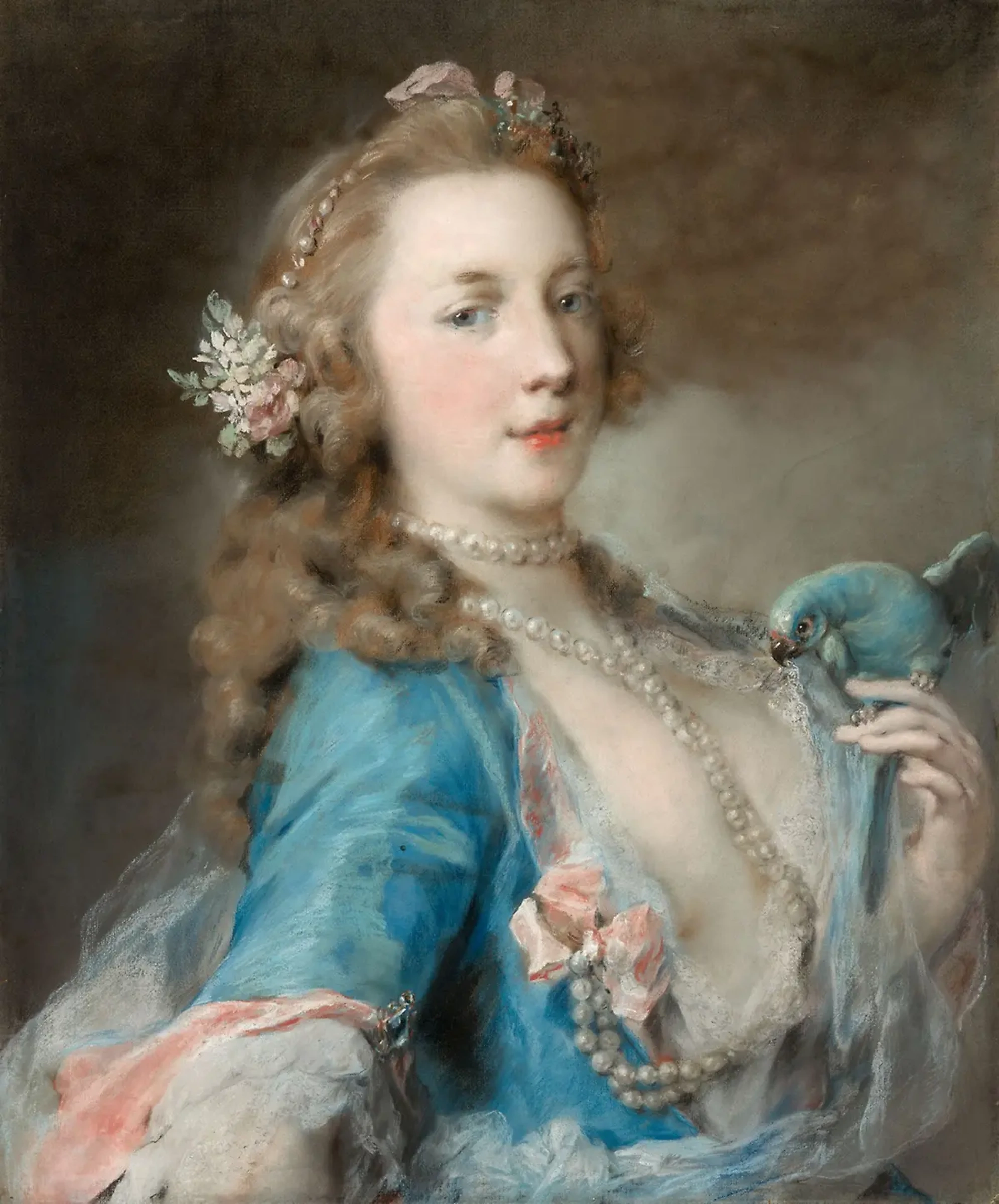 Pietro Rotari - Venetian Rococo Portraiture
Pietro Rotari was a well-known portraiture artist, famous for creating a totally new genre - "teste di carattere". Rotari himself called his paintings "passioni" (passions). Childlike, innocent, a bit naive, mysterious, and even sly are the typical moods of Pietro Rotari's female portraits. A porcelain face, demure smile, and sensuality - here are the beauty ideals of Venetian Rococo woman.
In 1756, the Empress Elisabeth of Russia invited Pietro Rotari to the court. Russian aristocracy welcomed Rotari's innovation and gladly ordered portraits for apartment decoration. Thus, "Rotari's chambers" in the Oranienbaum, Gatchina, and Peterhof palaces in St. Petersburg were truly fashionable in the Russian Empire. Saint Petersburg was a new home for Pietro Rotari and his "passioni" became Venetian Rococo icons. Remarkably only seven models posed for the 368 unique portraits that covered the walls like wallpaper!
For the Chamber of Fashions and Graces in the Peterhof palace, Rotari had to represent the ethnic variety of Russia through female portraits. Rotari was good at the aesthetic and emotional representation of human beings though. Instead of national figures, we've got an anthology of feelings.
Due to the high interest of foreigners in Venetian Rococo paintings, art took a dominant place in Venetian daily life. Despite the 18th-century political and economical decline, Venice managed to keep a high position in the art world. Exhibitions were organized during the holidays on Piazza San Marco. Here young Venetian artists presented their paintings and foreigners could buy or commission artworks, as well as invite an artist to work abroad. This was a relatively new way of introducing the young artists to society, based on the French Salon. The geographic location caused an isolation of Venice which led to preservation of original Venetian traditions, in art particularly. These are all reasons why the Venetian artistic school rose above all the European ones, keeping it an artistic landmark for decades.
Read more about Rococo Art: