Pop art
10 Masterpieces of 20th Century Pop Art You Should Know
Dominating the 20th century with iconic imagery, Pop Art's effects on the art world are still being felt today. Here are 10 of the most significant Pop Art masterpieces that will surely still be talked about for centuries to come.
1. Drowning Girl
Pop art pioneer, Roy Lichtenstein's Drowning Girl is one of the most iconic works of the 20th century. With iconic comic-book style imagery of a girl who'd rather drown than ask "Brad" for help, the image is a melodramatic masterpiece that perfectly exemplifies the pop art movement.
2. Campbell's Soup Can I
Printed in 1968, Andy Warhol's Campbell's Soup Can I, caused an uproar when it was first created.
"Using commercial imagery and mass-scale industrial printing methods, the work of art was considered an affront to the dominant Abstract Expressionism of the time that tended to have qualities detached from reality" says Judy Kraft, an arts writer at 1 Day 2 Write and Origin Writings.
3. Still Life #35
Despite shunning the term "pop," American artist Tom Wesselmann's Still Life #35 is a pop art masterpiece. With commercial products arranged in a fashion that celebrates traditional still life, the painting is a slice of 1950s America.
4. Flag
Jasper John created Flag in 1955 after having a dream of himself painting an American flag. The curious painting reflects this dreamlike quality with aspects seemingly dragged from the depths of the unconscious mind. Created when he was just 24, Flag is perhaps his best-known work, despite going on to create more than 40 other works based on the American flag.
5. M-Maybe
Continuing Roy Lichtenstein's theme of portraying women in tragic situations, M-Maybe is a piece that sees a blonde woman anxiously awaiting a man. With speech bubbles and exaggerated Ben-Day printing dots, the piece doesn't shy away from its comic book look, but instead embraces it, daring the viewer to not enjoy the imagery.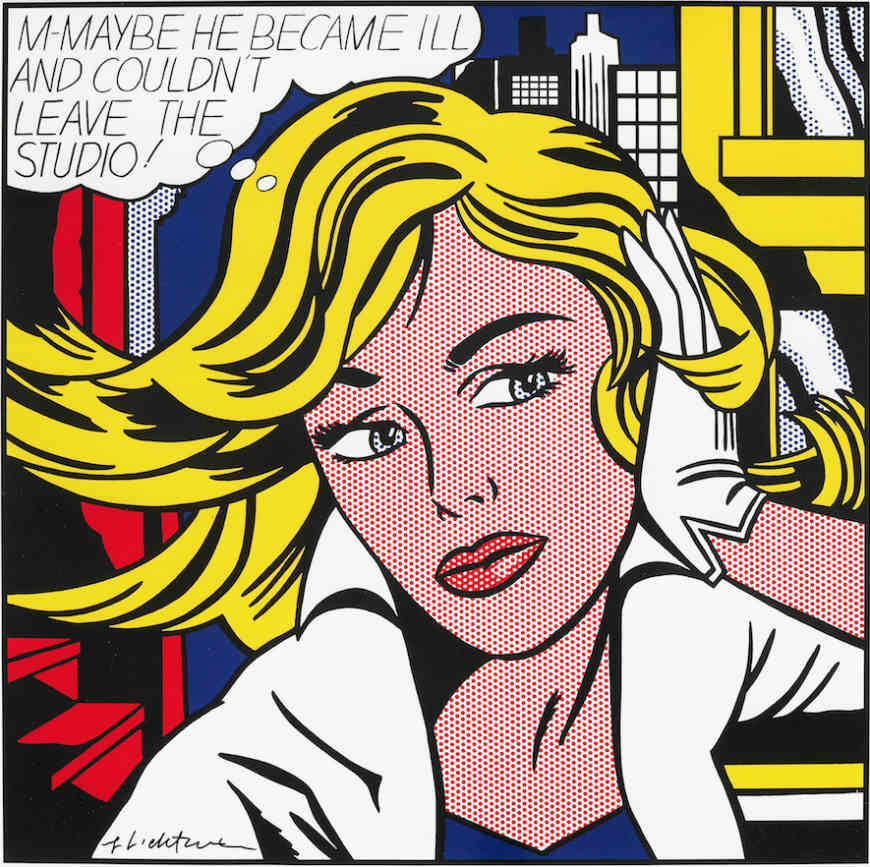 6. Marylin Diptych
Housed at the Tate Modern in London, the Marilyn Diptych is Andy Warhol's eulogy to the famous starlet Marilyn Monroe. Produced in 1962, shortly after Marilyn died, the piece is a truly iconic piece of pop art and one of the most famous pieces of art ever created. With vivid colors on the left, fading into broken monochromatic images on the right, the piece conveys the actress's mortality.
7. A Bigger Splash
Painted in 1967, David Hockney's A Bigger Splash is an enormous celebration of sunny Los Angeles. Measuring almost 2.5 meters tall and wide, the painting portrays a modern-looking building, palm trees, a diving board, an ominous splash, and an empty chair. With its clean style and lack of any human presence, the piece forces us to reflect on who – or what – is inhabiting the piece.
8. On the Balcony
English pop artist, Peter Blake's On the Balcony was an early piece for the movement, created in 1957. "The painting appears as a collage but is entirely painted, featuring people sitting on a bench staring at the viewer, with scattered imagery of other paintings, magazine covers, and mundane items. The piece is a classic example of early pop art" says Jessica Nelligan, an arts blogger at Write my X and Brit Student.
9. Sgt. Pepper's Lonely Hearts Club Band
A piece of art in its own right, The Beatles' cover for their album Sgt. Pepper's Lonely Hearts Club Band was another piece created by Peter Blake. Blake claimed he went about creating the iconic collage by treating it like art, rather than an album cover. With famous faces from history and modern times, the album cover was one of the most expensive ever created.
10. Whaam!
One of the most iconic pieces ever created is Roy Lichtenstein's Whaam! The large painting spans 2 canvasses and is lifted straight from the pages of a comic book. With an American fighter plane on the left and a rocket fired into the right panel, we see another plane bursting into flames. Representing extreme violence with cartoon imagery creates a contrast that gets the viewer thinking.
---
Author's bio
---
Discover other masterpieces of Pop Art: