Mother-of-Pearl an iridescent layer carved out of snail shells, usually the Turbo Marmoratus. It is a luminous material that naturally reflects pink and green hues. In the 16th and 17th centuries it was used to embellish highly sought-after luxury items. These were usually ostentatious display pieces.
Western India emerged as a center of mother-of-pearl works around 1502. Workshops in the Gujarat area created magnificent objects out of mother-of-pearl with settings of gold or gilded silver. Their commissions came from both the local Mughal royalty and for export to the Ottoman empire, the Middle East, Europe, and beyond. Here are some incredible examples of artifacts made in these workshops.
1. Doors
Mother-of-pearl pieces cover the surface of this door and frame set in geometric and floral patterns. A gilt-metal pin holds each piece of mother-of pearl in place on a wooden mount, and each door has a gilt-bronze ring handle. Though the original setting of these doors is unknown, their magnificence indicates that they most likely belonged to a building of prominence. The Gujarati workshops made many elaborate doors such as these. This particular door is on display at the Asian Civilizations Museum in Singapore.
2. Casket
This richly adorned casket was likely for storing valuable items. The base is teak and covered with mother-of-pearl plaques. Likewise to the doors, gilt-silver nails hold the plaques on to the frame. Gilt-silver is also used for the lock, feet, and appliques, and these are also engraved with floral motifs. The design is presumed to show European influence and therefore it was likely made for export. It is also on display at the Asian Civilizations Museum in Singapore.
3. Ceremonial Mace
The mace was both an instrument of war and a symbol of authority, often appearing in Mughal miniature paintings depicting court scenes. In keeping with the opulence of the grand Mughal court, ceremonial maces were richly adorned. This mace, similarly has a wooden base with mother-of-pearl plaques secured on the surface. Whether it was made in Gujarat or by Gujarat craftsmen in the Mughal courts is unknown. It is certainly interesting that the decoration of this mace closely resembles the tomb canopy of the Sufi saint, Shaykh Salim Chisti at Fatehpur Sikri near Agra. It is on display at the Victoria & Albert Museum in London.
4. Powder Flask
Sealed gunpowder containers were essential to the operation of black powder firearms before the invention of portable cartridges. Decorated powder flasks such as this were rare. (Though standard-issue powder flasks were common given their use in warfare.) Avid hunters or sportsmen of high stature might receive such an elaborate powder flask as a gift, for example. This flask has two layers of mother-of-pearl secured with brass pins and silver mounts. The gunpowder flask of the famed Gujarat mother-of-pearl workshop is now in storage at the Victoria & Albert Museum in London.
5. Pair of Ewers
This pair of Ewers at the Victoria & Albert Museum was first thought to be of Italian origin even though this was also a creation of the mother-of-pearl workshops of Gujarat. An identical set is also on display at the British Museum. Like the other objects we've looked at so far, silver pins hold the mother-of-pearl plaques in a geometric pattern over a metal frame. The frame is then mounted on a brass disc at the base. X-rays taken by both museums confirm that there is no wood in their construction. One of the ewer's handles has a round finial on top for further embellishment. However, these ewers most likely did not serve any practical use. They were probably a commission from the Portuguese, along with other luxury display items, for export to Europe.
6. Traveling Cabinet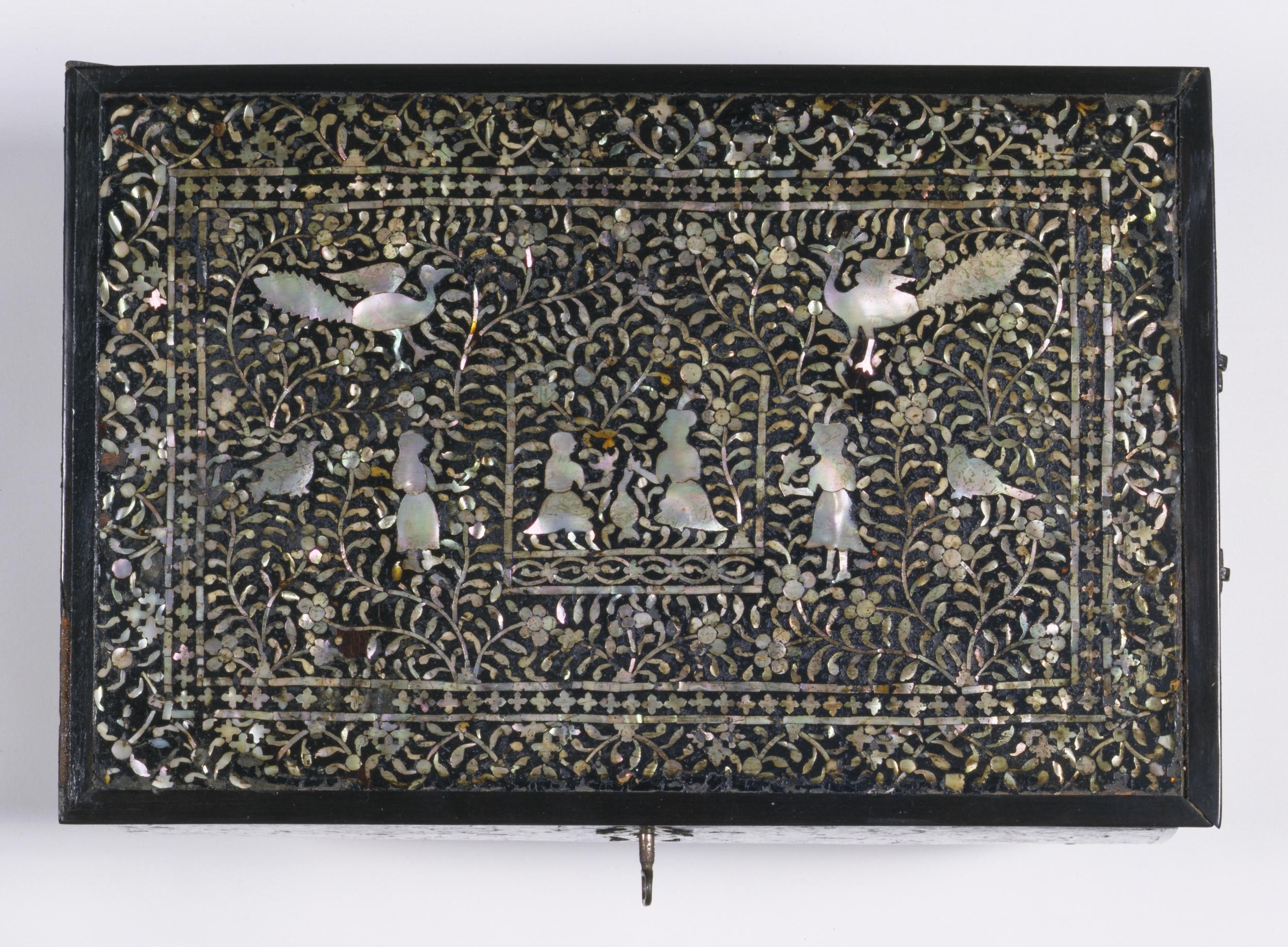 This traveling cabinet has a wooden frame with mother-of-pearl inlaid in black lac. Lac is a natural resin that is extremely fragile and flammable. The design depicts intricate patterns including birds, animals, leaves, and other foliage on the front and the outer sides of the cabinet. The lid inlay also features a male figure with a female companion within a stylized pavilion, they are accompanied by a male attendant holding a fly-whisk and female cup-bearer. The cabinet is in storage at the Victoria & Albert Museum in London.