Well-known love stories are an essential part of our literary conscience. Within these stories, themes such as separation, sacrifice, and passion play a significant role. Yet, there are not many examples where the love between characters is as pure, naive, and sincere as in the story of Daphnis and Chloé. Let's observe how painters from different eras interpreted the mesmerizing writing style of Longus, and the thyme and sea scented love that his characters share. 
"πάντως γὰρ οὐδεὶς ἔρωτα ἔφυγεν ἢ φεύξεται, μέχρις ἂν κάλλος ᾖ καὶ ὀφθαλμοὶ βλέπωσιν."

"For absolutely no one has ever escaped Love nor ever shall, as long as beauty exists and eyes can see."

– Longus, Daphnis and Chloé, (Prologue, 4.)
What is What & Who is Who
According to scholars, Longus was a Greek author from Lesbos who lived in either the 2nd or 3rd century CE. In his pastoral prose, Daphnis and Chloé, the reader encounters two lovers who were blessed by Pan, the Nymphs, and Eros. The prose starts with our characters being nursed by animals in the wild; Daphnis by a nanny-goat and Chloé by a ewe. They were found two years apart by two different shepherds, in the possession of mysterious objects. Their fates having been attached to one another, the lovers grew together and overcame many obstacles. The identity of their real parents and the reason the divinities protected them is revealed in the later stages of the book, which I am not going to spoil. So, if this article sparks your interest, be sure to read it!
Pierre Cabanel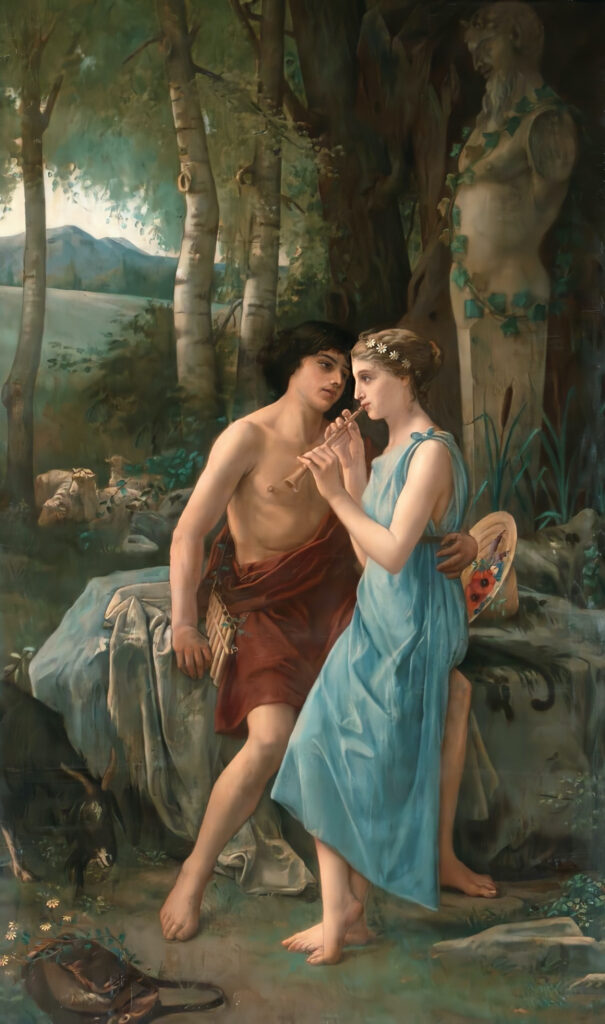 Pierre Cabanel was a French painter who was born in Montpellier in 1838 and died in 1918. This painting exhibits a very intimate moment where Chloé is sitting on Daphnis' lap and playing a pipe. In the book, Daphnis often gave her panpipe lessons, which is what Cabanel is portraying here. While Chloé is purely concentrating on playing, Daphnis' eyes are fixed on Chloé. With her beautiful blue dress and a wreath made of daisies on her head, Chloé appears to be the focal point of the painting, just as she is Daphnis'. The position of her right foot and her overall posture depicts her being at ease when she is with Daphnis.
Additionally, we see a goat and some sheep to the left, which emphasizes Daphnis and Chloé's professions: one of them is a goatherd, and the other is a shepherdess. On the right, we see a bust of Pan, and right beneath it, we see some cattails, which indicate that Daphnis and Chloé are near a body of water. It is safe to assume that they are sitting at a cave entrance which has a spring coming out of it. This cave, as Longus described, is also the birthplace of Chloé.
Peder Severin Krøyer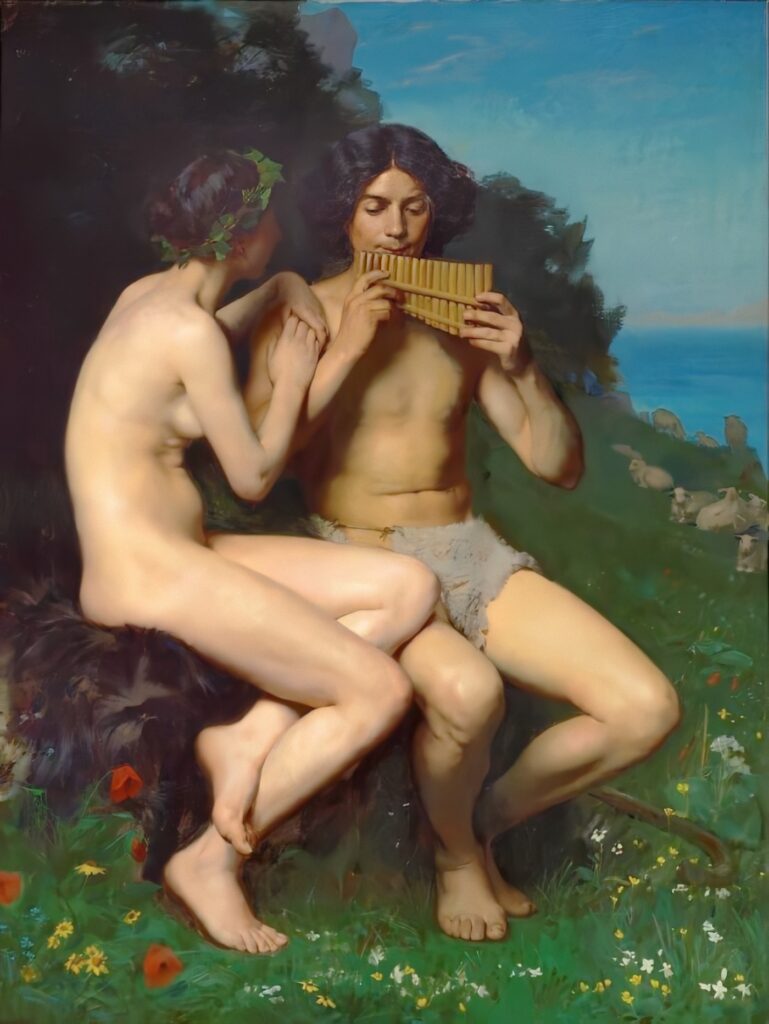 Peder Severin Krøyer was a Danish impressionist who lived in the 19th century. Yet, interestingly, when it comes to our main subjects, we do not see the essential characteristics of Impressionism. This painting is one of the lesser-known works portraying Daphnis and Chloé. This time we are looking at the opposite of what we saw in the previous painting. Daphnis is playing his panpipe and Chloé is focused on him. Unlike Cabanel's painting, here, the focal point of the piece is Daphnis as we cannot even see Chloé's face.
Contrarily, one might argue that her beautiful body is perfectly adequate to steal our attention as the focal point. Again, the positioning of her feet and hands exhibits that she is very much in a peaceful state. We also have a glimpse of the pastoral beauty of the island of Lesbos, as the couple is sitting on a hill. The inclusion of the magical Aegean sea, the sheep, and the flowers, successfully capture Longus' narrative.
Paris Bordone
Paris Paschalinus Bordone was a late Renaissance painter who was greatly influenced by religious and classical themes. He created countless pieces touching Ancient Greek myths and legends. Initially, there was a discussion regarding who this couple truly was, but a general consensus is in favor of it portraying Daphnis and Chloé. The major giveaway is the panpipe which Chloé is holding, for there are few couples in any kind of narrative whose tale is as integrated with this specific instrument as Longus'. The second intimation is Eros. In the prose, Philetas says the following:
"You, my children, are dedicated to Love, and Love is looking after you."

– Longus, Daphnis and Chloé, (Prologue, 4.)
This line is in harmony with the symbolism in the painting as Eros, Love, or Cupid is placing a laurel wreath on their resting heads. Lastly, Bordone expresses the couple's intimacy by portraying a simple gesture as Daphnis is lightly pulling up Chloé's dress.
Arthur Lamon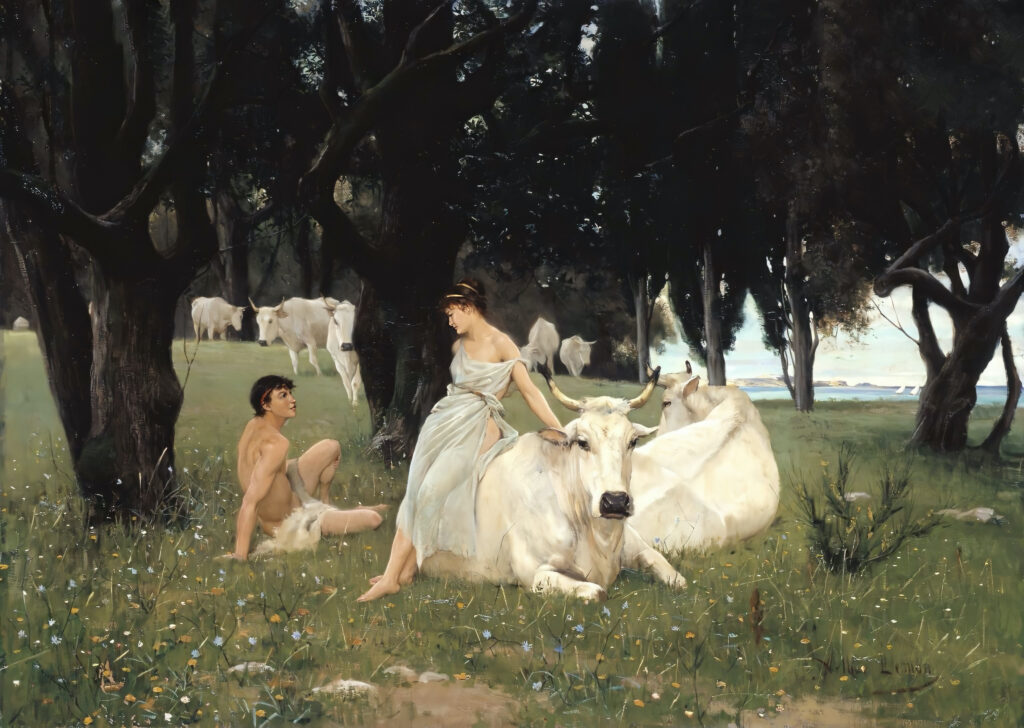 Here we are looking at one of my favorite paintings of Daphnis and Chloé, by Arthur Lamon, a painter who flourished in the 19th century. As he is known for his pastoral works, painting the characters of Longus' was almost a necessity for him. At a glance, you may notice that there are no goats or sheep in the composition and this may make you think that the artist made a mistake because neither of them is a cowherd. Yet, he is, in fact, very much on point, as these are Dorcon's cows, a cowherd who loved Chloé and competed against Daphnis to win Chloé's attention.
Sadly, later in the book, Dorcon was killed by pirates and he left his cows to Chloé. "But you must save your Daphnis and avenge me and destroy them," he said with his final breath. What a great guy, right? And you may now think, how did Chloé save Daphnis from a pirate ship with some cows? Well, for that you are going to have to delve into Longus' universe and visit the island of Lesbos by reading the story of Daphnis and Chloé.
---
Read more about artworks inspired by Greek mythology: