Art Historian and Germanist
Photography
This is a story of three Black female photographers who through their documentary photographs, handle and explore gender identity and related topics...
Petra Dragasevic 1 February 2023
Contemporary Art
Sean Scully gradually deconstructs human figures and then completely eliminates them. Here you will learn more about Sean Scully's paintings...
Petra Dragasevic 2 January 2023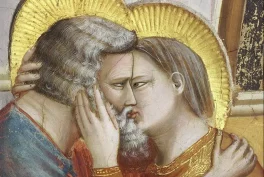 Love Story
It was back in the year 1305 when Giotto di Bondone painted a fresco capturing the moment when Virgin Mary's parents, Joachim and Anne, kissed...
Petra Dragasevic 28 October 2022
Artist Stories
Henri de Toulouse-Lautrec was born on 24 November 1864 in Albi, France. He wanted to be a doctor or a surgeon but due to illness became a painter.
Petra Dragasevic 9 September 2022
Women Artists
The focus of Käthe Kollwitz's art is the human being. Above all, a compassionate, humane outlook is characteristic of her approach. She was mainly...
Petra Dragasevic 4 August 2022
Interview
Marijana Stanić is a conceptual and multimedia artist and curator who just had her mini-retrospective exhibition. I talked with her about the...
Petra Dragasevic 27 June 2022
Review
Slavko Kopač, a Croatian-French painter, was one of the most important protagonists of Art Brut and Art Informel, artistic directions of innovative...
Petra Dragasevic 10 February 2022
Sculpture
No matter the weather conditions, there has always been sun in Zagreb for the last 50 years, 365 days a year, with few interruptions. This is thanks...
Petra Dragasevic 16 December 2021
Contemporary Art
Erwin Wurm is an artist who creates humorous art which is actually either a parody of everyday situations and known objects, or a criticism of our...
Petra Dragasevic 25 November 2021
Art State of Mind
Art creates emotions and, generally, you either like a certain piece of art or you don't. But despite that, what is valid for everything else is...
Petra Dragasevic 1 October 2021