Cait Mack is an illustrator, climber, and mountain lover based in Bristol in the UK. She is an artist who creates vibrant and unique paintings and is starting out on making a living from her art.
Enjoying the process
You are an extremely creative person: known to carve spoons and illustrate mythical mountain creatures for example. How do you acquire the techniques you need?
I think independent learning is all about carving out the time to build knowledge, persevering and allowing yourself to explore freely, without constraints.
Aside from carving out time, what advice would you give someone who wants to get started?
Try small manageable projects. Then, move on to the next thing straight away. It can be easy to dwell on making something perfect, but not everything has to be a masterpiece. Remember to enjoy the process.
It seems like this advice might start to be put under pressure if you're making a living from art?
There is certainly added pressure when you are working on commissions and collaborations. But that does ease over time with practice and repetition. It's important to take the right kind of jobs where you can be yourself and have room to be creative.
Musings on rainbow bright colors and making art in lockdown
I really love your work Slow Mornings (below), which shows time spent in close quarters. It is a post in Portraits of Pandemic's Instagram and also the wonderful COVID_2020 Virtual Exhibition. How would you say that your piece compares or contrasts to those from other artists?
The COVID_2020 exhibition reflects the diverse and contrasting experiences found in wider society during these hard times. My piece, with the bright colors, is probably more on the idyllic end of that spectrum of perspective.
I think the segmentation of colors really shows how we delineate invisible personal bubbles and experience time slowly in the current situation. Color seems to be really vital in this technique – how would you describe your use of color?
I'm always searching for textures, brush strokes, and colors in every object, person, and place. I enjoy working with colors that I don't often see often in my every day. These tend to be brighter, bolder shades. I like placing similar colors next to each other where they can conflict and complement each other at the same time.
If one of our readers wanted to incorporate your bright colors and style into their own creations, what tools would they need?
Right now I'm using a mix of gouache, pencil crayon and wax pastels to build texture. To create luminous color, it's worth getting good quality paint, even if you are a beginner – check out Caran d'Arche's gouache studio sets, I carry one around with me everywhere!
Carving narratives
Your artworks often depict scenes from your own life, such Slow Mornings which shows the cafe at your university. Is it important that a viewer recognises the context behind a piece?
There is always a memory in there for me, but I hope they tell more than one story. I want people to be able to find something of themselves in my work and carve out their own narrative.

My mind often goes to the mountains – memories of burning rock faces as well as frozen paths. At the minute I'm enjoying dreaming of narrow streets and the summer sun.
Thoughts about inspiration and influence on artists
The idea that an artwork can transport you to a memory of a place is very freeing. I wonder if there are any artists whose style might influence your own distinctive work?
At the minute I feel very inspired by Inès Longevial's tender portraits, their warmth fills me with the comfort of summer – but like everyone my inspirations are always changing with my interests and feelings.
I can really see that, especially in the use of bold shapes and contrasting colors. I think lots of artists find it uncomfortable to talk about influences on their work, in fear of seeming unoriginal?
When you look at a finished work you can find yourself breaking it apart into experiences and influences. It can be difficult to reflect in this way because the 'originality of ideas' is a sort of constant worry for many creatives.
Often those little points of reference are completely invisible to a viewer but so obvious do the creator. I suppose you just have to trust in your own originality and that having influences is an inherent part of making any art. Alongside Longevial's paintings, what artworks would you aspire to have on the walls of your own home?
I would build a collection of Naoko Matsubara's pine tree woodblock prints – their creeping tree trunks and the empty space in-between – I could look at them forever!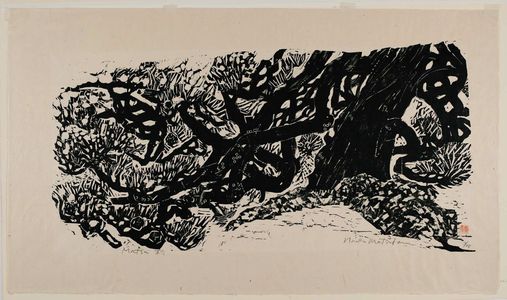 Matsubara's woodblocks are sublime. Like you, she creates images that are everyday as well as extraordinary! Thank you so much for sharing your process and inspirations with us!
Explore more
You can follow Cait's work here: @caitmack.studio or visit her website to purchase some art for yourself or, perhaps, enquire about collaborations and commissions. You can also purchase the COVID_2020 Virtual Gallery Book here.
---
And if you enjoy reading interviews with artists why not peruse: