Lakshmi is a prominent Hindu deity who is also revered by Buddhists and Jains. Her eminent position in the Hindu pantheon emanates not only from her role as the wife of Vishnu (the preserver of the Hindu trinity) but also in her own right as the goddess of wealth, prosperity and good fortune. Though the portrayal of Lakshmi in art varies greatly depending on the region, local traditions and the artistic medium, there are certain symbols associated with Lakshmi that make her distinctly identifiable.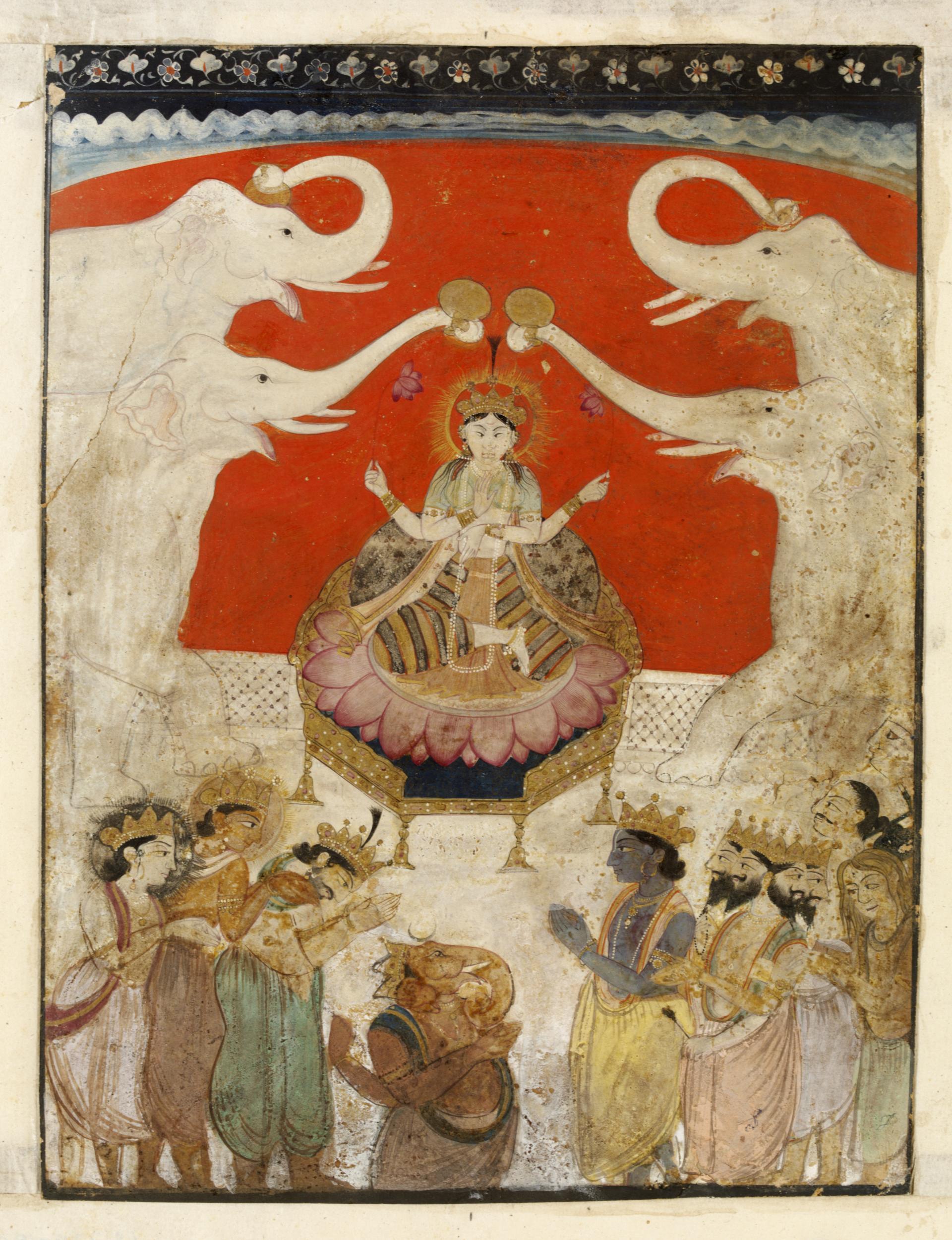 Wealth & Prosperity
As is common with Hindu Gods, Lakshmi is often portrayed with four arms. The outward-facing palm (usually the lower right arm) signifies a blessing. She may also have one arm holding up a pot or showering gold coins, indicating material wealth and abundance. Due to her association with wealth, the image of Lakshmi has frequently adorned South Asian coinage. Coins issued by many rulers of South Asian kingdoms, both Hindu and Muslim, bore the likeness of the goddess seated on a lotus.
Lotus Flowers
Lotus flowers are a symbol of purity and enlightenment and are held in great reverence in the Hindu culture. Lakshmi is often portrayed holding a lotus bud in one or two of her four arms. She may also be rendered seated or standing on a lotus. Cambodian art typically portrays Lakshmi in temples as a solitary standing figure holding a lotus bud, while in Vietnamese art she is generally seated.
Gaja-Lakshmi
Other than lotuses, Lakshmi has also been associated with owls and elephants. Gaja-Lakshmi refers to the quintessential image of Lakshmi flanked with gajas or elephants spraying her with water (and sometimes with coins). This icon has been found on both Hindu and Buddhist architecture and Gaja-Lakshmi sculptures are frequently found in archeological remains.
Lakshmi & Vishnu
Lakshmi was first mentioned in the Rig Veda around 1000 BC and she was a revered deity even during the earlier phase of Hinduism known as the Vedic period (1750 – 500 BC). While most Vedic Gods faded into insignificance by the Puranic period around 5th Century BC, Lakshmi's illustrious status did not diminish. Over time and before her establishment as the eternal consort of Vishnu, Lakshmi was associated with many different gods and demi-gods, including the hermit God, Shiva. These associations caused Lakshmi to be viewed as fickle and restless, which is believed to be an allegory for the fickle and restless nature of fortune or wealth by Hindu philosophers.
In her portrayals alongside Vishnu, she is usually the smaller figure.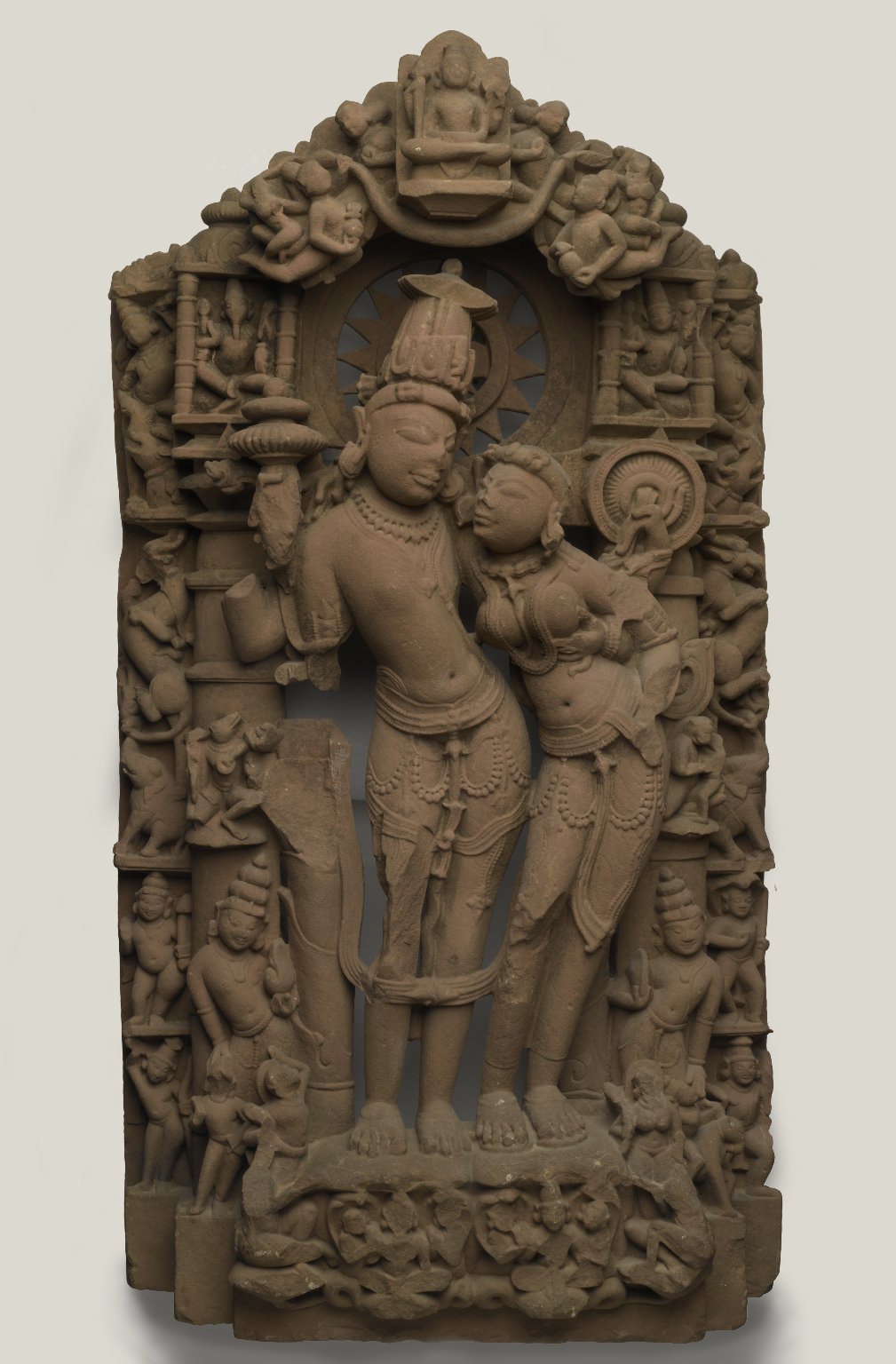 Avatars of Lakshmi
As is common with Hindu Gods, Lakshmi is known by many names and has descended on Earth in many forms or avatars, often as the consort of Vishnu's various avatars. Her more significant incarnations include Sita, the wife of Lord Ram and Radha, the beloved of Lord Krishna. Sita-Ram and Radha-Krishna are also common themes in South Asian artworks.
Diwali, the Festival of Lights
Diwali or Deepavali is a five-day festival and is arguably the most important annual celebration for Hindus. It usually falls around October or November of the Gregorian calendar. Diwali commemorates the legend of Ramayana where Vishnu descended as Prince Ram of the mythical city of Ayodhya and Lakshmi as his wife, Sita. The Ramayana tells the tale of Ram's epic battle to save the kidnapped Sita and their subsequent return to Ayodhya after fourteen years of exile. The subjects of Ayodhya decorated their homes with oil lamps to guide their beloved prince and his wife back to the kingdom and bring them good fortune.
Lakshmi is believed to roam the earth during Diwali and adherents light their homes with oil lamps to welcome her along with her promise of good fortune and wealth. No Diwali is complete without Lakshmi puja or the ritual worship of Lakshmi, usually on the first and the third day. Spending (and recreational gambling) are common during this time of the year, as Hindus believe that Lakshmi will bestow wealth and good fortune upon them.
Read about different faces of goddesses in art:
The Spirit of Ecstasy – A Story of Goddesses and Secret Affairs
The Real Story of the Goddess Gifs
10 Things That Could Happen To You Only If You Were A Greek God/Goddess