Eid-al-Fitr marks the end of Ramadan, the holy month of fasting, and the first day of the Islamic month of Shawwal. The date is determined annually by the sighting of the moon and varies each year on the Gregorian calendar. Eid begins with communal prayers that are followed by a sermon or a khutba. The following day is marked by celebrations, merry-making, the exchange of food and gifts, and charity or zakat.
The distinctive ritual of Islamic prayer, known as namaz (in Urdu) or salah (in Arabic) has captivated the imagination of many Orientalist painters. In celebration of Eid Al-Fitr today, here are some mesmerizing artworks depicting the serene ceremony of Islamic prayer from 19th-century works of Realism.
Orientalism
As Islamic art is usually non-figurative in form, there is a gap of time in the Middle East where a pictorial history is lacking. Orientalist paintings have unintentionally provided an extensive visual record of what the Islamic world looked like in the 18th and 19th centuries. There has been some criticism that Orientalist works were used as propaganda for French Imperialism; intended to rally support for Napoleon's conquest of Egypt by the portrayal of the subjects as backward and uncivilized. However, in recent times, collectors from the Middle East have been key in fueling the demand for Orientalist works as quasi-historical documents of their heritage.
Although the paintings are most likely a romanticized version of the past, it would be unjust to condemn the whole school of Orientalism as bigoted and imagine that the following artists felt anything but deep reverence for their subjects and the setting.
Jean-Léon Gérôme
Jean-Léon Gérôme was a French painter who is most often identified with the school of Orientalism. At least two-thirds of his paintings are devoted to Orientalist subjects inspired by his extensive travels to Egypt and the Middle East. He visited Egypt six times in his life! Gérôme's incredible eye for detail and his skillful brushwork captures the solemn peacefulness of the worship ritual and the devotion of the adherents.
Gérôme enjoyed considerable financial success during his lifetime and that earned him the reproach of his fellow artists, who condemned his commercialism and his staunch opposition to Impressionism and Postimpressionism, i.e. the avant-garde movements of the time.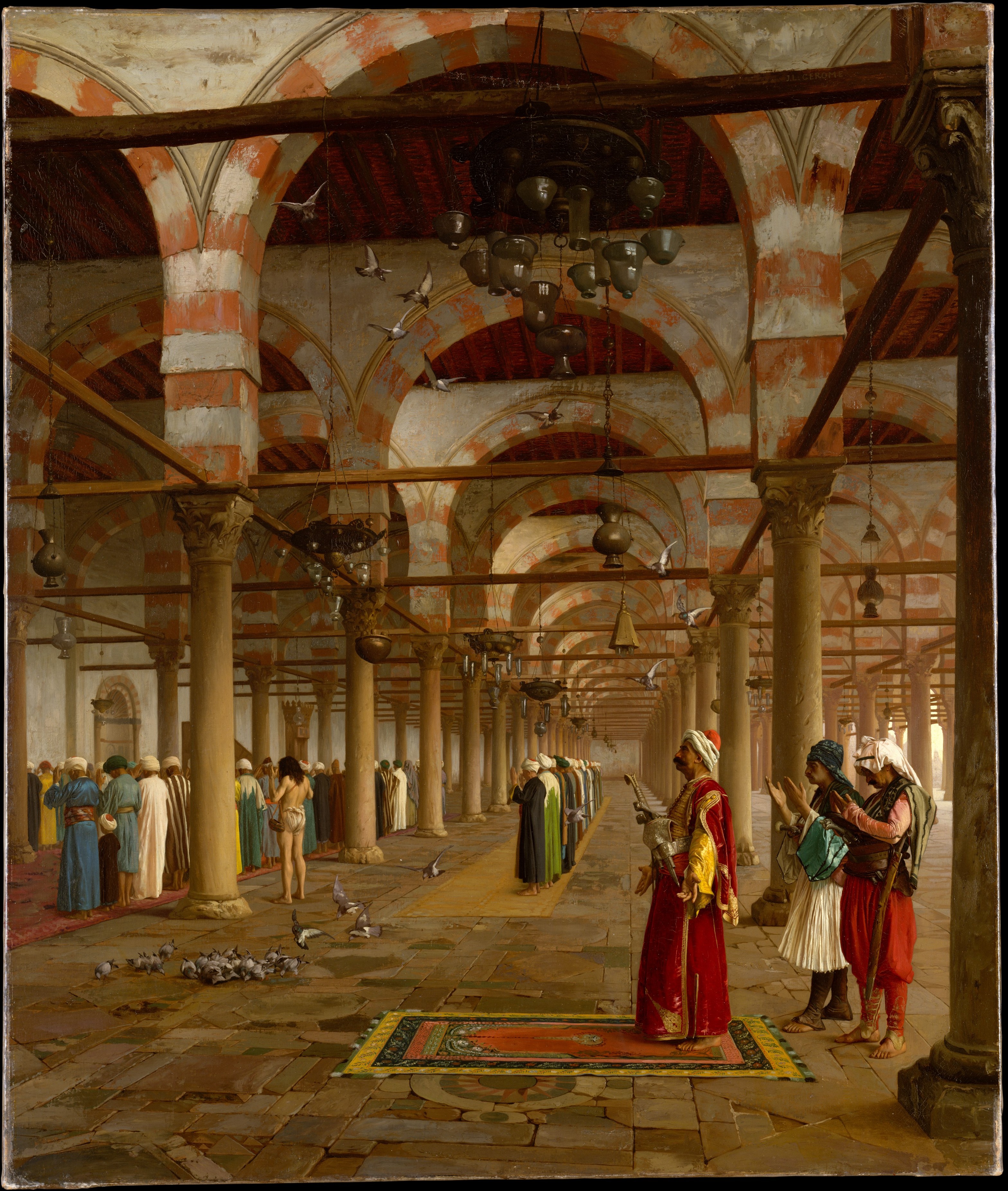 Vasily Vereshchagin
Vasily Vereshchagin was a Russian painter, soldier, and traveler who has sometimes been referred to as the Russian Gérôme. Vereshchagin was, in fact, briefly tutored by Gérôme in Paris. Though Vereshchagin widely dissented from his master's methods, Gérôme's influence is evident in his pupil's artworks.
Vereshchagin traveled extensively and made his way to Tibet and India (twice). He found immense inspiration in the natural landscape of Northern India and in the breathtaking Mughal monuments. The Pearl Mosque in Delhi is one of his most famous paintings. However, the following painting is a rendering of namaz offered at the Pearl Mosque of Agra — a beautiful marble mosque commissioned by Emperor Shah Jahan.
Edwin Lorde Weeks
Edwin Lorde Weeks was a celebrated American Orientalist and explorer who also benefited from the tutelage of Jean-Léon Gérôme, (and Léon Bonnat) in Paris. As with the other painters mentioned here, Lorde Weeks had traveled extensively and cataloged his journey through his journals.
This painting is set in the 8th-century Mosque of Cordoba in Spain, now known as the Mezquita-Catedral or the Mosque-Cathedral. As is evident in Weeks' painting, this is a stunning structure built upon grounds that have been held sacred for centuries. This monument is a house of worship for both Islam and Christianity. Furthermore, historians believe that the site once housed a temple dedicated to the Roman God, Janus.
Weeks possibly commenced this painting in 1880 when he was living in Madrid. The Mosque-Cathedral continues to remain an important stop for any visitor to Cordoba.
Charles Robertson
Charles Robertson was an accomplished artist whose personal life remains somewhat of an enigma. It is however documented that he traveled to Turkey in 1872, Egypt and Morocco in 1876, Constantinople, Jerusalem, Damascus, and Cairo in 1889. Undoubtedly an awe-inspiring feat for the 19th century!
This painting features the famous Sultan Hasan Mosque of Cairo, known for its considerable size and innovative architectural concepts. The mosque was named after its patron, Sultan an-Nasir Hassan, the reigning Sultan of Egypt between 1347 and 1351. Though many additions and improvements took place in the years that followed, the mosque was first completed in 1363 and remains amongst the most inspirational historical monuments of Cairo!
Ludwig Deutsch
Ludwig Deutsch was a notable Austrian Orientalist for nearly two decades. Though his art education commenced at the Vienna Academy of Fine Arts, it was after his relocation to Paris that he became strongly associated with Orientalist works. Deutsch's personal life remains somewhat of an enigma as there are no personal diaries, family records, or biographers that chronicled his journey.
Deutsch created his first works of Orientalism before his first visit to Egypt! Over his extensive travels, he familiarized himself with Qur'anic text and scripture as evidenced by some of the calligraphic inscriptions in his works.
Between the years 1820 and 1830, Pasha Muhammad Ali instituted reforms that resulted in an unprecedented rise in the literacy rate of Egyptians . He established the printing press in Alexandria and Cairo and advanced newspaper circulation. Deutsch's mature works constitute one of the few existing pictorial records focusing on Qur'anic scholars and Arab literati of this period.
May this day bring peace, happiness, and prosperity to all those observing. Eid Mubarak!
Sources:
The Spectacular Art of Jean-Léon Gérôme, Getty Center, 2010.
Meagher, Jennifer. Orientalism in Nineteenth-Century Art. In Heilbrunn Timeline of Art History. New York: The Metropolitan Museum of Art, 2000.
Impressions of Arabia: how Orientalist art is making its way back to the world it came from. The National, Arts & Culture, 2019
Collecting guide: Orientalist Art. Christie's, 2019.
Richard Lowkes, Three of a Kind: Jean-Léon Gérôme Works that Redefine Orientalism. Sothebys, 2019.
Weeks, Emily M., Ludwig Deutsch, Bonhams. 2019.