Many people would never expect to see an Amish quilt and a painting by an American abstract artist displayed together. However, since the 1970s, visual similarities have been recognised between the two. This has left us to wonder how art forms of such conflicting origins could possibly be connected.
In 1971, the Whitney Museum of American Art opened the exhibition Abstract Design in American Quilts. Within this exhibition, alongside abstract textiles from all over America, was an Amish quilt. The exhibition received a remarkable response and it wasn't long before quilts of different patterns and origins developed popularity with the public. People began to view them not just as household items but as works of art to be displayed. The affordability of the quilts was also appealing, as was their ability to be displayed on apartment walls just like a painting. It was with this new-found interest in quilts that comparisons started to be made, and it was concluded that Amish quilts looked like Modern Art.
[caption id="" align="aligncenter" width="582"]
Barnett Newman, Adam, 1952, Tate Modern, London[/caption]
In the 1970s, one of the first substantial collections of Amish Quilts was established by collectors Jonathan Holstein and Gail Van der Hoof. Actively engaged in the New York art scene, Holstein and Van der Hoof had developed friendships with abstract artists Barnett Newman and Roy Liechtenstein. The collectors' interest in Amish quilts was clearly also a result of the textiles similarities to the work of artists they were associating with.
Although Amish Quilts may appear to have been 'discovered' by the art world and collectors in the 1970s, quiltmaking actually began in Amish communities in the 1880s. It is thought that the Amish took inspiration from their Pennsylvania German, English, Scots-Irish, Welsh and Quaker neighbours, who had already been quiltmaking for some time. Ultimately, the origin of Amish quilts couldn't be further from the art scene in New York. [caption id="" align="aligncenter" width="2202"]
Josef Albers, Geometric Composition, 1977[/caption] This, in many ways, makes the similarity between the textiles and modernist painting all the more interesting. It would be satisfying to find evidence that artists such as Newman or
Rothko
had drawn inspiration directly from Amish quilts. However, there is no clear example of this and the visual similarities remain, in many ways, a mystery. [caption id="attachment_5076" align="aligncenter" width="552"]
Center Square Quilt, c.1900, Lancaster County, Pennsylvania. Philadelphia Museum of Art[/caption]
So just how similar are the quilts to the modern art we are familiar with? Looking at Josef Albers square paintings and Amish 'Center Square' Quilts, we can see that there is a clear visual likeness. This is prominent in both form and use of colour. What seems to connect the two most overtly is the abstract nature of both artworks. Whilst modern painters in the 1950's and 60's, such as a Josef Albers and Mark Rothko, were abandoning figurative art and exploring the lack of obvious narrative which emerged from shapes and colour. The Amish, on the other hand, h
ave be
en thought to create abstract textiles for religious reasons. Because of the traditionalist nature of their Christianity, depicting the human figure is discouraged as it is seen as an attempt to imitate God's creation. As a result, the experimentation with colour, form and shape in Amish quilts can be seen as a reflection of these beliefs and a way of being creative within the perimeters of their faith. Similarities have also been noted between Amish quilts and the work of Sol Hewitt, in particular his stripe paintings which have been likened to the Amish 'bar' quilts. The same case has been made between Amish 'tumbling block' quilts and Victor Vasarely's 'op art', shown below. [caption id="" align="aligncenter" width="399"]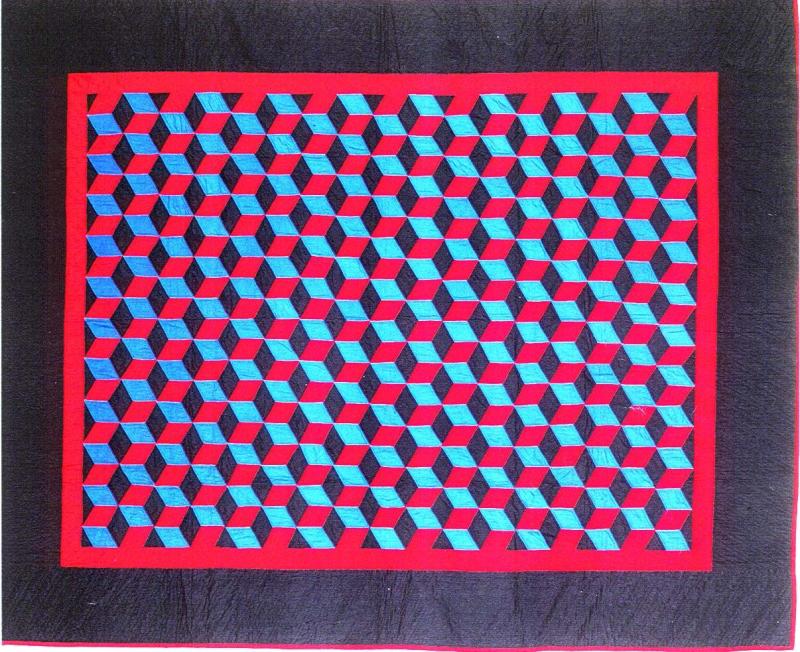 Tumbling Blocks, c.1930, Ohio[/caption] [caption id="" align="aligncenter" width="306"]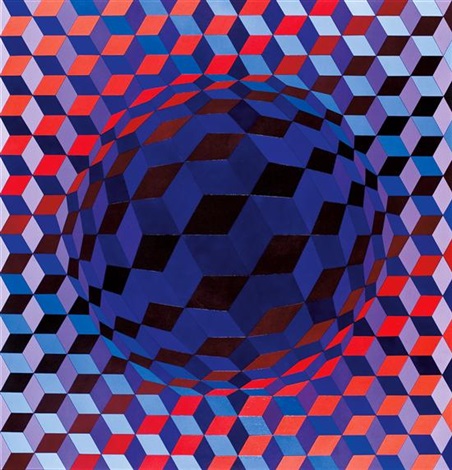 Victor Vasarely, Pulsar, 1970. Provate collection[/caption] In summary, although this unlikely comparison may be one which is difficult to support with art historical evidence, in many ways the similarities between the quilts and the paintings speak for themselves. Their alikeness is also able to illuminate the unexpectedly modern creativity of an otherwise very private and traditional community. As such, we are left to ponder the question;
were Amish quilts America's first abstract art? 
Learn more:
[easyazon_image align="none" height="110" identifier="1607057913" locale="US" src="https://www.dailyartmagazine.com/wp-content/uploads/2019/01/51XPI5t8fgL.SL110.jpg" tag="dailyartdaily-20" width="85"] [easyazon_image align="none" height="96" identifier="0679751424" locale="US" src="https://www.dailyartmagazine.com/wp-content/uploads/2019/01/41SRAWN5CEL.SL110.jpg" tag="dailyartdaily-20" width="110"] [easyazon_image align="none" height="110" identifier="1561482374" locale="US" src="https://www.dailyartmagazine.com/wp-content/uploads/2019/01/510QELbU7UL.SL110.jpg" tag="dailyartdaily-20" width="86"]