Njideka Akunyili Crosby celebrates her cultural heritage through her artwork. Contradicting generalizations about African experience, she expresses her identity as a Nigerian artist living and working in America.
Njideka Akunyili Crosby's early life
In 1983, Njideka was born in Enugu, Nigeria. When she was just sixteen, she moved to the United States. She studied art and biology at Swarthmore College in Pennsylvania, after discovering oil painting at school. Although initially set on pursuing a career in medicine, she decided in her senior year to turn to art instead.
In 2004, Njideka studied at the Pennsylvania Academy of Fine Arts. Following this, she gained a Masters at the Yale University School of Art. After graduating in 2011, she was chosen as an artist-in-residence at the Studio Museum in Harlem. This was a highly-regarded institution known for promoting African artists.
Artistic beginnings
Her success as an artist continued to grow from here.For example, her work was displayed at multiple museums in America. Additionally, she was internationally represented by galleries too, including by the Victoria Miro Gallery in London. As demand for her work rose, her paintings began to fetch enormous prices at auction. In 2018, she set a new auction record when her painting Bush Babies sold for almost $3.4 million at Sotheby's, New York.
Njideka continues to work in Los Angeles today. Aged just 37, she has seen great success already. After first discovering her work at school, I have admired her ever since. In January 2019, I saw her exhibition 'The Beautyful Ones' at the National Portrait Gallery in London. The chance to see her work up close revealed just how complex the paintings were.
Hybrid Identity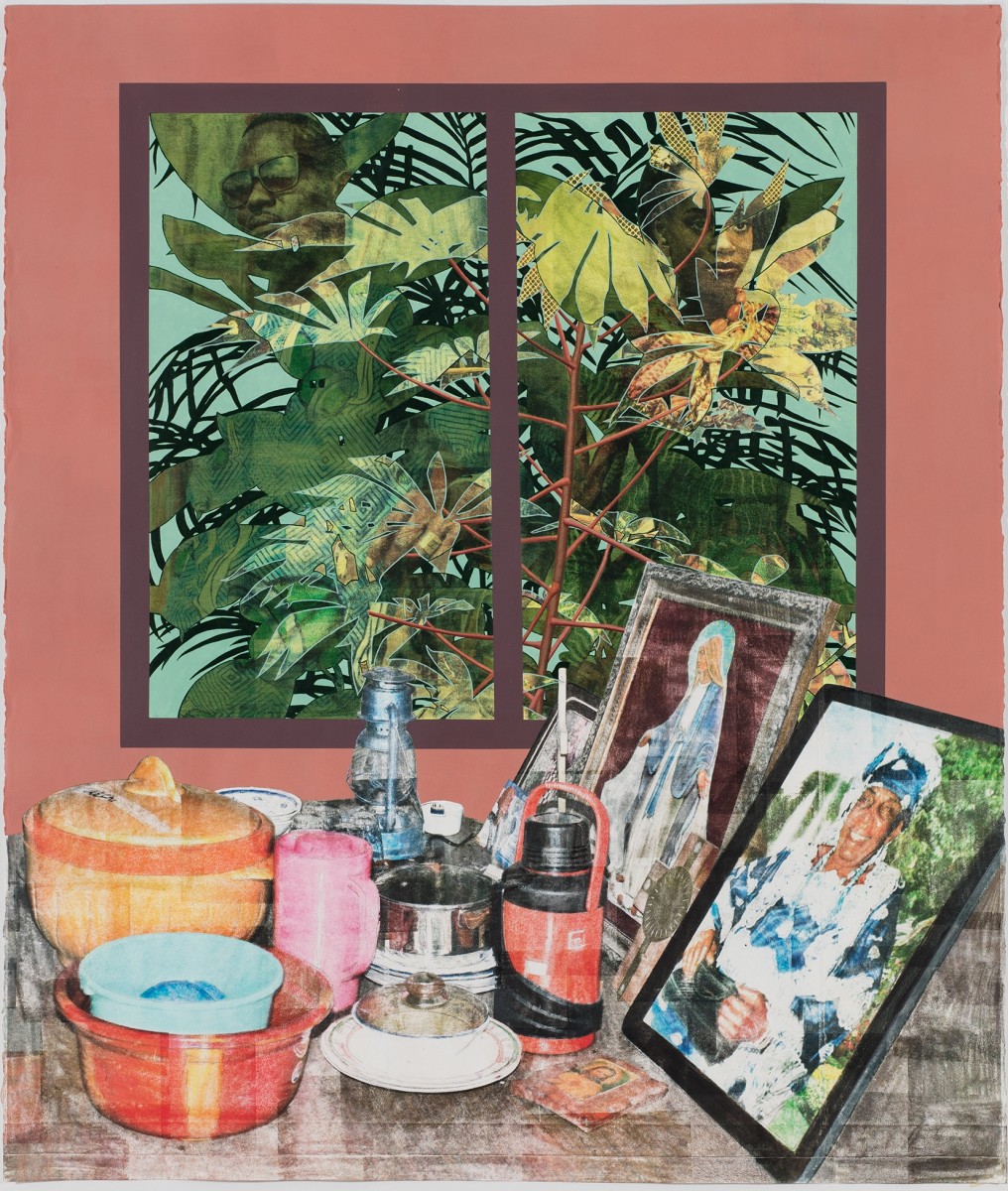 Njideka describes her "hybrid identity" and her aim to portray this through her paintings. She feels strong attachments to her birthplace of Nigeria. Yet, she also feels an attachment to America, where she lives now. Both cultures simultaneously influence her work. After getting married in the US, Njideka felt a dual-identity and loyalty to both countries.
Njideka's husband, an American, appears in many of her paintings. The union of the American culture he grew up in, and Njideka's Nigerian heritage, becomes a repeated theme. In an interview, she speaks of this combination of "American-ness" and "Nigerian-ness." She also speaks of a feeling of "otherness," something she encountered by moving to America.
Njideka celebrates her identity by physically using her own images in her work. This varies from her own photographs to images from popular Nigerian magazines, all things that she grew up with. The artist returns to Nigeria each year, with a list of things she wishes to photograph for future paintings.
Sharing memories
By using this imagery, Njideka hopes that other people will recognise elements. She hopes to connect with others in this way. "Because if I have that feeling", she writes, "then someone else who grew up in Nigeria in the eighties and nineties will have that feeling. We have shared memories."
Nigeria was a British Colony until 1960. Even today, there is still evidence of the British and she writes of Nigeria itself as "a weird mix of different cultures." The influence of American pop culture was also present when she was growing up. In a way, this mix is reflected through the multiple techniques that she uses. She interprets and displays her own identity as a mix of Nigerian and American influences. To Njideka, Nigeria is still home.
Njideka Akunyili Crosby's unique technique
Njideka's technique is undeniably unique. The mixed media she uses includes techniques such as acrylic paint, transfer printing, colored pencil, printed fabric, and collage. That is to say, they are multi-layered stories of her own experiences.
She illustrates domestic experiences such as watching TV in the house, eating and drinking with friends and socialising in general. Imbedded in these images are deeper meanings of artistic, historical, political and personal influences.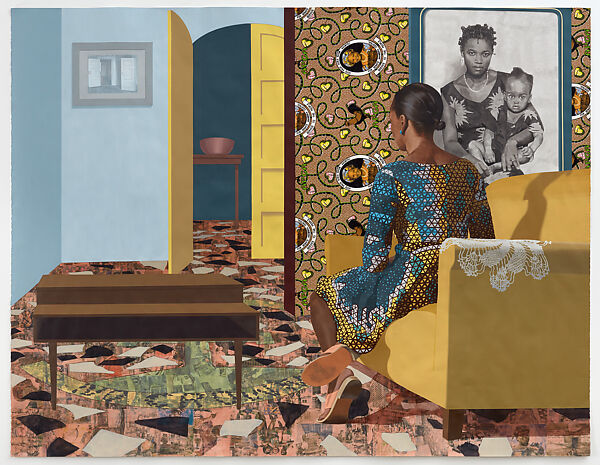 In Mother and Child, Njideka paints herself sitting in her living room in America. She has her back to us. Nigerian culture surrounds her in the form of photographs. Throughout the painting, she pays homage to her mother. She passed away only a few years before the artist created this painting.
On the wall, there is a photograph of her mother holding her as a toddler. The texture of the surfaces, for example on the floor and the wallpaper, are covered in family photographs. The wallpaper is actually a Nigerian fabric, a feature of many of her paintings. The painting beautifully commemorates her mother. Another dimension is that Njideka was actually expecting her first child when she created this.
The painting also alludes to the western image of a mother and child, notably the Virgin and Child, which dominated the history of art. But here, what we see goes further than this standardized image. By applying layer after layer, she embeds more and more of her own history. It is written by her and laid out for us to see.
The importance of her work today
"It's just a really weird feeling, to feel like you don't matter, or where you come from doesn't matter, because it's not represented. If people don't know about it, if people don't see it and don't care, how does it exist? I felt a need to claim my own social existence by making the representation happen."

– Ninjdeka Akunyili Crosby, in interview with Cassie Davies, The White Review.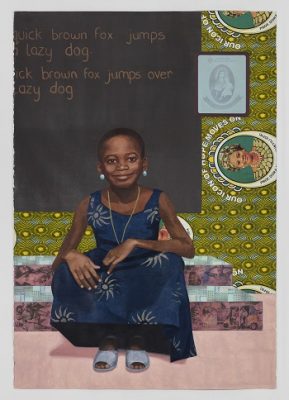 Following the death of George Floyd in Minneapolis, the Black Lives Matter movement has highlighted problems of race in our society today. The movement has acknowledged problems in the art world too, with a general lack of diversity in the artists who are represented worldwide. Museums across the world display nowhere near enough black artists in their collections. This is explained well here.
It is perhaps more important now than ever to make sure all artists from all ethnicities gain recognition for the work that they produce. Njideka continues to create works that open our eyes to her own cultural experience as a Nigerian woman living in America. The beauty of Njideka's work is that every viewer can resonate with it and learn from it in different ways.
Every photograph is a personal memory for Njideka, whether it be a photograph from her brother's wedding or a clipping from a Nigerian magazine. Njideka Akunyili Crosby can teach us all something about both celebrating our own identity and learning from other peoples, accepting that everyone has their own story to tell.
---
Works Referenced:
---
Read more about contemporary Black artists: