Have you ever imagined a world dominated by animals? Have you read Orwell's Animal Farm and wondered what it would be like to live in such a world? Well, then brace yourselves for Cassius Marcellus Coolidge's dog's life!
1. His Station and Four Aces
Coolidge was an American artist born in 1844 in Antwerp, New York. He worked as a sign painter, druggist, farmer. Although he didn't have formal art training, he made caricatures for newspapers and oil paintings. Yet he is most famous for his anthropomorphic depictions of dogs.
2. Poker Game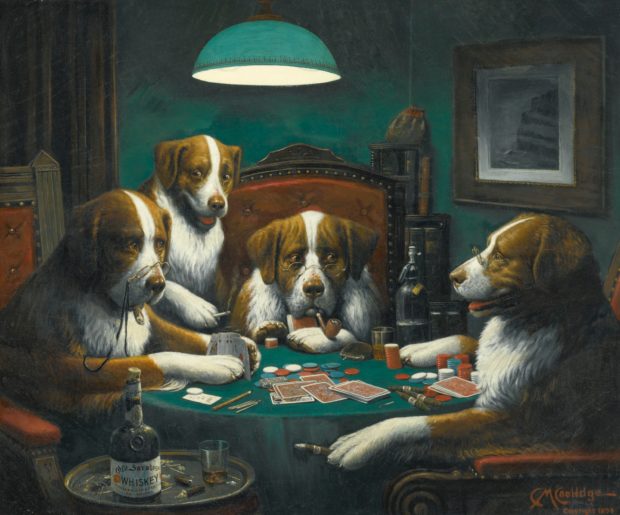 He made a series of sixteen paintings depicting dogs in situations typical for humans. He showed them dancing, playing baseball or poker, or travelling.
3. Sitting up with a Sick Friend
In 1903 Coolidge began working for an advertising company Brown & Bigelow. He painted oil paintings which later became distributed as hundreds of thousands of posters, calendars and leaflets. Many tobacco firms got interested in his work and bought the copies to give them out as advertising freebies.
You will find more of these funny Cassius Marcellus Coolidge's paintings here. There are not only the dogs playing cards but also celebrating the New Year's Eve, playing pool, being in a court, cheering for their favorite football team and many more!
---
If you feel like getting to know more about dogs in art, here are some nice reads: