Seasons
The Idyllic Winters in Croatian Naïve Art
Croatian naïve art is a specific style of art which originated in a small rural municipality called Hlebine. It began simply as an appreciation of the artworks of uneducated peasants. But later, it became a recognizable style with a growing body of work.
The term naïve art refers to visual art created by a person who lacks the formal education and training of a professional artist. Instead, naïve artists developed their own style according to their opportunities and abilities. As a result, naïve art has become an art style in its own right with its own characteristics.
Croatian Naïve Art
Krsto Hegedušić was an established artist. He became aware of some talented young peasants in Hlebine. Hlebine is a small municipality near the Hungarian border. As a result, in 1930 he founded the Hlebine School to teach these talented peasants how to paint. Subsequently, he included some of their work in the Earth Group's exhibition in the Zagreb Art Pavilion in 1931.
Earth Group artists wanted to show that talent does not only exist in certain social classes. That is why they began their association with naïve art and artists from the countryside. At the exhibition, the drawings and watercolors by Ivan Generalić and Franjo Mraz really stood out. Later the quality of their work only served to confirm their talent.
Characteristics
Naïve art has many interesting characteristics. In particular, it uses intense and bold colors, exaggerates details, and distorts perspective and proportion. Also, there is a particularly interesting painting technique in Croatian naïve art. This is painting in reverse on a glass plate.
The dominant subject is everyday farm life in villages. As a result, the images are full of animals and labor. Other themes include religion, protest subjects, and some personal subjects. However, one of the most specific themes is that of winter landscapes.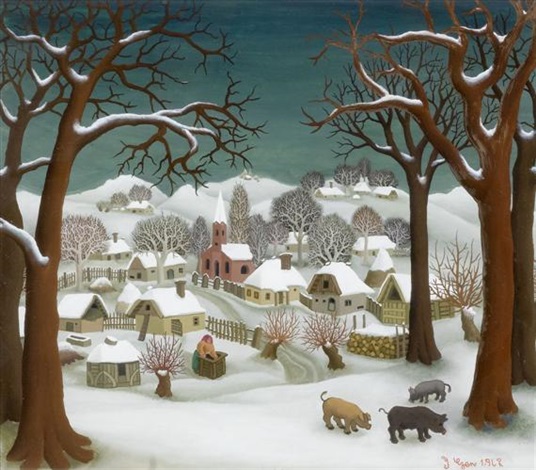 Winter as a Theme
In reality, not much work was done outside in winter. Instead, peasants would engage in all kinds of handcrafts including wood cuttings, making baskets, and painting. Thus, the most common winter scenes are of village landscapes. In addition we see depictions of tending pigs, cows, chickens, driving wood, playing in the snow, etc.
Winter was the time when artists had more leisure. In particular it was a time when they would use their imagination and experiment. As a result some winter scenes became truly magical. One example is shown below. Here, we see brightly colored skies as well as charming little houses covered with a thick layer of soft snow.
---
Let it snow, let it snow, let it snow: