You may know the artist we want to feature today because of this image: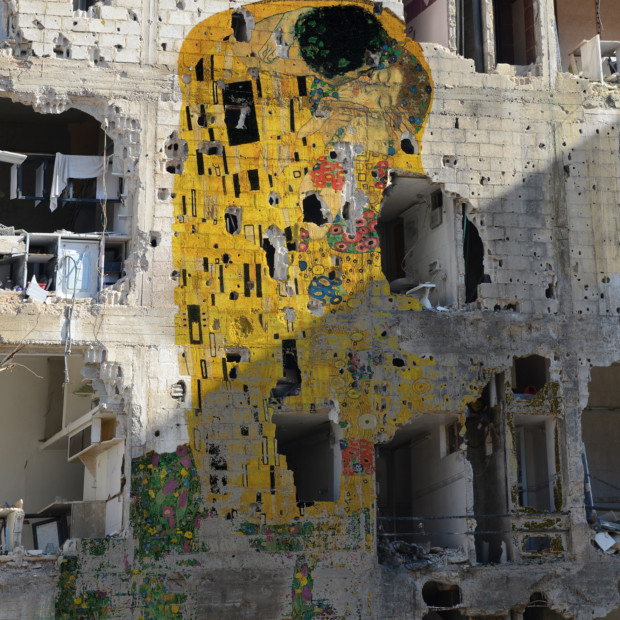 Born in Damascus, Syria in 1980, Tammam Azzam received his artistic training from the Faculty of Fine Arts, University of Damascus with a concentration in oil painting. Alongside a successful career as a painter in Syria, Azzam was a prolific graphic designer, an experience that would inform his digital media work after relocating to Dubai with the start of the country's conflict in 2011. Azzam started to create digital art because of a very simple reason – lacking studio space and materials.
The Photoshopped Gustav Klimt's painting The Kiss became the great protest against the war in Syria. The image has immediately gone viral. But today we want to present a series of painting "Storeys" which is another commentary of the Syrian tragedy – without colors, without hope. Only with ruins.
Recently, Azzam he has returned to painting with Storeys, a series of monumental works on canvas, composed in a monochrome palette, that shows the magnitude of devastation of Syria. The artist studied photographs from several Syrian cities, including Douma and Aleppo, on which to base the paintings. With them he wanted to "take this challenge, to create or rebuild destruction."
The Storeys series, last year were on display at Dubai's Ayyam Gallery in an exhibition he titled "The Road". The exhibition invokes "the journey of people, from their homeland to the new homeland," Azzam said. "There is no end to that. Because all people are still thinking about going back to their original home."
"I believe that art can't save the country. Bullets are more powerful than art, now" he said. "But I believe at the same time that all kinds of culture, art or writing, cinema or photographs, can rebuild something in the future." – said Azzam.