There is a truly amazing museum in Buenos Aires that is an absolute must for art lovers! I visited MALBA during my travel in South America and got acquainted with masterpieces from that side of the world.
The Museum of Latin American Art in Buenos Aires (MALBA) takes a special place among the museums of the Argentine capital. It has an extensive permanent collection of modern Latin American art between 1900-1970. Moreover, the entry is a great value for Europeans! Visitors who are already familiar with South and Central American art will marvel at the emblematic names that this privately owned museum showcases, and for those who are just now getting to know these artists who are well-known on that continent, MALBA serves as a great introduction. Below is a selection of my favourite South American artworks from MALBA.
Dias created this picture at the beginning of his career. At this time he was in touch with the avant-garde movement of Brazil. The composition is rather surrealistic and dream-like: linking a funeral scene to playing children; the deformed proportions of the figures compared to the plants; the lack of perspective. The artist uses ink with aquarelle, which also gives a dreamy feeling to the image. At this period of his career, Dias used mostly this technique on his paintings. Sometimes he interpreted in his works the fantastic imaginative myths of the northwest of Brazil and his hometown, Pernambuco. From the second half of the 1920's, the north of Brazil was an important region for Brazilian modernism, with Recife its center.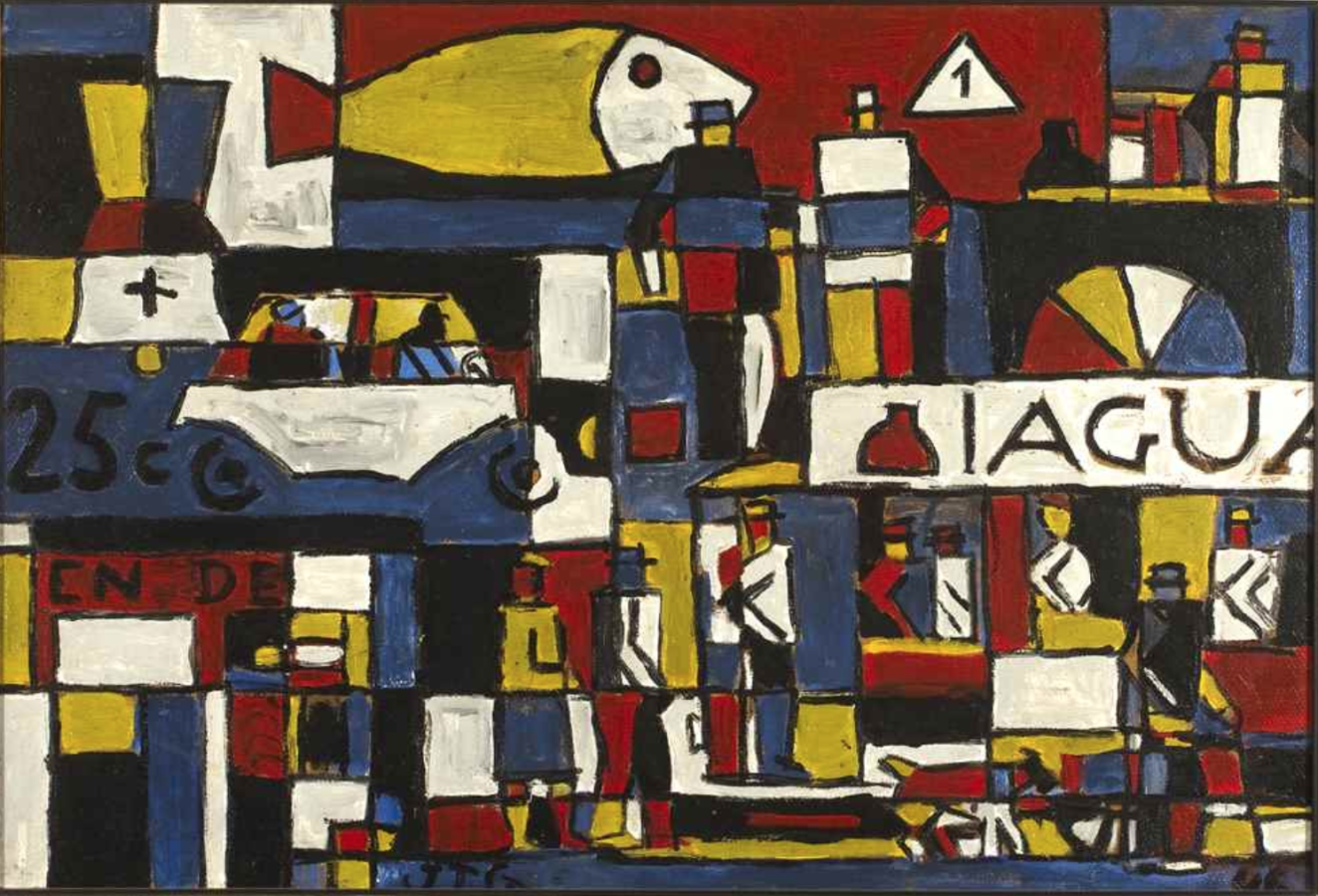 One of the most famous Uruguayan painters is well-known in South America for his montage-like style paintings and drawings, just like this one I present. Moreover, his oeuvre is very important even outside of Uruguay. He lived most of his life in Europe where he got involved with the early avant-garde movement and established his own Constructivist style. Upon returning to his country, he instigated to a new generation of artists. This painting depicts objects and figures in compartments separated by straight lines, which is a geometric order similar to a grid-based urban landscape. The scenes are on the one hand typical of a city street: passers-by, driving car, people with suitcases, dogs. On the other hand there are symbols of South American indigenous culture, such as the fish, which is a returning element on many of his paintings. During his career, Torres-García produced a striking repertoire of synthetic abstraction (like this example). Simplified forms and planes, fewer vantage points and text on the picture characterize this style.
Read about Montevideo, the cultural center of Uruguay
3. Antônio Dias 
(Brasil, 1944 – 2018)

: Dear, are you alright?, 1964
The above abstract but figurative work caught my attention with its comic-like and diverse shapes, cacophony of figures, strong colours and mixed textures (acrylic on wood and hardboard). Most noteworthy, the shapes vary between straight lines and curvy, ghost- and penis-like images such as in the centre of the work. Dias created this image in the beginning of his career among other paintings with similar, violent imagery. With his style he became a leading figure of the Nova Figuração ('New Figuration') movement in Brazil. In that period, he already started exploring paper as an artistic material, which later became his trademark. History heavily influenced his life and art: due to the 1964 coup d'etat he went to self-imposed exile and his paintings reflected the Brazilian military dictatorship. Hence the violent colour scheme of the paintings from that period, such as Dear, are you alright?. The title's "Dear" can be interpreted as Brazil.
4. Alejandro Xul Solar (Argentina, 1887 – 1963)
: 
Couple
, 1923
The paintings of Xul Solar stood out from the very first time I encountered them. Above all, their dream-like figures and bright colours create their own imaginative language that talked to me in every piece. Couple is a portrait of two androgynous figures. The faces' overlap is a symbol of the closeness of the partners. Geometric forms are scattered on the colourful picture. Despite the fullness of the picture, the forms and colours harmonise and give a feeling of an alternative style cartoon. This painting in topic is quite different from his other pictures, which depict city landscapes, scenes with flying vehicles and figures in action.
Many of Xul Solar's works can be seen in the Xul Solar Museum in Buenos Aires. Read our city guide to Buenos Aires and find out why to visit it right now.
Apart from paintings, he also created objects: my favourite is a piano, where the keys, instead of being black and white, are colourful. Using this piano – where the colours correspond to music notes – his paintings can be transformed to music. Linking musicality to painting connects him to Kandinsky, who also believed that shades resonate with each other to produce "visual chords".
5. Raquel Forner (Argentina, 1902 – 1988): Darkness
, 1943
Raquel Forner is one of the rare female artists that I discovered in South American art museums. The topic of this picture is the destruction that the World War II was causing at that time. Forner was interested in current events. Due to the devastating historical events of her time, many works of hers air a dark atmosphere. Forner's paintings often represent female characters, like this one showing women in despair. Later, she turned her attention to space and interplanetary travel. She was one of the first artists to paint the outer space in her Space and Moon Series. Check out her other pictures (including some of her space topic paintings) on the website of the Forner-Bigatti Foundation. (Also, read an interesting article about how space race altered art in the Americas.)
Read here MALBA's informative introduction to its collection (in Spanish).
Address: Museo de Arte Latinoamericano de Buenos Aires – Av. Figueroa Alcorta 3415, C1425CLA Buenos Aires, Argentina
Entry: 170 ARS, on Wednesdays 85 ARS